The university city of Maastricht is one of the latest to be inhabited by The Student Hotel and in keeping with their brand ethos of redefining the student experience in terms of life, work, and travel, they've teamed up with Amsterdam's Studio Modijefsky to create The Commons; a three-tiered restaurant and bar where students, travellers, and locals alike can congregate over breakfast, lunch, dinner, drinks and all in between.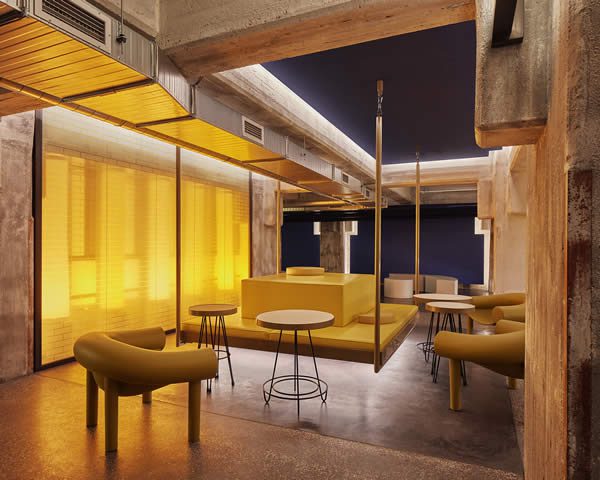 Located in the Sphinxkwartier neighbourhood, a once forgotten part of town gradually coming back to life—thanks to the arrival of the Muziekgieterij; Bureau Europa; UNU-Merit; Pathé; Lumière Cinema; and The Student Hotel—The Commons is situated in the newest part of the whopping cultural complex, and features Studio Modijefsky's signature pop of bright colours combined with ample natural light, and a moody industrial edge.
Those three levels are linked together by conceptual 'elevators', which continue into a small stage located in the basement. Nicknamed the 'elevator music stage', the outré space has a Twin Peaks feel, with silver curtains that Warhol would've been proud of and a mirror-and-light ceiling; the outlandish little corner can be transformed into a tiny dance floor. It's a wonder students here will get any work done (one can always check this essay tigers review should the hangovers restrict you from submitting your work on time.)
Celebrating the building's industrial heritage throughout—its former life was as a ceramics factory called the Sphinx Factory—bespoke furniture and a candy-coloured palette of blues, greys, pinks, and yellows are inspired by those ceramics, geometric motifs inspired by the shapes of pottery moulds. Using style and quirk to soften a cavernous space, Studio Modijefsky provide a lesson in style for students and design fanatics alike.
@studiomodijefsky
@thestudenthotel