Oozing some moody New York speakeasy vibes, Kiev restaurant and wine bar Balthazar offers a small but concise menu in ambient surroundings at the city's Besarabsky Market; better known as the Besarabka.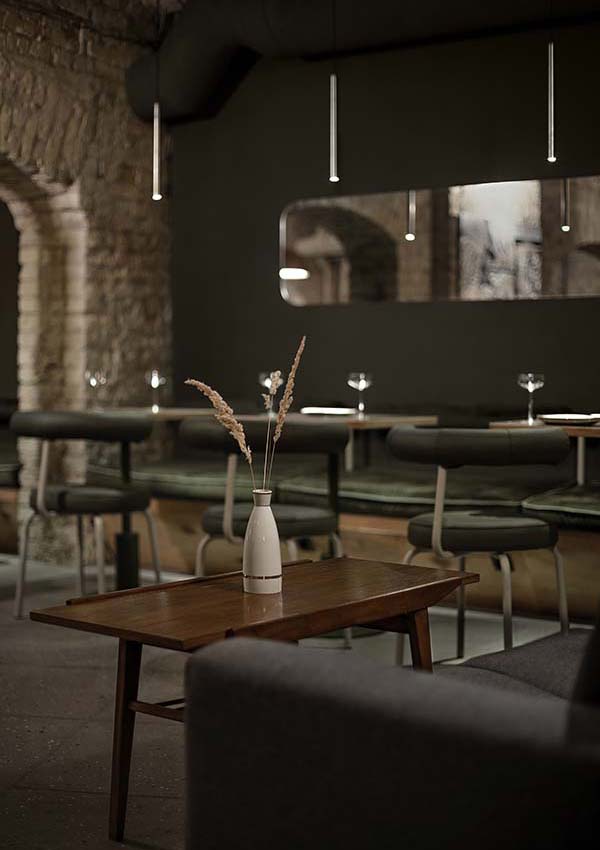 Designed by architect and designer Rina Lovko, the space posed many issues, chiefly the Bessarabka being UNESCO protected; meaning no changes were allowed to the structure. Due to the limited height of the building, the team had to dig down to reach a height that they could work with. And the entrance was an issue, too, with a steep staircase leading from street level to the restaurant; not ideal for those with mobility issues or those having taken too much advantage of the wine menu on offer.
Taking all of this into mind, today Balthazar features a friendlier staircase, three metre tall ceilings, and a warm, basement feel with atmospheric lighting made to order from Vasily Grublyak that consists of lamps, candles and drop lighting.
From the heavy metal front door to the exposed brickwork and choice of materials, there's an industrial edge at Balthazar; menus hang from metal nets and high stools line semicircular tables that face the stark back wall. However to soften that edgy appearance, restored armchairs, sofas, and table tops made from old wine barrels have been scattered throughout.
Open for lunch and dinner, Besarabka's beautiful Balthazar serves up plates such as the delectable Croque Madame, a colourful duck and orange corn salad, and winter warming chilli with beef; making for a welcoming and warming experience with a killer cocktail and wine offering. All presented in a monument of architecture in the Ukraine capital, here's a destination hangout with bags of style and presence.