Located in a neo-Gothic building on Stefanyka street, the western Ukraine city of Lviv has opened its first Municipal Art Centre; the space simple and functional with a small multimedia library (complete with turntable, vinyl and rare publications), lecture hall, and a zone to indulge in a spot of reading, working or simply to unwind.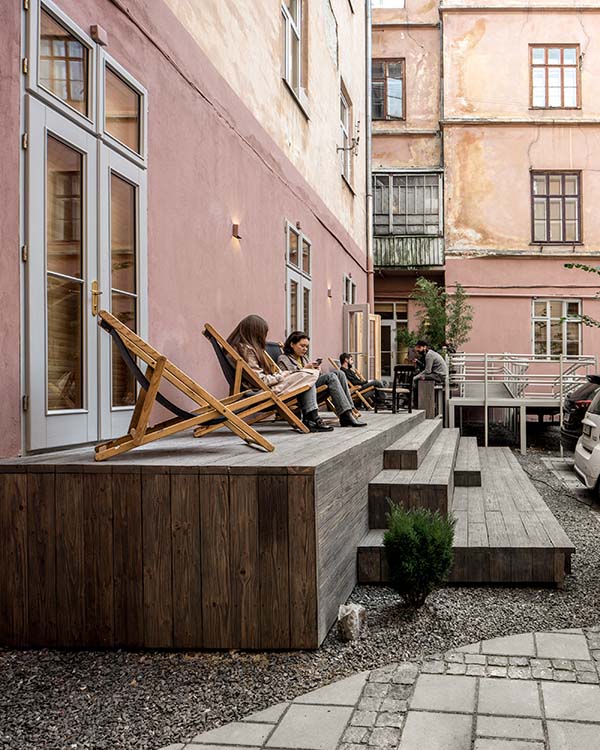 Designed by interior and architecture company, replus design bureau, the once-abandoned building (and Lviv's first neo-Gothic construction, dating back to the late 19th century) has been refurbished and restored with authenticity in mind; the 3,000 square foot space now possessing bare walls filled with found paintings hung alongside authentic murals. Furniture and lighting are both modern and contemporary, again sitting side-by-side with other curios and pieces sourced from dumpsters; Lyana Mytsko, the head of the art centre, having one day found a treasure chest of lamps and painted boards for choreography lessons, likely created for ballet classes some half a century ago.
With the gallery occupying just under a third of the total space, this Municipal Art Centre is uncompromising and serious in its intentions; a municipal cultural institution where the design decisions impress visitors right from the doorstep. "It is important for an architect and designer like me living and working in the city that this municipal art centre, financed from public funds, was made in an unusual way, without boring decisions," explains architect Hrystya Badzyan. "Thanks to the people involved in creativity and art, this space will be convenient for free and courageous people. I am glad that the officials believed in this project as being significant, that it would represent the city and serve for the development of art, culture and Lviv."
From white cube aesthetics to dumpster-found restorations, unwavering intentions and a dogged approach to allowing creativity to flourish, Lviv Municipal Art Center is a template for others to follow, a place of expression and originality. The people of Lviv just got themselves a real gem.