Comprising two completely refurbished historic buildings and a third newly-erected element, all consolidated into one single complex, BURSA is a hotel, art gallery, and food destination in the centre of one of Kiev's oldest neighbourhoods.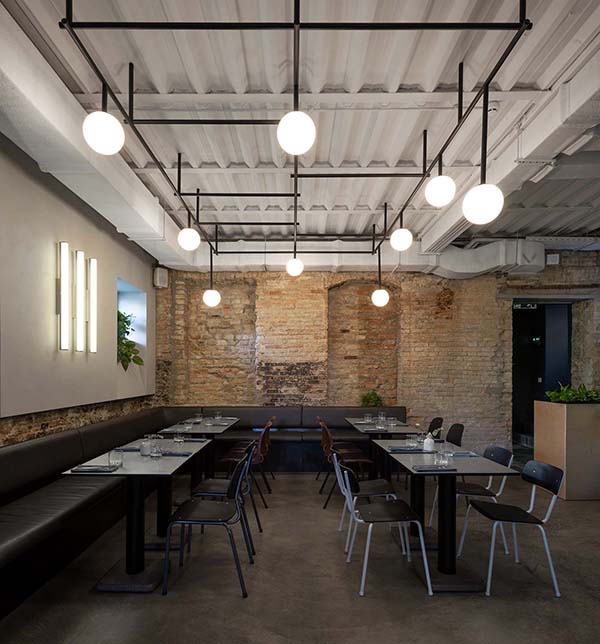 BURSA's hotel element is set over four-storeys and features 33 guest rooms with minimalist Bauhaus-inspired furniture, lighting from Ukrainian designers, a separate seating area for working or reading, and—depending on the category of the room—plush freestanding bathtubs, balconies overlooking hip Podil's Kostiantynivska street, and über-comfy queen or king-sized beds. Designed with both business and leisure travellers in mind, the rooms have been conceived as sanctuaries, a place to enjoy tranquility and serenity in a modern yet homely design-led setting.
The refurbishment has been carried out by balbek bureau's extensive team of architects and designers, and results in a unique spot with distinctive design and multiple functionalities; their vision—in unison with that of owner Vasyli Grogol—to create a conceptual space with its own philosophy. From the façade to the guest rooms and restaurant, an air of simplicity and authenticity is felt throughout.
Respecting the history of the 100- and 200-year-old buildings, the architecture and interior design company made decisions as to which architectural elements had to be retained based on a conceptual approach, the two buildings having each shared a storied past. Rooftop bar 1818 nods to the year the original building was erected, whilst providing guests and locals with a place to meet and socialise in style above the city skyline, cocktail in hand as day slips into night.
Along with café-cum-bar Beliy Shum; a coffee bar and library; and the nonprofit BURSA gallery, created to discover, support, and promote emerging artists from post-Soviet territories, BURSA Hotel is a culture-forward space created to meet the needs of its welcomed guests, whilst remaining a simple and unpretentious attitude with just the right dosage of hipness for local creatives to guarantee its position as a hotspot for the Ukraine capital.