Rina Lovko Studio have finished some staggering work for wholesale flower store, Dicentra, making for a second collaboration between the Kyiv-based studio and flower brand. Creating a retail space within their enormous warehouse—which is situated in a hangar-like Soviet-era building—two refrigerators were used as reference points, the first showcasing retail flowers, the second closed for cut and potted plants wholesale.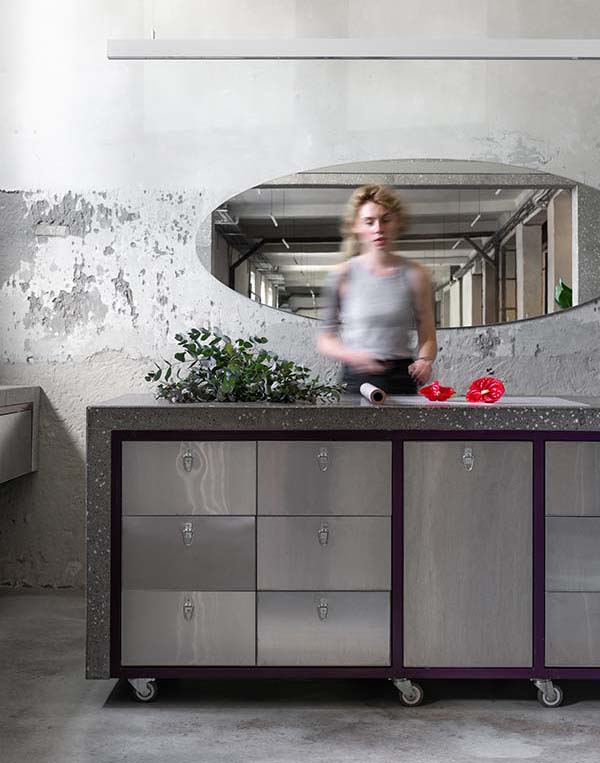 Formerly a workshop on the left bank of Kiev, the imposing space—some 300 meters without partitions—proved difficult for the designers due to its size, budget and looming deadline; the studio gaining complete trust of the client to realise the monumental task that would lie ahead. With these pictures as proof, Rina Lovko came up trumps for Dicentra.
The result is a room divided simply with two walls and a column. Raw materials and textured walls evoke an aesthetic that seems as though the space remains untouched. The refrigerators made of thermal materials, one with aluminium windows for display purposes, are slightly smaller than the room and painted in graphite colour; a decision made based on the fact that flowers on a black background look bright and contrast, which is a big plus for saleability. Supporting this theory, Rina Lovko Studio installed lighting to further enhance the flora on show, making the beauties look all the more evocative.
Visitors can make the most of tables and chairs dotted throughout the hangar, lush plants softening the metal materials used and introducing the stock found throughout the space. Made from red perforated mesh and boasting a noticeable neon sign, the main entrance is as fine-looking as the interior space; and an excellent marketing tool for the flower company, the colour contrasting against raw materials in catching the eye of potential customers.
A raw and industrial appeal set up to juxtapose the natural beauty of lush foliage, Dicentra Kiev is flower power for design-obsessives; a slice of paradise with an edge of cold cool.
@rinalovko.studio
@dicentraflowers