Housed within five monumental heritage-listed structures, Antwerp hotel August pays homage to its history as an Augustinian cloister; Belgian architect and longtime Graanmarkt 13 collaborator, Vincent Van Duysen, creating a hotel that retains the structural integrity and spirituality of its former life whilst fashioning a visual identity befitting of a contemporary dwelling.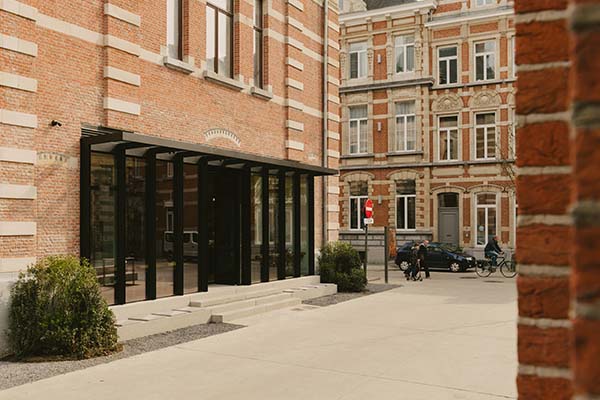 Located in the city's Berchem neighbourhood, August stands within the Het Groen Kwartier (Green Quarter), a pedestrian-only development on the site of a 19th-century former military hospital complex—home to entrepreneurial projects like the rooftop urban farm, PAKT; brilliant pizza restaurant Standard; vast craft beer bar, Spéciale Belge Taproom; and two Michelin-starred restaurant, The Jane—that is a vibrant and fitting home for this beautiful design hotel.
With 44 bedrooms ranging from 16 to 42 square-metres, guests can indulge themselves in luxury interiors and comforts; bespoke finishes found in everything from the tailor-made Flos lighting to the Portuguese handwoven carpets. Bathrooms feature Italian hand-glazed tiles, Fantini taps designed by Van Duysen, and an abundance of Bamford amenities. Due to the unique footprint of the buildings, no one room is the same, likewise with the suites, that offer the addition of superb terraces overlooking the old chapel, courtyard and pond.
Public areas include the bar and its restaurant, set in the old nun's private chapel, and conceived by chef Nick Bril of neighbouring The Jane. They are chic and serene, spaces to relax into an ample breakfast (one of the best we've enjoyed in some time), lunch, dinner or afterwork cocktail; the hotel's wellness area, meanwhile, is located in one of the terraced brick townhouses, and is the ultimate in self rejuvenation and disconnection.
With every intricate detail taken care of, the August—a member of Design Hotels—is an easy choice for discerning travellers planning their next stay in the spirited city of Antwerp.