Among the renovated warehouses of PAKT, a creative and entrepreneurial site in Antwerp's dynamic Berchem neighbourhood, a new pizza restaurant is raising the Standard in good eating; feeding the hungry masses with delicious sourdough pizzas and scrumptious salads.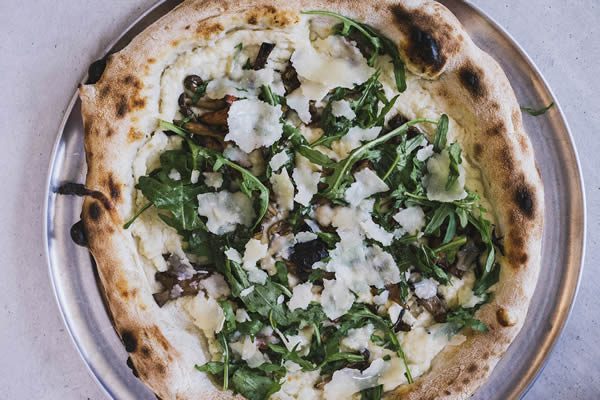 Behind the wood-fired oven, which takes centre stage in this unpretentious eatery, Standard's chefs expertly knead and toss their sourdough before adding toppings proudly grown on the roof of PAKT; from organic unsprayed vegetables to herbs and the 'Coeur de PAKT tomato' (a beef tomato grown in the rooftop greenhouse), resulting in fresh, healthy fare and a menu that changes to reflect the very best seasonal produce.
Healthier (by way of omitting sugar from the mixture) and easier to digest, Standard's use of sourdough is a laborious process — dough is prepared a full day in advance — but one that is worth it the minute you bite into that light and airy crust, torched to perfection in the authentic Neapolitan way. "Sourdough is made by natural fermentation, explains Michel Roose. "It takes time to make dough like ours, and most importantly it is absolutely delicious." We Heart can attest.
The space, designed by Petillon Ceuppens architects, charms with its simplistic aesthetic — a blend of rough materials with solid oak tables and benches complement the restaurant's holistic ethos. Light floods in through the floor to ceiling windows, with views over PAKT and onto the outdoor terrace; a welcoming and unaffected spot to watch the neighbours go by.
@standardantwerp
@paktantwerpen