At the end of August, around 70,000 people will convene in Nevada's Black Rock Desert and watch as a neon-lit, wooden effigy measuring 100ft becomes a towering inferno. The Burning Man festival has grown in every conceivable way since its beginnings on a San Francisco beach in the 1980s, and what started as a small gathering of artist friends is now an internationally recognised event celebrating art, community, and radical self-expression.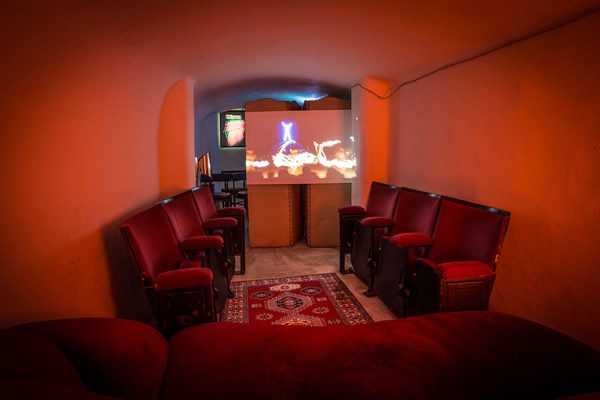 The burning of The Man is the symbolic centrepiece of the festival, but it is by no means the only significant artwork to have been created during the annual, week-long gathering. Until now, the art of Burning Man – an event with a limited ticket admission – has been unseen by the general public, but Canadian photographer NK Guy is changing that with the release of a book documenting some of the most interesting goings-on from down the years.
Art of Burning Man covers the "Black Rock Desert years" from 1998 onwards, highlighting the awe-inspiring setting and the unbridled creativity of the attendees and their artworks. Guy's spectacular images showcase the so-called "mutant vehicles" – Mad Max-esque, fire-spitting post-apocalyptic chariots, juggernauts and other uncategorisable steampunk machines – as well as the temporary yet brilliant feats of construction that often meet a fiery end.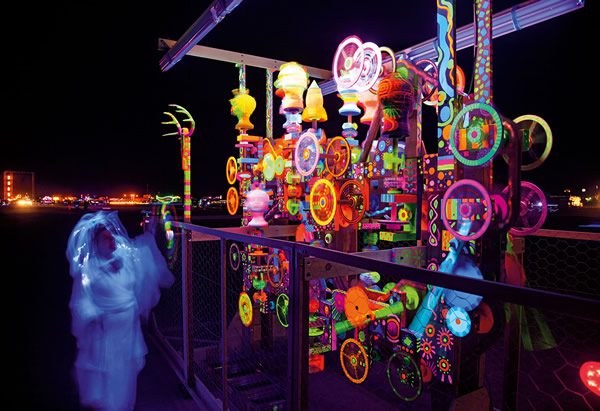 Guy's book is launching with an event in Soho's Brewer Street; the Lights of Soho gallery is holding an exhibition of book images, along with bespoke sculptural creations from Shuster + Moseley and works by a host of other artists that include Aphra Shemza, Dotmasters and Rococo Wonderland. "We are interested in how these works relate to the Burning Man spirit of radical social change and an un-mediated re-connection with the lights of nature and the cosmos", say Edward Shuster and Claudia Moseley of their installation. Trippy. It's happening right now, with a closing date of 10 September.
Art of Burning Man is published by Taschen.
@burningman
@artofburningman
@InvisibleWorks
@TASCHENBooks