Something tells you things are going to go swimmingly when the waiter sits down one of the most incredible cocktails you've seen and tells you: "we only serve cocktails with the first two dishes of the tasting menu, I hope that will be okay with you." At 13.00. And swimmingly things go—we smash up some aromatic herbs and spices in the accompanying pestle and mortar and dunk them into our miraculous Moscow Mule. It is a splendid start to a splendid meal.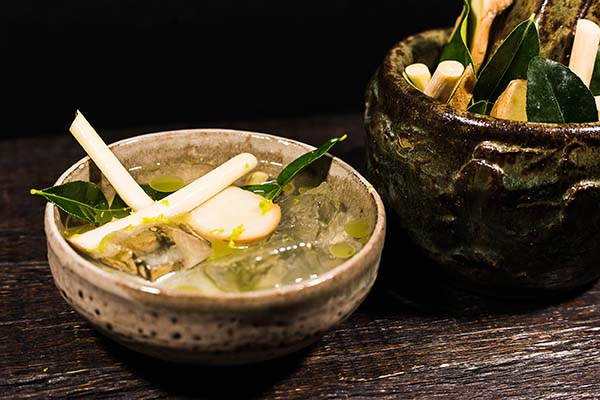 MESA is a beautiful space located in the Sint-Andries district of Antwerp—which, despite having a colourful history, is now home to vintage shops, characterful cafés, and the nearby MoMu fashion museum that will reopen after extensive renovation in February. A restaurant from the creative minds behind the gargantuan electronic dance music festival, Tomorrowland, it is a mesmeric project that takes its diners on a worldwide culinary journey in laidback yet luxurious surrounds.
Born out of a passion for travel and togetherness, chefs Laurens Sijssens, Peter Kawaki and creative chef Michiel De Bruyn, alongside mixologist Paul Morel, have created a menu bursting with flavours and aromas from around the world at MESA; the latter having developed a selection of cocktails to pair with and complement the diverse dishes served to the table.
Accommodating 50 diners in a space that unites refinement and casual relaxation, the food at MESA is designed to be shared; its impressive menu featuring dishes from 12 different countries, and made with ingredients from dedicated growers, farmers and producers, sourced according to season and market availability.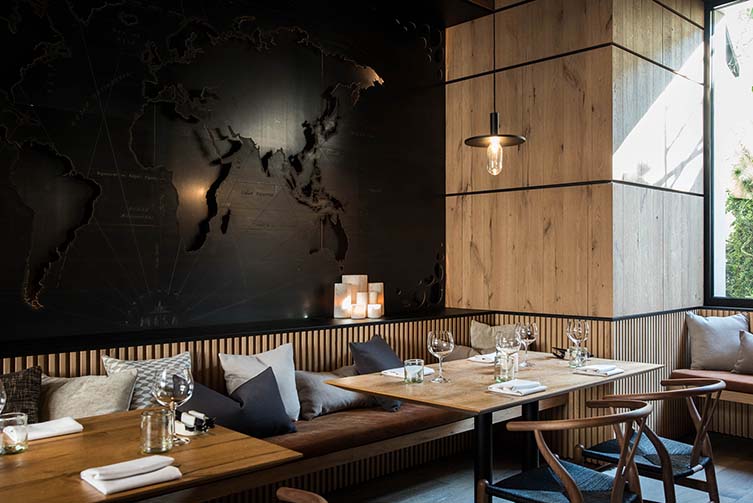 Inspired by the 'Tastes of the World' cuisine at its owners' Tomorrowland, diners here can enjoy three or four plates comprising anything from ceviche, the chefs having learned authentic preparation techniques in Peru; Mjadra, a delicate Lebanese plate; taco de pastor from Mexico; and a spicy squid with padrón peppers from Spain among others. Cocktails include pisco sour alongside that Moscow Mule, and a brilliant selection of local and international wines complete the journey.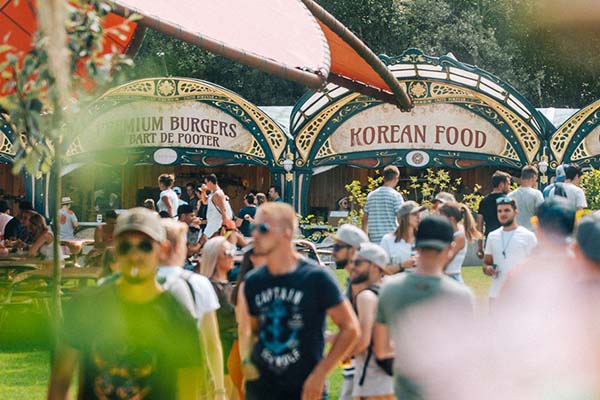 Designed by architecture and interior design company, Dieter Vander Velpen, diners will be drawn to the striking bar area upon entering MESA; with its tall shelving that extends to the rafters. Made of vintage oak and repurposed from old train cars, it certainly is special to look at. At the rear of the restaurant a smattering of tables offer views of the bar and a small patio—home to a green sculpture by landscape designer Jan Bleys—whilst upstairs, the 'Chef's Table' is an intimate spot providing vistas of an open kitchen made from wrought iron.
Internationally-minded but never falling into that trap of throwing too many ideas into a concept that can't quite be pulled off, MESA manages to tackle each of its cuisines with authenticity and an overriding sense of cohesion; each dish perfectly balanced and working together in harmony.
A place of perfect ambience, beautifully presented and exquisitely cooked dishes, and superlative cocktails, MESA is a real keeper; a gift to Antwerp locals and its hungry visitors. Who knew festival food could be this good?