Fed up of making dinner plans, the ones where the sole reason is to have that long overdue catch up with friends (food aside of course), only to find yourself in a place you feel the need to either speak in hushed tones or feel the tormented wrath of fellow diners? Then Antwerp's resonant Middle Eats is just the place for you.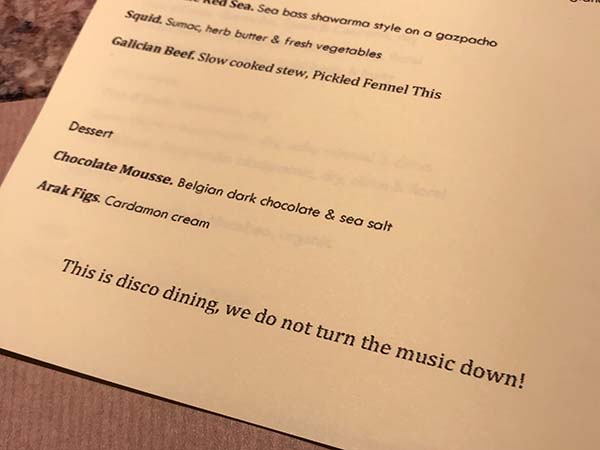 Straddling the hip Zuid and cultural Sint-Andries neighbourhoods, according to Middle Eats themselves, this is a 'no bullshit' venue. Taking its cues from the partytastic vibes of Tel Aviv dining, this is a place where pumping disco music and even louder chatter is not only welcome but overtly encouraged. "Our concept is pretty simple and straightforward," say the fun-time restaurant, "we combine the two things we like the most in life: fresh, colourful, tasty food and groovy music." And oh boy, is the food tasty and the music groovy.
Taking our places at the bar directly in front of the open kitchen, able to watch the chefs at play, we choose a selection of no-fuss sharing plates based on both what sounds the most uninhibitedly tasty, and what catches our eyes flying out of the kitchen and plating station in front of us. Starting with a fresh and light yellowtail sashimi in 'tomatillo sea', we continue with humble dishes that leave a veritable taste explosion where others opt for visual flair.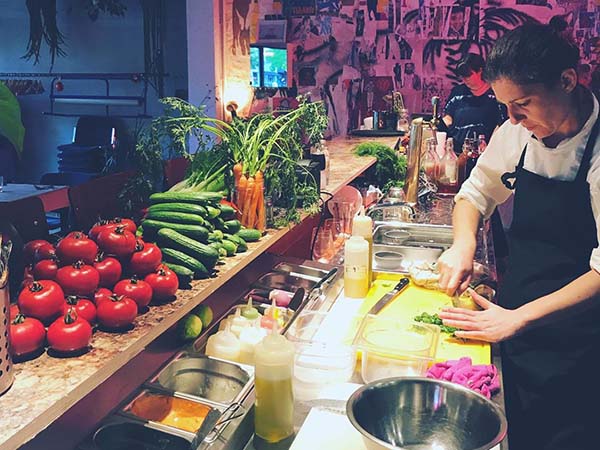 The most delightful oven-baked sweet potato is infinitely more decadent than it has any right to be; served in a paper bag, a charred romaine lettuce is liberally covered in parmesan and delectable Caesar dressing; labneh is mopped up with freshly-made flatbread; fried squid is served with crunchy chunks of carrot and cucumber; each plate inspired by Bohemian chef Daniela's time working and living in the Israeli city.
A mixture of private and communal tables, in addition to the bar seating, make for a diverse mix of diners chattering loudly over party music under the dispersed twinkles of a spinning disco ball. From rhythmic Afrobeat to irresistible Studio 54 sounds, and all danceable in between, the music at Middle Eats marches to the same soulful beat as its unpretentious plates.
Bringing good times, great food and a no bullshit attitude to Antwerp, dining has never been so much fun.