Michał Bieżyński isn't short of ambition. Having brought street art big-hitters like Vhils, Os Gemeos, Aryz, and Roa, to the walls of his city, the man behind the ongoing Lodz Murals project wants to be remembered alongside the likes of Gustave Eiffel.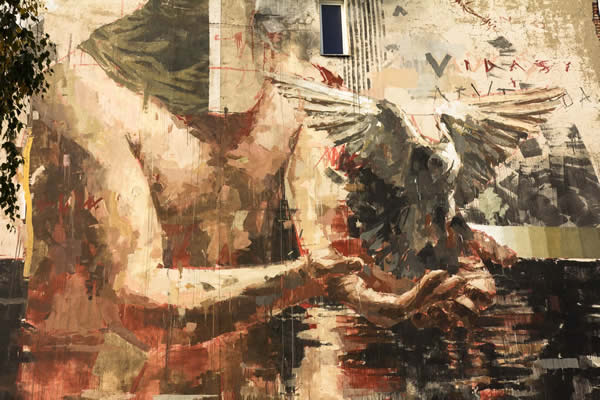 Okay, Bieżyński admits it might be a little exaggeration, but it's true that he wants his project to define his city — and let's not forget that the Eiffel Tower took a while to achieve icon-status. The director of the Urban Forms foundation refers to Lodz Murals not as a project, nor a festival, but as a public art gallery. Now almost 40 murals in, Bieżyński's bravado looks entirely justified.
We've seen it in Detroit, Miami, New York … a wider acceptance of street art as major public art, and Poland's third-largest city is well on its way to being recognised as one of the world's leading destinations for fans of graffiti's evolution. 'Comparing the mural project to one of the most important 'pearls' of modern architecture is a pure overstatement,' Bieżyński tells us, as the latest wave of murals hits Lodz's streets, but his agenda to see 'Lodz' and 'street art' become an everyday association is a fight he's winning.
The most recent additions to the gallery are via Daleast, Alexis Diaz, Borondo, Zoer and Velvet, and Polish sculptor Łukasz Berger; who has created an installation using almost 1,300 metal rods).