Every port city in Northern Europe seems to have rediscovered a collective love for their waterfronts. From Liverpool to Rotterdam, Hamburg to Bilbao, these once great bastions of industry and trade have transformed into contemporary living spaces, galleries, restaurants, and shopping areas. Antwerp is no exception to this rule—with the mighty MAS museum having opened in 2017 as the pinnacle of a ten year regeneration plan for the city's docklands.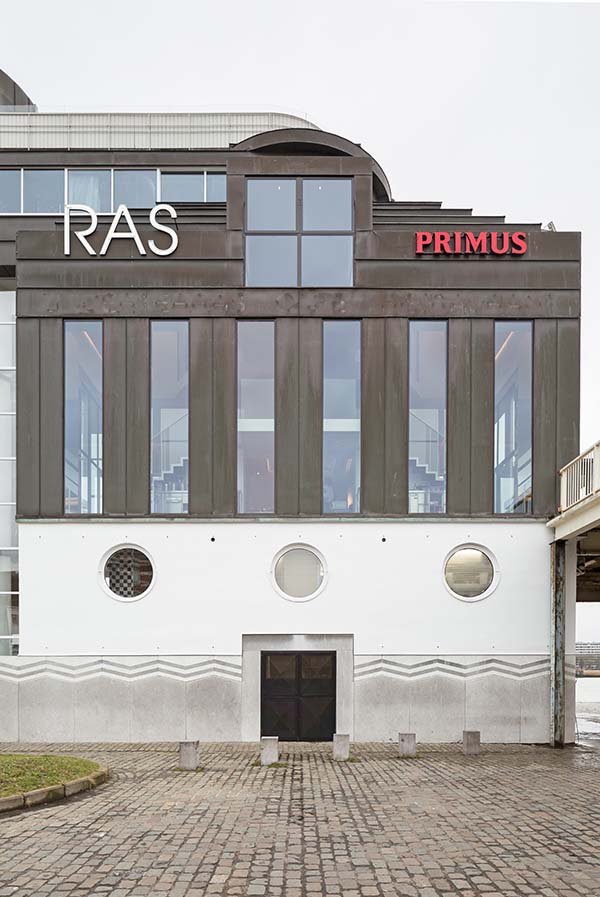 However, the resurgence of the area on the banks of the Scheldt has a longer history with the building that now houses restaurant RAS (literally 'Restaurant on the Stream'), having been restored to its former glory in the early 1990s by legendary architect Bob Van Reeth.
The building—which dates back to 1886—is now enjoying what the Antwerp docks just 10 minutes downstream can only dream of: a second regeneration. In 2016 local architecture firm and Van Reeth alumni, Co.Studio, took on the gargantuan task not only to redesign the waterfront restaurant and bar, but to do so in just 25 days.
25 days might not seem a long time, but there is no sign of rushing at RAS. The emerald green and gold accents add just the right amount of decadence, and the four giant charcoal drawings by local artist Rinus Van de Velde separate the river view from the city behind it. Simple, clean lines, as well as floor to ceiling windows over the water give not only a feeling of light and space, but also a peacefulness—a calmness, as if in this well polished brasserie there is simply nothing to worry about.
And why would there be? The food certainly isn't something to fret over, as local produce takes centre stage in a simple yet refined and well thought-out menu. Veal sweetbreads, perfectly cooked, come with a goose liver gravy to add a rich deepness of flavour to the dish. A Piedmont beef tartare hits all the right spots, with condiments on the side to make the dish as piquant as your taste buds will allow. Hereford steak with a punchy béarnaise and Baby Soles Meunière were also highlights of this classically-inspired bistro style menu; with a focus always on the seasonal.
As the Scheldt sweeps by and midday slowly melts into early evening, the peacefulness found in RAS seems to exude over the city as people emerge to take their evening stroll along the waterfront. Whatever the next grand plans for Antwerp's docks, one thing is for sure: dining at a restaurant on the stream will never lose its charm.