Ryan Chetiyawardana, aka Mr Lyan, brings his innovative, sustainability-forward cocktails to Amsterdam; the studious mixologist's first international bar housed within a historic 17th century Dutch House close to the city's iconic central station as part of the glamorous Kimpton De Witt hotel.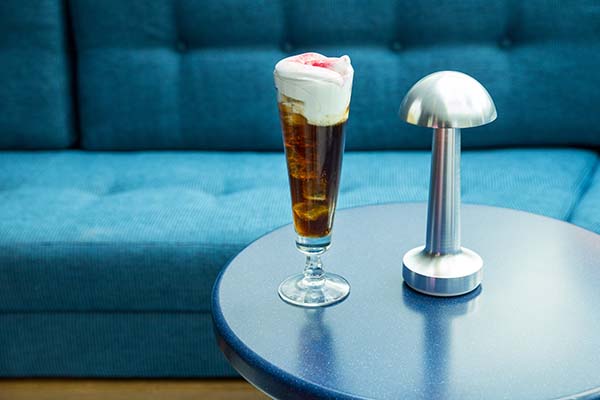 Billed as "an all-day neighbourhood cocktail bar with a garden and bar space that suits a wide range of occasions," Super Lyan's garden is open from 7.00 am to midnight, serving a selection of teas and coffees, breakfast, all day plates and vegan donuts.
Whether you're popping in for a quick breakfast, to devour the infamous chocolate and chips, or—most likely—Chetiyawardana's world-renowned award-winning cocktails, the relaxed ambience and stunning interiors are set to attract a diverse bunch of curious, nomadic and in-the-know customers who might never want to leave. Consisting of three connected spaces, the venue is also home to the Super Lyan living room and the the Super Lyan bar, each designed by Jacu Strauss and his team at Lore Studio, creating distinct shapes and playful, candy-coloured elements that nod to the optimistic 1950s.
Following on from successful venues in London including Hoxton's CUB, Chetiyawardana's Amsterdam bar offers a carefully-curated wine and beer list to accompany the cocktails on tap, the menu full of 'new twists' to 'familiar tipples'; including the old fashioned with beeswax and a flamed orange zest, and Bay Cosmo, a version of the classic cosmopolitan with added bay leaf.
Part of the Kimpton De Witt hotel but run as an independent bar, the latest sibling of the experimental group brings to Amsterdam their signature approach to playful yet sophisticated cocktails, whilst respecting the Dutch hospitality and culture scene. For an avant garde evening put together by 'the world's most awarded bartender', Super Lyan
@super.lyan
@lore_studio
@kimpton