CUB is a petite neighbourhood restaurant in Hoxton conceived by drinks maestro Ryan Chetiyawardana—aka Mr Lyan—alongside award-winning chef Douglas McMaster, owner of Brighton's zero waste restaurant, Silo. The key here is local, unusual and unfamiliar ingredients; a ban on waste; and playful flavours. The team promise 'Good Things to Eat and Drink', which all sounds rather humble for a restaurant that has a heck of a lot to say.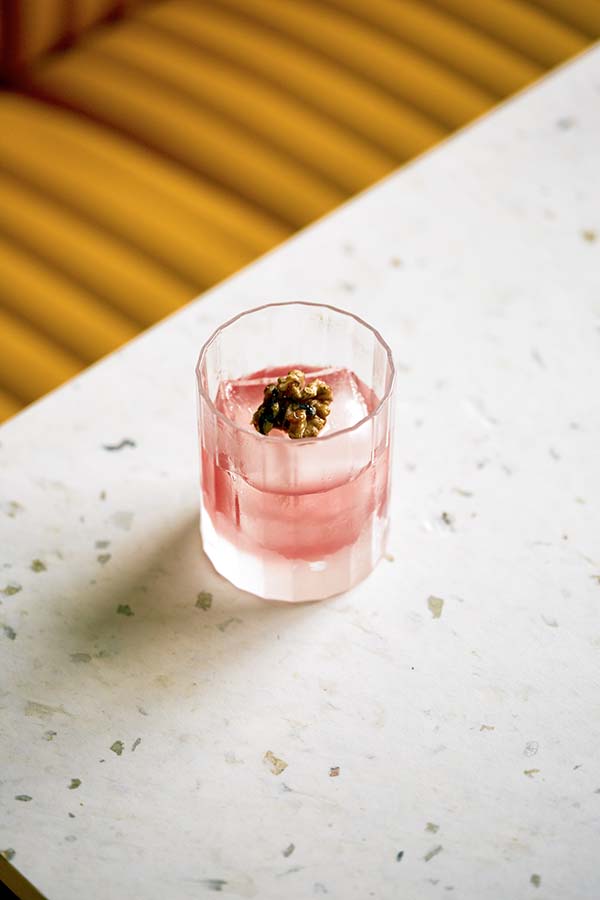 The interiors epitomise the unpretentiousness at play here; minimal and featuring key tones and textures. As you'd expect from the locale, it's rather stylish and design-focused. Responsible for the design of the 35-cover venue was Juliet Walmsley of the Mr Lyan team, and it showcases cutting-edge recycled building materials with a most pleasing aesthetic.
Walls are in a pistachio colour; booths are vintage racing car-style in warm yellow; recycled yoghurt pots create the table tops; paper mulch light shades hang from the ceilings; while breathable recycled clay walls filter the air. These key elements might be all about design, but remind us that it can be done in another way—emphasising one of CUB's most important considerations: that we should all be reducing our waste considerably (if not completely).
It's not all seriousness, however. "Sustainable living doesn't have to be about sacrifice, and luxury doesn't have to be about waste," they say. "We think the right choices can make a huge difference, and help rebuild our beat up food systems: farming can be about deliciousness rather that yield. There are heaps of mad herbs in our stashes."
The bar at CUB Hoxton acts as one long pass, and here is where the magic happens. At our visit, head chef Jurgis Merksaitis—accompanied by chef Ritchie Paterson and barman Simone Sanna—had steer of the rudder. I watch them call out to each other, meticulously assembling the multiple dishes. Although à la carte is available, if it's your first visit to CUB go for the set menu. It's a journey into flavour, balance, discovery, and delight. You'll try things you've never even set eyes on.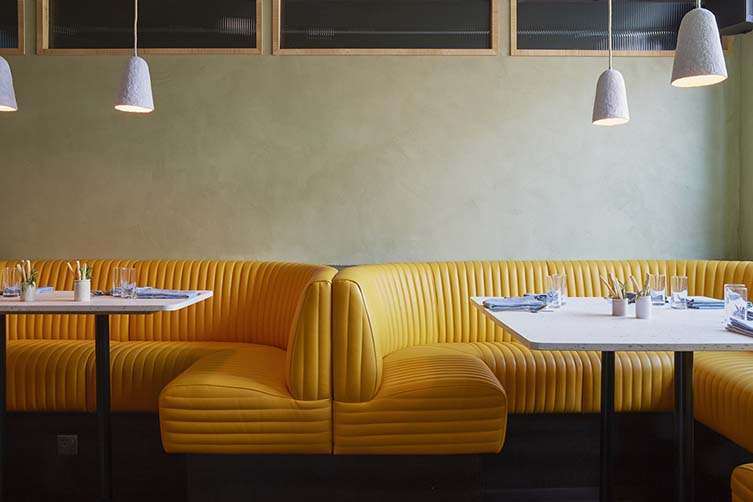 The menu aims to blur the boundaries of food and drink, and the two are equally as important. It's not about pairing exactly, but rather about a culinary experience. As Northern Soul reverberates through the little space, we sample unusual, surprising, outstanding, and joyous dishes and drinks.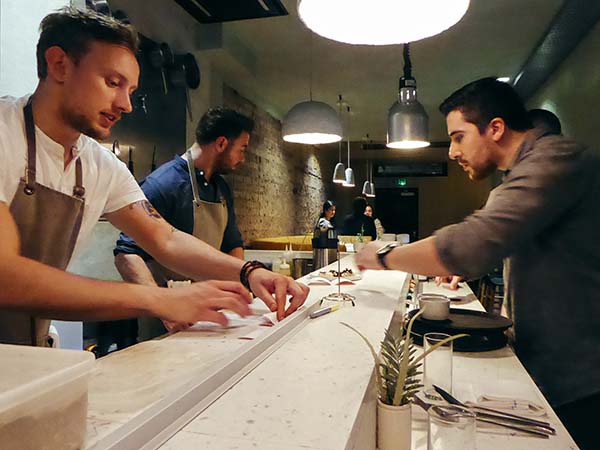 Because the plant-based menu changes weekly—although they don't rule meat out—not all of the dish ingredients are listed intentionally, so there's always an element of surprise. (Don't worry, you're asked about all allergens and intolerances in advance.) What I am about to describe may or may not feature by the time you read this, but fear not friends, whatever you are served, it will be an adventure …
For me, all of the dishes were original and innovative, lovingly executed with great detail and flair. I loved the freshly sweet dandelion Belvedere vodka with Conference pear and pineapple weed drink that beautifully complemented the brined fennel with crab apple and green juniper. Equally as fresh, the various shades of green glistened on the plate while the jet-black onion seeds added contrast and more texture. But if I had to choose one exceptional dish, it would have to be the 'Fungus Kelp Broth'd'. Humbly presented in a Japanese style tea-cup, the clear brown liquid did not seem as spectacular as some of the other dishes, but boy was it delicious.
The earthy rich aroma of mushroom and seaweed instantly hits the senses, and every sip tasted like heaven. I loved it so much that I had to ask Jurgis how he made it. Dried porcini, fresh French chanterelles, and button mushrooms with a hint of foraged kelp made up this heart-warming broth—and the idea that these ingredients came from the wild made it all the more special.
Dr Arielle Johnson (former resident scientist at Noma and current flavour scientist and Director's Fellow at the MIT Media Lab) assists Mr Lyan's team to develop their experimental methods, which once you know makes a lot of sense. The dining experience is experimental and adventurous, and the point is that CUB is trying to go beyond foraging, seasonality, and closed-loop cookery. They are revolutionaries, teaching us to celebrate the natural world and to respect and understand that there are smarter ways of doing things through the joys of eating and drinking.
An inspired team using the latest research and experimentation to bring people together through an exciting, high-end offering while reducing waste, those at CUB are truly passionate about pushing boundaries in food and drink. You know when your mama told you not to play with your food? Well, these guys are playing, and as a consequence, they're creating a stunning dining experience with a conscience.