*Permanently Closed
The art of eating, it seems, changes drastically from one country to another. While the Anglo Saxons among us may be used to 'open all hours' kitchens and cities that never sleep, it's often all too easy to fall foul of strict meal times. Lunch before 1:30pm? No chance. Feeling peckish after 3:30pm? Sorry, the kitchen's closed. Dinner before 8:30pm? On your bike. Post midnight snack? Not unless it's a kebab.
Thankfully for all you night owls in Barcelona, one place has come to your rescue. Servicio Continuo (loosely translates as 'non stop service') brings exquisite food and free-flowing cocktails to the early hours of Barcelona mornings. The late night atmosphere spills over into the design with inspiration coming from English gentlemen's clubs, classic European cocktail bars and the bars that dot the port of Hamburg.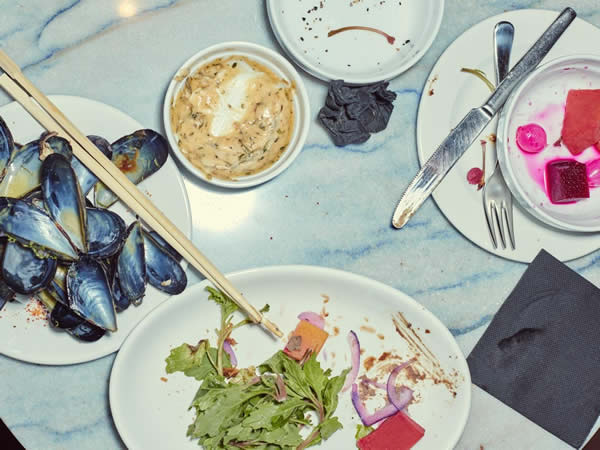 The result is an intimate yet luxurious space, with low lighting and antique furniture completing an almost louche look put together by new kids on the block Masca Studio, in collaboration with co-owner Nacho Alegre (the creative behind superlative indie design mag, Apartamento); a rich contrast between deep blue walls, brass fittings and Alpine cork detail lending the place a lavish decadence.
Servicio Continuo doesn't know whether it wants to be a cocktail bar that serves fantastic food or a restaurant which serves brilliant cocktails. Luckily for them, they don't have to choose. With ex Mandarin Oriental chef Carlos Yáñez at the pass, Servicio Continuo serves up plate after plate of mouth-watering dishes. Local flavours come to life in dishes like chicken and Pedro Ximénez paté — and you can choose which country to visit next with dim sum whisking you away to the Far East; dry aged steak with bérnaise sauce and fries taking you to Paris; and steamed mussels in green curry conjuring up pristine white beaches in Thailand. And then there are those cocktails. Wanting to step away from overly sweet, dessert style cocktails, Servicio Continuo has opted for a simple, classic cocktail menu with all the famous faces alongside their own house creations. So good, they could turn even the most determined early bird into a creature of the night.