Located along the canals on the Prinsengracht, taproom De Biertuin Amsterdam Centrum is inspired by German biergartens and celebrates craft beer, serving it up alongside rotisserie chicken, Dutch specialities, burgers and hotdogs.
The third outpost for the De Biertuin chain, this location presented challenges for designers and long-term collaborators, Studio Modijefsky, in that whilst the previous locations (in Amsterdam East and West) naturally lent themselves towards the creation of a 'biergarten,' this locale on the evocative Prinsengracht was much smaller, as well as being narrow with very little natural light.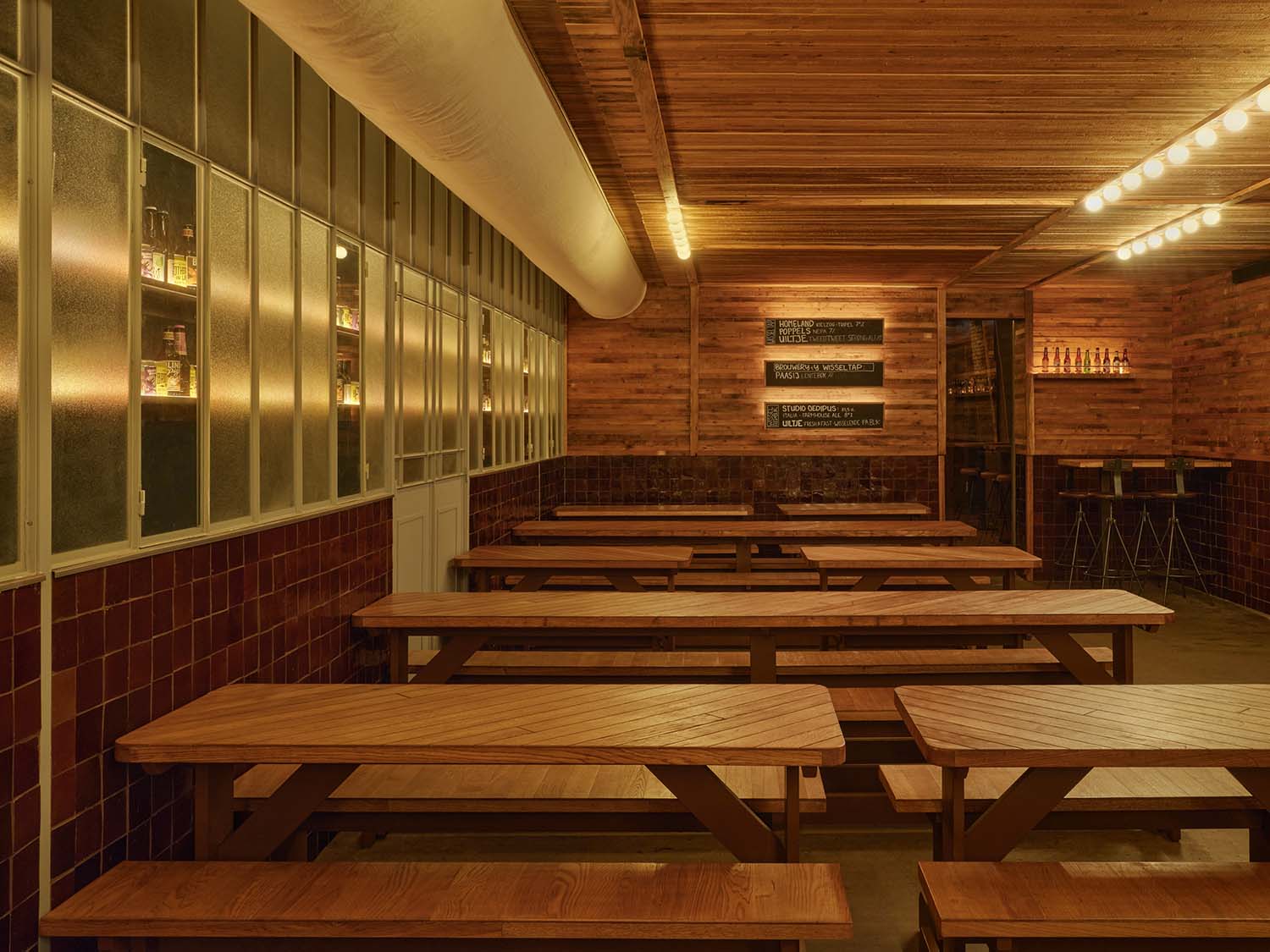 Undeterred, the Amsterdam-based designers transformed the space, first eliminating 'the dark.' Following a grid created by the openings on the internal walls, long lines of lightbulbs were added, tracing the length of the space, illuminating it with a soft and cosy hue. New tiling on the walls, ceiling and columns, intensify the overall light whilst adding a refined touch to raw materials that include brick and concrete.
A place for craft beer aficionados and those looking to learn about the local beer scene, the space and ambience here is welcoming and inviting, with the main bar (located in the middle of the room) showcasing the beers on tap and in bottles alongside other libations. In front of the bar, three small openings give a sneak peek of the beer garden, with its high tables crossing the windows and interconnecting the two rooms.
Big board menus hang on the walls throughout the space, again eliminating snobbery and highlighting that every beer fan is welcome here. Seating is a mix of communal and more private spaces whilst our favourite part, the terrace on the canal, features wide custom-made wooden benches and tables, along with a layer of bushes that communicates (alongside the big wooden backlit logo above the front door) the De Biertuin mission of togetherness, linearity, warmth and, of course, the conviviality of a German biergarten.