Eco-minded San Francisco restaurant and bar, The Perennial, is a torch-bearer for progressive farming, believing that agriculture has the potential to reverse climate change; and doing lots of notable things to mark that belief.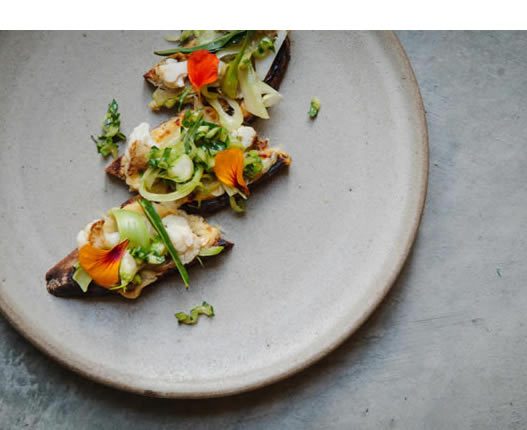 Top quality food and drink with a sustainable approach, all going on within an eco-friendly space is the name of the game here; furniture and fit-out starring recycled, reclaimed, and efficient materials wherever possible. Designed by master woodworker Paul Discoe, you'll find a long Douglas Fir bar, a ceiling woven from wood shavings, 100% recyclable rug and barstools, and menus printed on recycled Neenah paper.
Vegetables, herbs, and micro-greens are integrated into the dining room's interiors, which — along with a fish-filled aquarium — reflect the restaurant's offsite aquaponic system, a mutually beneficial arrangement, where the plants send their roots down into water fertilised by the fish; food waste is cut by scraps (and even worn-out menus) being dropped off at their aquaponic greenhouse, where their 'closed-loop system' begins all over again.
Along with the delicious food provided by the fascinating greenhouse, The Perennial are working with local soil-based farms to source the ingredients and produce they're currently unable to produce themselves. Beef and lamb comes from a carbon farming project at Stemple Creek Ranch, their pastry chef is experimenting with Kernza, a new kind of wheat with 'superpowers to fight climate change and stop soil erosion', and they've got a non-profit partner in Zero Foodprint, which should be self-explanatory. To cut a long story short, you will feel good, very good, about yourself after eating here.