Combining Dutch craft beers with rotisserie chicken and unctuous burgers, the De Biertuin brand continues to grow, its third location——in hip Amsterdam West——now open. Designed by Studio Modijefsky and based upon the German biergärten concept, the bar occupies a corner spot on Jan Evertsenstraat, and boasts an impressive outdoor seating area.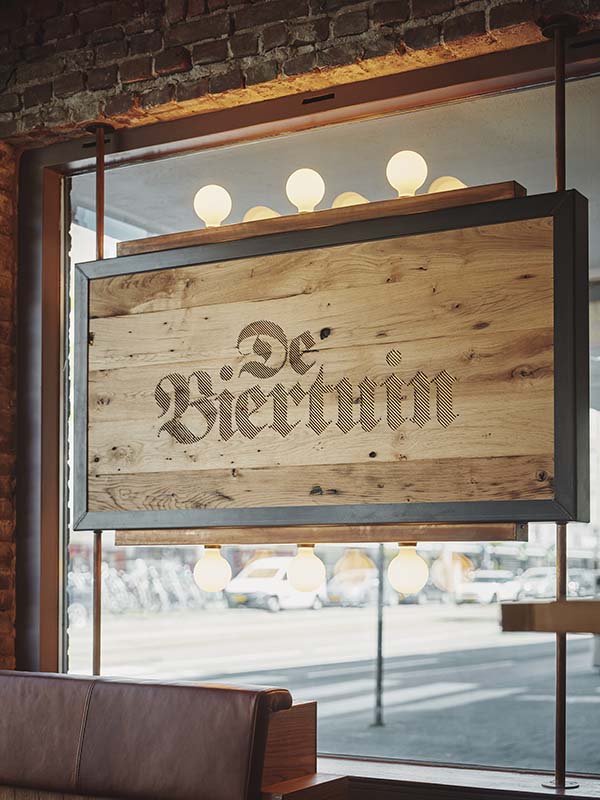 As a nod to the long communal wooden tables and open air setting of typical biergärtens, the Amsterdam-based designers decided to bring the convivial ambience indoors, opting for an urban garden vibe for the external façade and outdoor terrace.
At De Biertuin West, linearity, togetherness, and warmth are the bar's main components. Elements translated by the designers into an interplay of raw, rough materials often found in outdoor spaces such as concrete, wood (sourced from parts of old wagons), aged red copper, and oxidised green copper.
Looking to the building's original details, the lopsidedness of the dated red bricks are counteracted by the geometry of the lined-up light bulbs, square wooden elements that rebound from the ceiling to the tables (a biergärten known to have lots of lines from the rows of tables and benches) and the planks that make up both the tables and those lines of ceiling lights. Here, a herringbone wooden floor clashes with high tables, solid leather benches and wooden barstools, whilst the bar——rough in texture——is the beating heart of the space, the place where patrons gather to choose their libation, chat and have a bite to eat.
With 12 wide wooden benches and tables outside, the terrace is a wonderful spot to spend a few hours when the weather allows. With warm lighting that connects the patio to the main building's front façade and thick ivy bushes, this space characterises the biergärten feeling that forms the backbone of the project.