Despite its relatively minuscule footprint of 30 square meters, Przyjemność—which in English translates to 'pleasure'—is a colourful pizzeria that is exciting the Instagram set of Wilda, a bijou district in Poznań, Poland.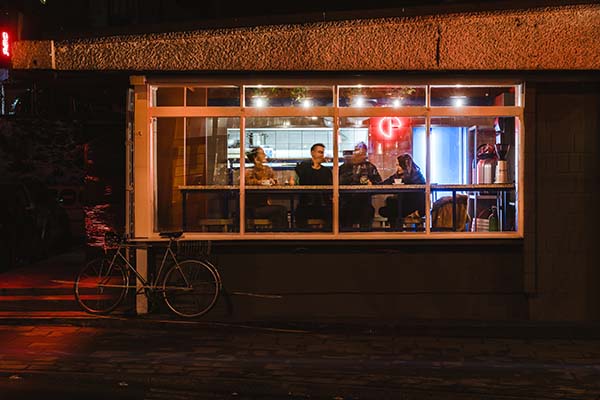 From the neon signage over its entrance to granite, marble and terazzo, this 18-seater pizza bar—inspired by Italian hospitality and street food culture—also features custom-made furniture that includes an open bar, shelving, lamps and the restaurant's most characteristic element: a granite-topped common table which takes centre stage in the middle of the space upon which stand bottles of sauces and olive oil.
The design and interiors, overseen by Adam Wiercinski of wiercinski-studio (fresh from lending retro elegance to the city's Yeżyce Kuchnia), also saw original steel trusses retained to set steel meshes where ceramic pots with plants now live, with the ceiling and other elements painted in Italian terracotta to allow the ceramic flower pots blend into the background; the greenery of the plants and the brilliant pop of white tiling with deep blue accents coming to the fore.
Serving traditional Italian home cooking and pizza in heavily-styled surrounds, Poznań's Przyjemność Pizza is a welcome addition to this happening Polish city.
@przyjemnosc.pizza
@wiercinski_studio