"We'll tell our grandchildren: Once upon a time we had to wait."
There is a stark polarity in this line from creative agency Lippincott's landmark consumer research report, Customer of the Future. On-demand everything has made our lives infinitely convenient, yet it comes at a cost. A study of 6.7 million internet users around the world, showed that users were only willing to wait two seconds for a video to load before leaving the site—boredom has become intolerable. We are officially more stressed than we have ever been. As travel is more accessible than ever, and we spend more and more of our time hopping between bustling urban destinations, we must relearn—for our own sanity—how to take a step back.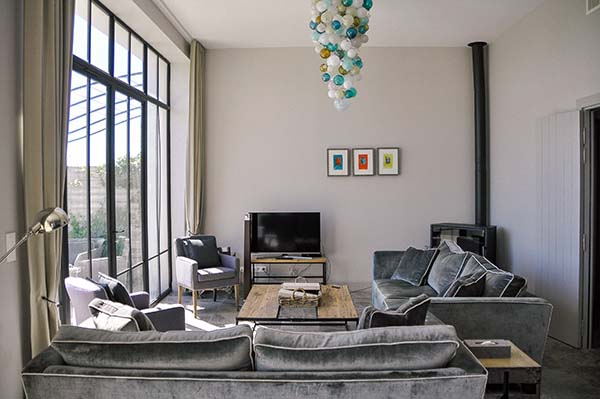 Jet-lagged and in search of some much-needed downtime following two weeks of perplexing intensity in Miami, we packed a bag of our most appropriate South-of-France-chic, picked up our friends, and set off on a three-and-a-half-hour drive north-east of Barcelona. Our destination: Château St Pierre de Serjac, an enchanting estate in the Languedoc; a region renowned for great wines, fine foods, proximity to the Mediterranean Sea, and—above all—its ability to unwind even the most tightly-coiled.
Having luxuriated in a two night stay in one of the château's eight grand guest rooms of quintessential French design last September, our home this weekend would be La Maison des Vendangeurs; a four-bedroom house set over three floors with a vast contemporary kitchen, wine cellar, private garden, and its very own heated infinity pool. Wrote George Moore: "A man travels the world over in search of what he needs and returns home to find it." If only that was true.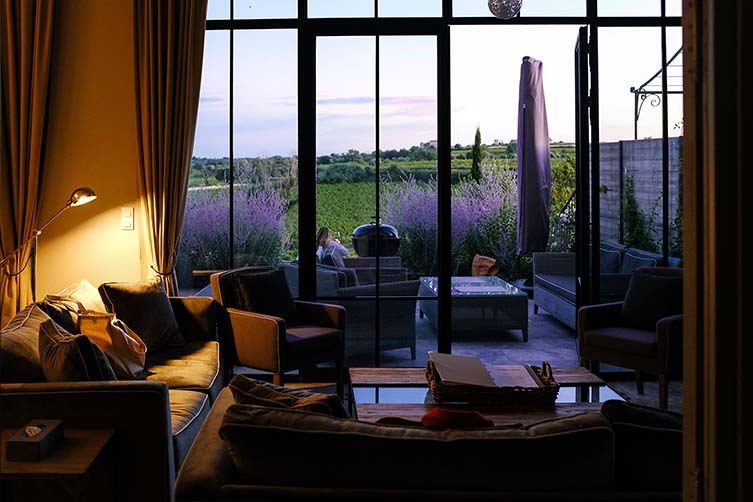 Arriving on a Friday evening with a plan to do the sum total of nothing, we punctuated our stillness with unexacting activities such as barbecuing; relishing as many French wines as four people can safely consume; spending hours under the summer sun (in that aforementioned infinity pool); and enjoying good company whilst reconnecting with nature, recharging and unplugging (our collective followers would have to wait for the Instagram-worthy sunset that greeted us).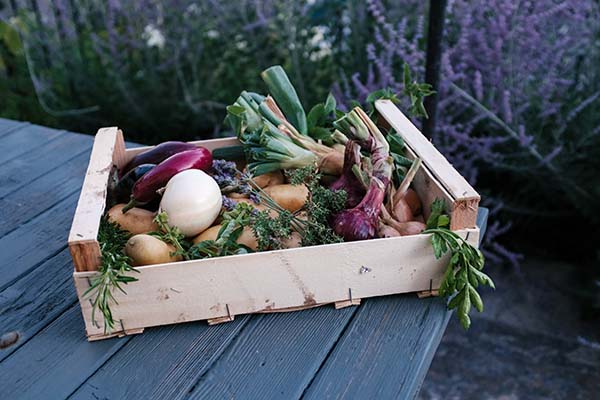 The house is blessed with an impressive 210m² living space that affords views of the surrounding vineyards and direct access onto the terrace via 'full wall' bay windows. The large kitchen is seriously well-equipped, and the adjoining open plan living and dining rooms feature colourful chandeliers with an air of Jeff Koons about them; a wood-burning stove; and ample seating. The guest rooms—split over the top two floors, each with ensuite bathrooms (two with walk-in showers and two with a bathtub)—overlook either the estate's central courtyard, or lush green vineyards that appear to roll into the horizon; a neutral colour palette and minimalist aesthetic are a continuation of the house's contemporary edge.
Breathing in the French country air, listening to the crackling of hot coals from the barbecue, and inhaling a heady combination of the rosemary and lavender abundant throughout our garden, the stresses of modern life quickly melt away; the age of omnipresent connection rapidly dissolving into a distant concept. With that, we raise a toast to the 48 hours ahead, a crisp bottle of local La Clape white wine becoming the first of many.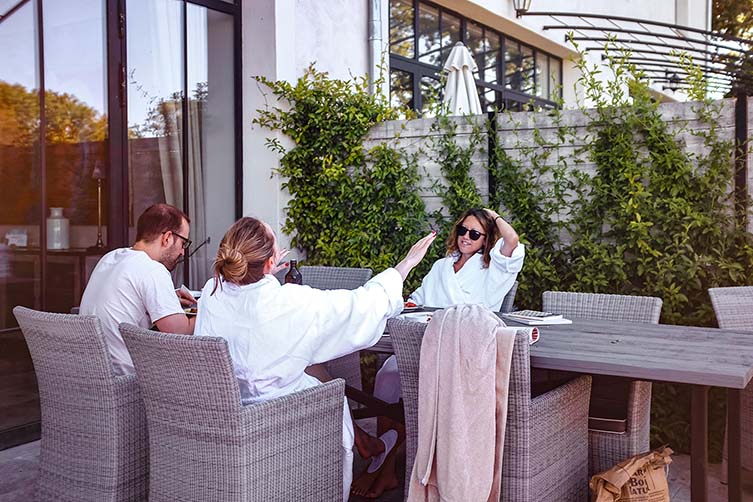 Guests of the Serjac houses can, upon request, order BBQ packs; picnic baskets; or choose to dine at the restaurant. In all instances produce is locally-sourced, fresh, and Mediterranean-inspired. Despite a terribly last minute request, we're lucky enough to snag one of the former—a heavenly bundle that consists of mammoth cuts of mouth-watering meats; scallops; fist-sized prawns; a hunk of fresh white fish; colourful vegetables from the estate's own gardens; and delectable desserts, along with a selection of flavoured salts, olive oil, and local wines.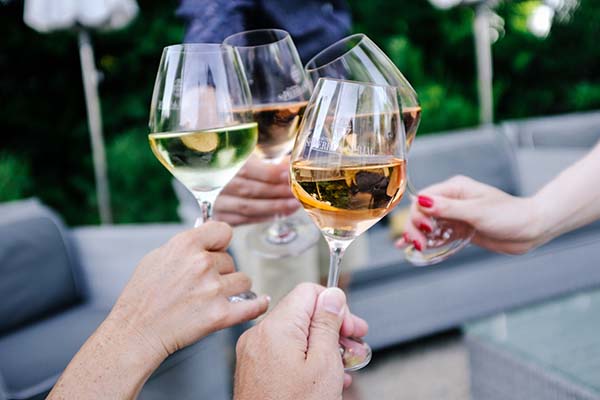 Preparing dinner with friends, cooking local and sustainable foods over hot coals, hearing the rare sound of silence that stretches out over the vast vineyards, it brings into mind the Slow Food concept pioneered in 1984 by journalist Carlo Petrini as a tongue-in-cheek response to McDonald's opening their first Italian restaurant. "Slow Food unites the pleasure of food with responsibility, sustainability, and harmony with nature," Petrini wrote, giving way to the broader philosophy of slowness that has engulfed us.
Petrini's manifesto would become a movement, and one of its would be Canadian journalist Carl Honoré. "Fast and Slow," he writes, "are shorthand for ways of being, or philosophies of life. Fast is busy, controlling, aggressive, hurried, analytical, stressed, superficial, impatient, active, quantity-over-quality. Slow is the opposite: calm, careful, receptive, still, intuitive, unhurried, patient, reflective, quality-over-quantity. It is about making real and meaningful connections—with people, culture, work, food, everything." Here in the South of France, time has stood still. This is slow—the antidote to constant connection and the Amazon Primeification of everything-now.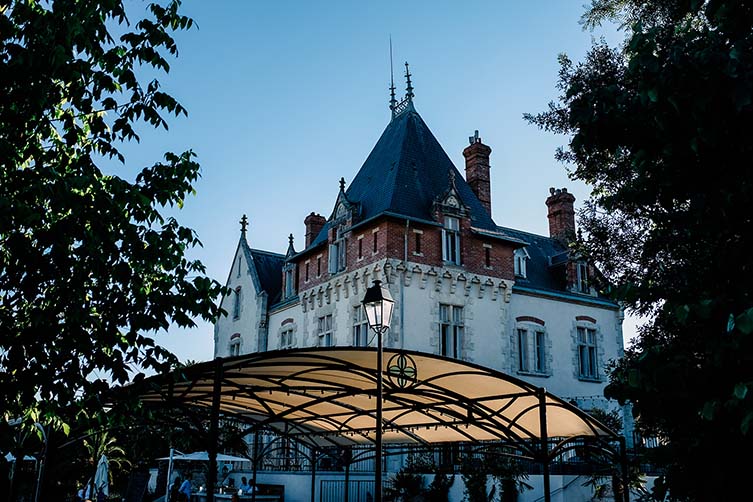 Continuing on the movement Petrini leisurely rolled into action, Honoré continues: "It is a cultural revolution against the notion that faster is always better. The Slow philosophy is not about doing everything at a snail's pace. It's about seeking to do everything at the right speed. Savouring the hours and minutes rather than just counting them. Doing everything as well as possible, instead of as fast as possible. It's about quality over quantity in everything from work to food to parenting."
Slow Travel has been defined as "a mindset that rejects traditional ideas of tourism and encourages you to soak in your environments and keep yourself open to new experiences." There are few better environments in which to bathe. Rather than trying to see and do everything in a short space of time, take time to explore your destination and experience local culture; a dogma that could have been written specifically for Château St Pierre de Serjac. Guests can mingle with other guests, locals and staff throughout the estate—from the sun-drenched 30-metre main infinity pool, decked out with luxurious loungers, to the restaurant and bar; over a game of Pétanque or tennis; or whilst cycling the surrounding gardens, woodland, olive groves and vines. "Savouring the hours and minutes rather than just counting them."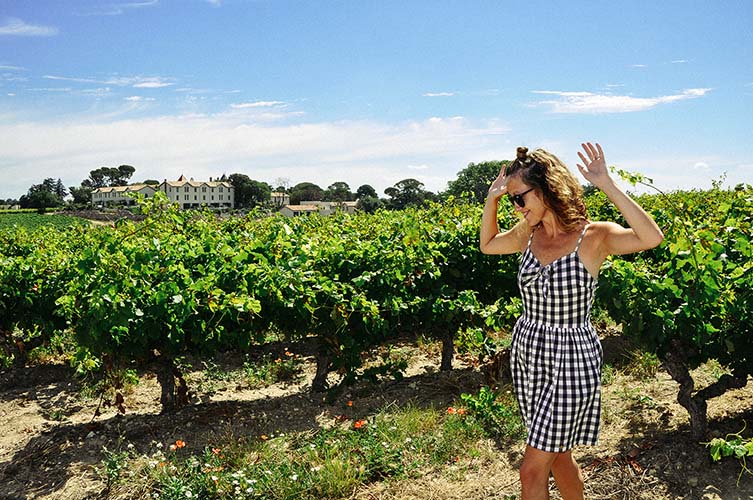 And this is the magic of Serjac. By the time you have made it to the end of its long driveway, once the château is in view, something changes. You contemplate more, breathe slower. It urges you to slow down, and when you do, you reclaim the headspace that contemporary living has swallowed. You might arrive thinking that you'll switch off and read a book, but it's in connecting with its lifestyle that you can truly disconnect from on-demand culture. It's in throwing a bit of rosemary from your garden onto the blazing coals of your barbecue; in drinking wine with vineyards in view; liberally applying olive oil that began life in neighbouring groves. Everything here is in harmony.
For 48 hours we are truly Slow Living—we are moving to the rhythm that Serjac dictates. In one short weekend we rediscover the true meaning of connection. All that the château and its distinguished estate offer washes over us. We'll tell our grandchildren: Once upon a time we had to wait. And it was incredible.