Located in a modernist building that dates back to the 1960s, Yeżyce Kuchnia is a restaurant that attracts Poznań's hip local crowd, curious travellers and the Instagram set, each vying to snap artfully put together food in attractive surrounds.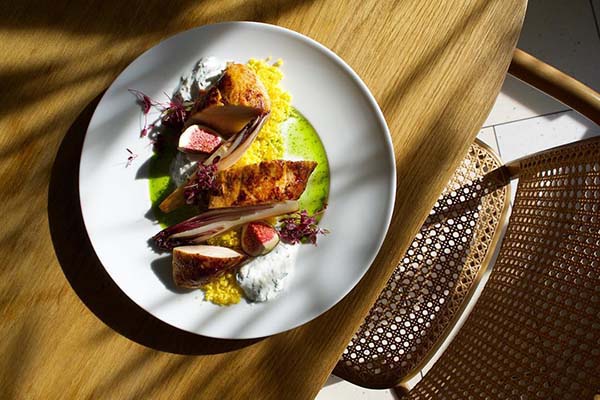 Led by the architectural practice wiercinski-studio—in collaboration with Agnieszka Owsiany Studio—Yeżyce Kuchnia's design is enticing and inviting thanks to its bright and open spaces with large windows and an abundance of natural light; all accented with colourful, custom-made furniture, lighting, and the sort of irresistible greenery that is so very on-trend.
Colours and materials at the design-led eatery were matched to create individual 'colour islands' that serve to divide the space into different zones—be that communal seating, individual tables at the counter area or its outdoor terrace, whilst planters were introduced to add a sense of warmth, flower pots lifted to the level of sight for seated guests.
Upon entering the restaurant, diners will find an oak common table with a brass lamp hanging above. The bar zone features a steel counter filled with light-reflecting mirrors and black tiles, whilst in the middle of the room a combination of smaller oak tables and window seating to watch the people of the neighbourhood of Jeżyce go by allows foodies to choose whether they want to eat in company or alone. In the back part of the eatery, delicate restaurant lighting and their logo is found amidst a long, upholstered bench and some small tables with dark-green granite tops; the last of the indoor dining options.
Outside, Yeżyce Kuchnia's wonderful terrace surrounded by fences with planters—to add a dash of privacy from the comings and goings of the street—is a perfect spot to enjoy a coffee, brunch, wine and lunch or cocktail and dinner as day slowly turns into night in this underrated Polish city halfway between Warsaw and Berlin.
@yezyce_kuchnia
@wiercinski_studio
@agnieszkaowsianystudio