Piotr Paradowski Biuro Projektowe looked to the bistros of Paris for inspiration in their work for Zenit, a neighbourhood restaurant in Krakow's kool Kazimierz district; the city's historic Jewish quarter an area renowned for its creativity, independent galleries, and vintage shops.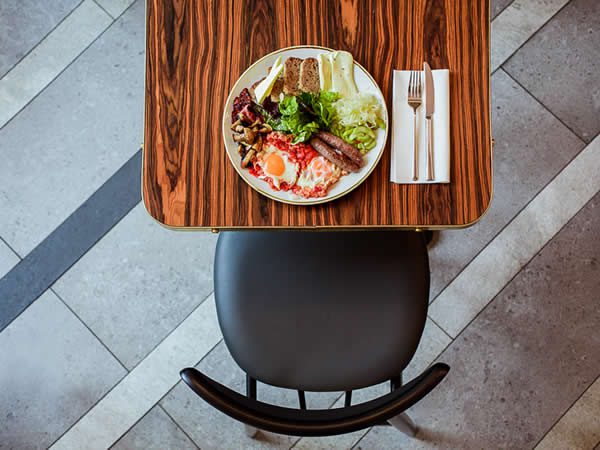 Boasting a synagogue as a neighbour, Zenit is located on Miodowa Street and serves up an array of healthy, fresh dishes from a space that feels equally as fresh—thanks to the designer's clever handling of a range of materiality, fusion of colours, and an eclectic composition of contemporary artworks hanging on the plastered walls; Paradowski's studio coalescing retro touches with urban modernity in a project that has all the hallmarks of his considered approach.
Referencing different styles and cultures, the Asian and Polish dishes attract a younger, hip crowd who enjoy quality in detail and inspirational surroundings. Inside, the use of grey, blue, and gold contrast with brown veneer; walls are covered in custom-made wallpaper by local creatives, with works of art by Krakow artists and posters the owner proudly brought to Poland from Barcelona. Lee Broom lighting sits alongside lamps by Tom Dixon, and the mix of clientele, design decoration, and food lends Zenit a cosmopolitan international vibe—you might be anywhere from Poland to Barcelona, New York to Hong Kong, but wherever you are its sincerely stylish.
A firm favourite on the Kazimierz neighbourhood scene, Zenit—with its perfect balance of restrained furnishings and immoderate creativity—is another winner from PION.