It's not much shy of a year since we introduced you to Wm. Mulherin's Sons, the Italian-inspired restaurant that was wooing Philadelphians with its wood-fired cuisine and hip old-world surrounds; purveyors of fine design with heavy-handed touches of nostalgia were left with bated breath at the prospect of an accompanying four-room hotel.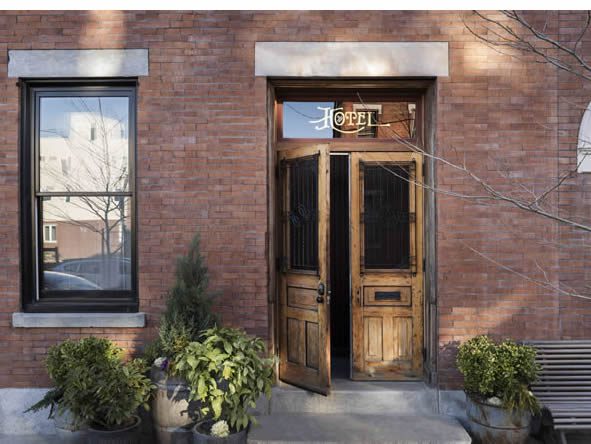 Now welcoming guests, said tiny hotel is located on the two floors that sit above the Fishtown restaurant — reminiscent of classic British inns, check-in takes place with the wait-on staff downstairs; reinforcing the restaurant's informality and amiable approach. Despite all four rooms being entirely unique, each bear hallmarks of the restaurant's evocative restoration; preserving historically-accurate existing features and infusing them with a slice of Nordic simplicity.
Custom-made solid wood furniture by Tim Lewis Studio nicely juxtapose Stacey Rozich's idiosyncratic toile wallpaper; exposed brick and white-washed walls complement vintage Persian rugs, whilst cacti and other splashes of greenery add a touch of homeliness to the glossy-mag-ready spaces. Thanks to its long history (the name is borrowed from the building's original 1890s family-owned business), the hotel contains a few fancy relics: a pulley system used for winching heavy goods, and a claw-foot bathtub, two touches that emanate the weight of heritage.
Fishtown itself continues its current creative renaissance at pace, and there are plenty more nods to the past on Mulherin's doorstep — rum distillery La Colombe and restaurant and butcher Kensington Quarters two spots with quality and respect for heritage at their core. Restaurant, hotel … Mulherin's leave us once again with a teaser: a 'secondary concept' promised for later in the year.