Amsterdam and Antwerp. Two A's just over an hour apart by train. One defining its free-thinking nation, a global big-hitter on the city break charts, one of the world's most (in)famous capitals; the other a quietly confident mover and shaker that is comfortable to remain, to thrive, in the Brussels's shadow. Both united by a deep-seated cultural edge, both marked by 'global hipsterism', both standing firm in their own positions as leading destinations for the creative class.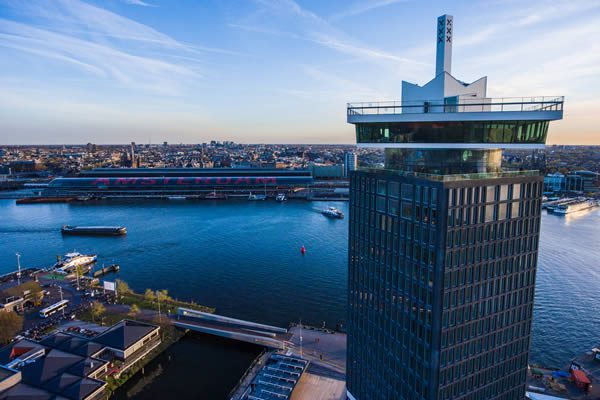 Revitalised waterfront districts, burgeoning cultural neighbourhoods, long-standing reputations as creative behemoths — I recently took a whistle-stop tour of these two remarkable cities and found historical pioneers unrelenting in their expressive psyche, their artistic inspiration as intense as ever, their spirit and atmosphere as fearlessly creative as ever in their long histories.
Laid-back (or languid, depending on which local delicacies have been sampled) to the extreme, 17th century buildings butt up to contemporary gems in Amsterdam, a city that is rife with fascinating juxtapositions — overseeing it all is a 22-storey tower that has recently been given a new lease of life; opened in 1971 and home to Shell until 2009, Toren Overhoeks is now known as A'DAM, a cultural hub with plenty more life than its planet-poisoning former occupant.
High above the increasingly hip Amsterdam-Noord neighbourhood, A'DAM's 360° observation deck opened earlier this year, accompanied by a series of stylish bars and restaurants, a nightclub, and spots where creative, youthful companies will go about their business. The first eight floors are set to be taken over this fall by Sir Adam, a 108-room design-led hotel that will serve as a cultural hub of its own.
Transforming the area's waterfront back in 2012, the incredible Delugan Meissl Associated Architects-desiged EYE Filmmuseum is a sculptural icon that, at just four years old, is now somewhat of an elder statesman here, such is the pace at which this district has evolved — expect cutting-edge exhibitions with a strong leaning toward the arthouse; four cinemas; a bar-restaurant; and brilliant gift shop.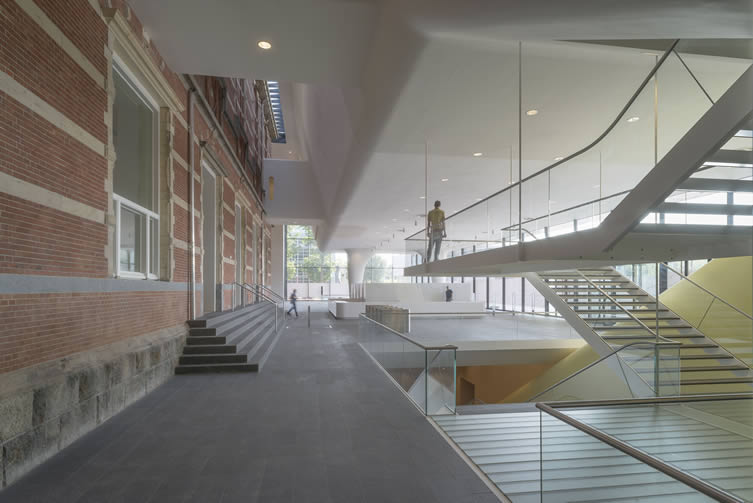 Looking like a mothership straight out of a B-movie, and occupying the same square as such classical buildings as the Rijksmuseum and the Van Gogh Museum, Stedelijk Museum landed in the Dutch capital at the same time as the equally offbeat EYE — its positioning next to a neighbouring 1890s building a controversial choice, but serving as a perfect example of Amsterdam's boldness in embracing cultural change.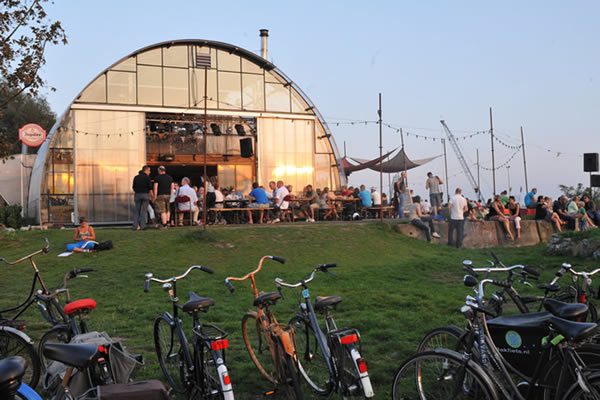 The museum itself is a blistering ode to contemporary art and design and joins photography gallery Foam, art-squat gone legit OT301, and film enthusiasts-haven LAB111 as leading cultural venues in a city where art and its legacy are omnipresent.
Back in Noord, the area is rich in the new wave of artists and creatives making their mark: NDSM wharf's industrial units have been taken over, and the transparent greenhouse cum cultural hub Noorderlicht Café is its linchpin. DJs, campfires, offbeat events, and organic cuisine, Noorderlicht is a ramshackle treat that evokes mythical fantasies of hippie communes, looking over Amsterdam's city centre from across the river IJ.
Retaining the rawness is neighbouring Pllek, built from old shipping containers and with its own artificial beach; those same staggering views of the city are joined by sustainable fish and organic meat from the kitchen, party vibes, and nights rolling on until 3am at the weekends.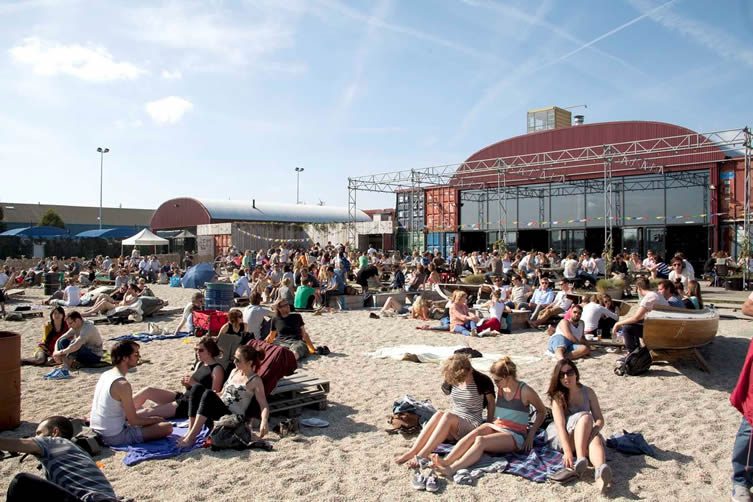 Faralda Hotel is a hotel of considerable high standing. Literally. The infamous 'crane hotel' peers down over the NDSM wharf for those with a head for heights. Nearby, old factories and industrial spaces have been reclaimed as the Noord's cultural renaissance spreads out from its nucleus; Café-Restaurant Stork and the garagey Hotel de Goudfazant (complete with vintage supercars) two enduring gems.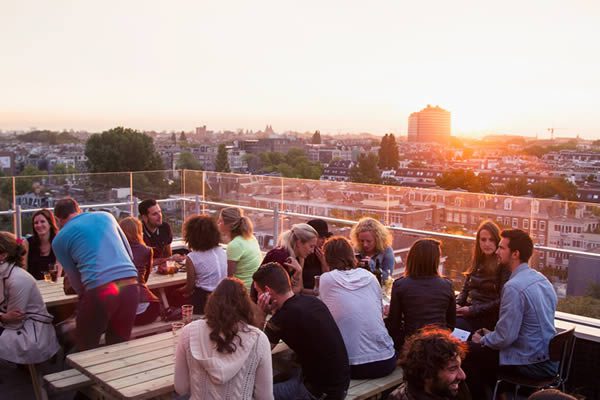 Naturally, nothing stands in the way of progress in Amsterdam, and across the water, a formerly gritty area of the city has been transformed into what is currently the city's most exciting 'hood for design-led bons vivants: Amsterdam-Oost.
The East's down-at-heel reputation has been replaced by hip kids and hipper spots — Bar Botanique and Bar Basquiat are just two of the cutting-edge hotspots that prop up Oost, Volkshotel (the former headquarters of newspaper Die Volkskrant) and Generator Amsterdam, on the edge of the city's newly renovated Oosterpark, two exceedingly cool places to refresh your inner wellness from the decadence of the Dutch capital.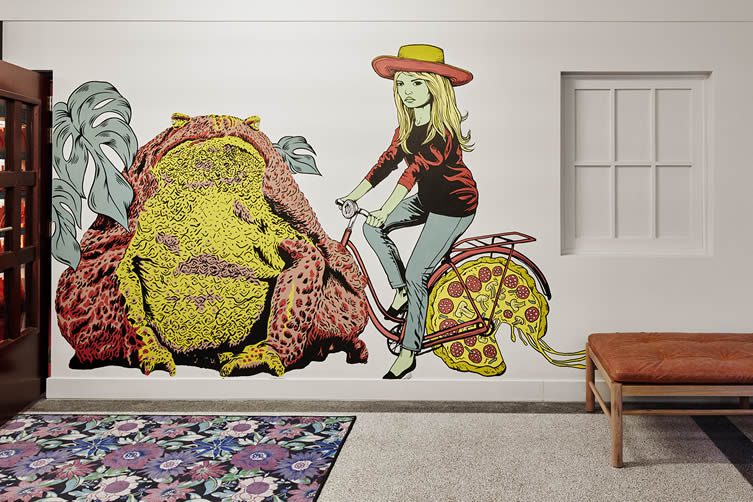 Around 150km south, I move on to our second big A. Go by road (around 2.5hrs), by rail (I do, it's a speedy 1hr 10), even by river (several days, but incredibly lovely, I'm sure), but go. The point is, these deeply textured cultural hubs are surprisingly close — geographically, as well as in mood, feel, and unconventional intensity.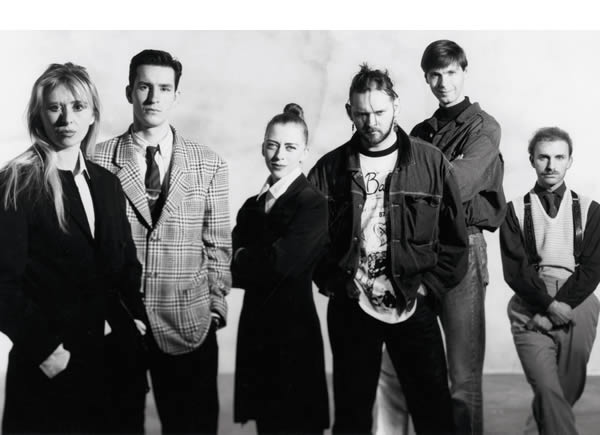 There may be fewer design-led options to recharge at in modish Antwerp; yet they are far from less interesting. To the contrary, in fact. To appreciate the singular approach of some of the city's most fascinating hospitality projects, though, it's important to understand a little more about the creative blueprint of this place.
The Flanders city was Europe's richest at one point during the 16th century, and has always had an air of the well-heeled to it, yet it was a moment at the beginning of the 1980s that defined the fashionable city among the world's cultural elite; names like Dries van Noten, Ann Demeulemeester, and Dirk Bikkembergs making up a gaggle of art-minted fashion designers graduating from the Royal Academy of Fine Arts, who would go on to be known as the Antwerp Six. Oft mislabelled with the collective, Martin Margiela graduated the year before, but serves to add weight to the remarkable impact that Antwerp had on the international fashion stage at that time.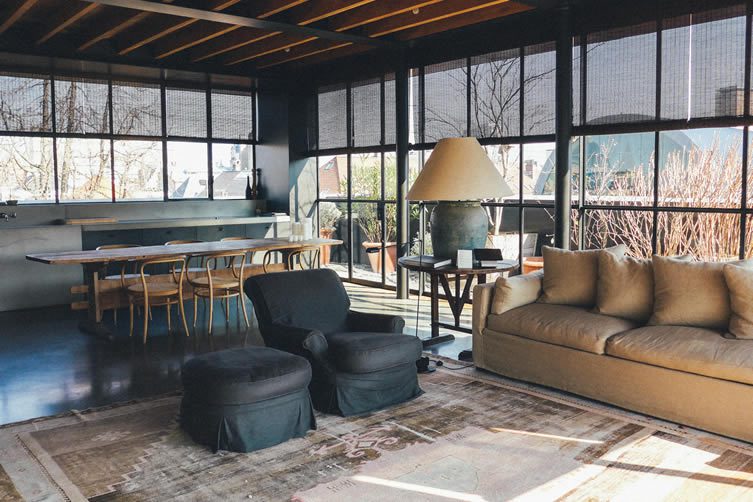 Which means: Antwerp is deeply cool. And its accommodation matches this, places like Hotel De Witte Lelie revelling in the city's long-standing heritage of sophistication with just ten elegantly-designed rooms that are a favourite among the fashion elite. Unbelievably, Antwerp's most interesting 'hotels' get smaller from there — Room National is a three-room beauty in the heart of the fashion district, whilst The Apartment at Graanmarkt 13 is an altogether more spellbinding affair; a one-room rental property that sits above a restaurant, design and fashion store, exhibition space, and all-round nirvana for cosmopolitan culture vultures.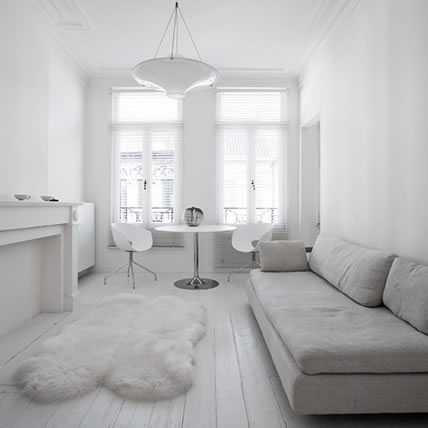 Described by its owners — Ilse Cornelissens and Tim Van Geloven — as 'their best kept secret, the top-floor of their handsome Graanmarkt 13 concept is a thing of rare beauty; the opportunity to live in the pages of a glossy design magazine. Of course, the shop downstairs is not too shabby either (curious design objects bumping up against high-end fashion), and the beautiful restaurant dishes up from a changing daily menu that begins with vegetables as its primary focus; a rooftop herb garden adds some flavour.
Keeping curious, the folk at advertising agency Yellow Submarine have delivered a concept that is equally intriguing, not quite as fanciful, but definitely a lot kinder to the wallet. Looking to add inspiration to their work, and providing a place for clients who've been hard at work proofing projects, they added a three-room bed and breakfast and coffee bar to their city centre offices; meaning you might stumble into a brainstorming session after a night on the tiles. Antwerp certainly likes to do things differently.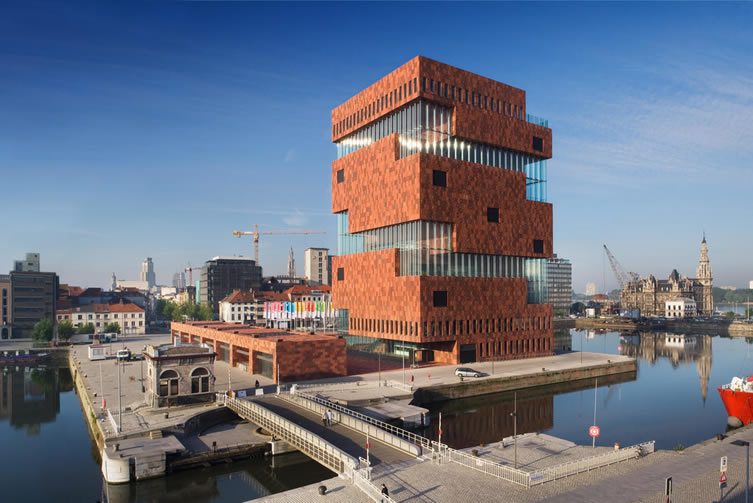 As is the case with Amsterdam, regeneration is rife here in Flanders — a similar project having transformed the docklands (and red light) district of Het Eilandje, set forth by the opening of the Museum aan de Stroom (MAS), with its unforgettable architecture. Harnessing a similar feel to Amsterdam's revitalised waterfront, hotspots like Bar Paniek give the once-gritty neighbourhood a fun-loving vibe with cultural as its cornerstone.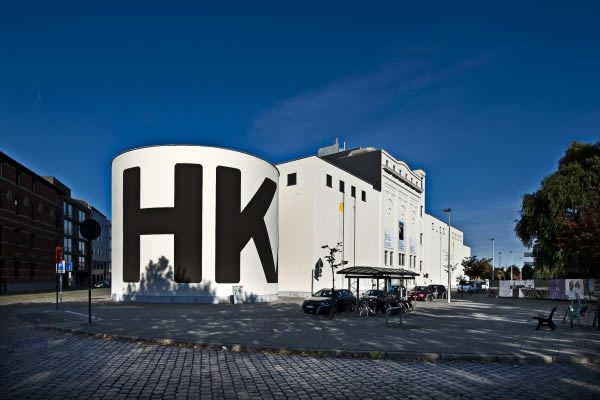 Described by the the New York Times as Antwerp's answer to SoHo, Het Zuid is another 'hood in flux — here you'll find impressive contemporary art gallery M HKA (don't miss the cafeteria's Keith Haring-painted walls) and the FOMU Fotomuseum, among countless stylish bars, restaurants, and coffee shops.
Like Amsterdam, art and culture are never far away, and a raft of independent exhibition spaces (design gallery Valerie Traan; incredible events venue PARIS TEXAS antwerp; slow-printing paradise Kastaar; cutting-edge art space Extra City; Galerie Micheline Szwajcer, just five of countless) breathe cultural life into each and every corner of the city.
Naturally, fashion remains close to the city's heart, and fashion gallery MoMu is one of its biggest draws, presenting two exhibitions a year that draw on its collection of over 25,000 pieces. Dries Van Noten, Walter Van Beirendonck, Martin Margiela, and Bernhard Willhelm have all been honoured with retrospectives, among more expansive exhibitions that look to the use of different fabrics, inspirations, techniques, and trends in the international fashion world.
Two cities. Two creative eco-systems. Two cultures that embrace change with open arms. If you're looking for a quick hop through some of the very best creativity that Europe has to offer, you could do much worse.