When you're renowned for creativity, for making things, spaces, or places look great, folk always want to know how that transfers to your own living arrangements. Artists are famous for the live-work studio — perhaps its paint-splattered canvases propped up in the corner of the loo, or maybe a shark's head in the fridge; creativity doesn't sleep, inspiration calls at the most unsociable of times.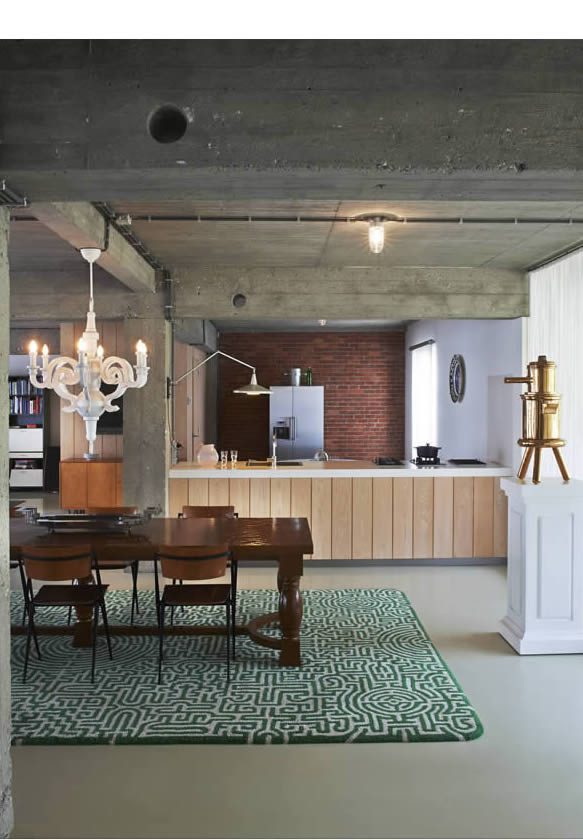 Design duo Job Smeets and Nynke Tynagel (aka Studio Job) cross the divide between art and design, always difficult to define, their work never difficult to appreciate. Their bold use of iconography and contemporary take on Classicism is highly-regarded the world over; work as comfortable in a gallery setting as it is in a high-end design store, or the result of a collaboration with a brand like Swarovski or Land Rover.
Frequently opulent, always entirely singular, Studio Job's design cuts against the grain, and exists in its own ecosystem of inventiveness. What, then, would their home look like? An ancient gilded marvel, overflowing with age-old antiques that inspire? A cold exercise in starkness, barren of ideas in an effort to purify the imagination? I have the keys, so let's take a look.
Built in the 1950s, Job Smeets's Antwerp loft — located in the creative and multicultural diamond district — has done time as a warehouse for a plumbing company, and as a school for Orthodox Jews; it now serves as the designer's personal studio and home. (The duo were formerly a couple, their 2015 Train Crash Table representing the break-up of an almost 20 year relationship. Tynagel now lives and works from Amsterdam.)
Stripped to its carcass, the space is minimalism incarnate: raw exposed concrete, cast resin floors, raw wooden elements. The design comes via what Smeets calls 'ornamentation': respecting the existing architecture ('remember, an architectural space you only have on loan … even if you bought it … this building will outlive us') and filling it, simply, with a curated collection of vintage furniture and art. 'Comfort has nothing to do with luxury, explains Job, 'for us comfort is the luxury of being surrounded by authentic sculptures, paintings, objects, and furniture.'
Job Smeets's Antwerp apartment is museum-like, uncompromising, rare and stupendous — and of course it echoes their work. Studio Job don't care for trends, don't care all that much for design, and insist their work isn't art — incessantly awkward. Job's design style? 'No design involved.'