Basquiat by name, Basquiat by nature — the Amsterdam-Oost (East) bar named in honour of the great Jean-Michel Basquiat embodies the frenetic nature of the artist's style. His star ascending in just a few short years at the end of the 1970s, the New York-based graffiti artist turned Neo-expressionist painter gained notoriety for his collaborative work with Andy Warhol and a unfortunate issues with addiction (Basquiat died of a heroin overdose in 1988).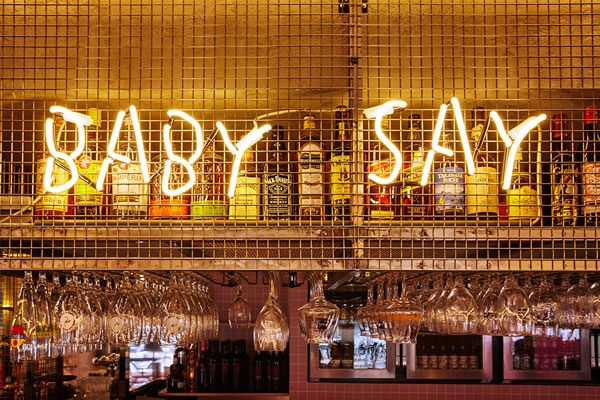 Now I'm not saying you should be propping up the bar at Amsterdam's Bar Basquiat with a needle hanging out of your arm — it most definitely is not that sort of place — but Jean-Michel's spirit is here, as is the edginess of the Lower East Side dive bars he would have frequented. Primitive scribbling, for which the artist was renowned, is used to nice effect here in this up-and-coming neighbourhood; drips of paint invoke his rudimentary approach to painting.
A former supermarket and butchers, the space — designed by local firm Studio Modijefsky — leans on its former life for inspiration; bright red is brought to the concrete bar by the old butchers, the shopping basket is reimagined in the metal mesh product displays. The culinary offering is unconventional, too: Lebanese Pizza, Asian street food, Dutch classics, falafel, Peking duck … it makes sense in a neighbourhood renowned for its diversity. Singular, free-spirited, Amsterdam's Bar Basquiat captures the essence of a maverick.