While Antwerp celebrates a progressive creative culture, new boundary-pushing establishments are opening up across this small (but perfectly-formed) city. Influenced by their neighbours in Amsterdam, Paris, and London, there's plenty of ideas floating around; and st. vincents is one of those.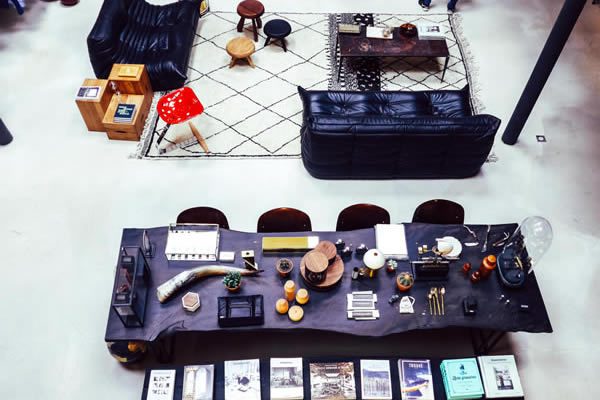 An idea yes, but first a space that brings together some of the things we love most: beautiful interiors, great coffee, and a healthy dose of shopping. Housed in an ex print-house, it's a sizeable old space. Unfinished brick walls highlight the clean modern cuts of hanging couture; sofas and occasional tables brimming with goodies give off an aura of 'home', feeling much less like a shop per se.
Of course almost everything is for sale; you can take home fashion, home, and beauty products by the likes of Zenology, Poglia and Delikatessen; but the emphasis is much more on hanging out … sipping super-fine P+T teas in the meantime.
In town for This Is Antwerp's creative symposium D.A.T.E., I had a chat with owners Henri Delbarre and Geraldine Jackman about being new to the city, who their favourite designers are, and what st. vincents really means to the couple …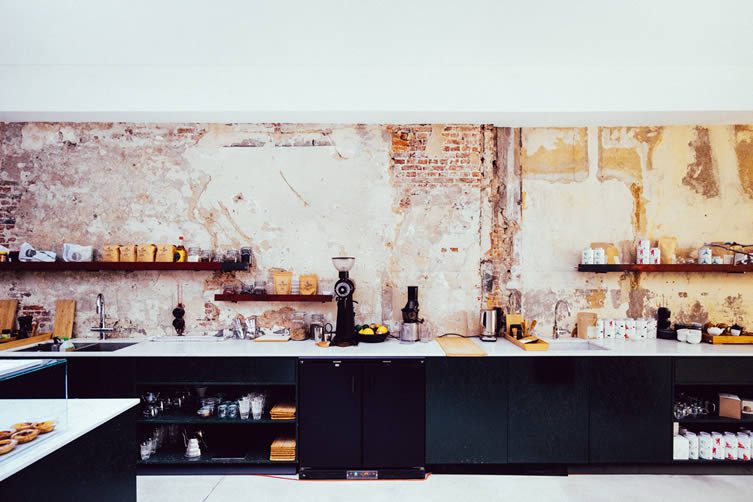 Who designed the space, and what was here before st. vincents?
H: We designed the space ourselves, which was completely new for us. When we first visited the place we immediately fell in love with it, and saw all the potential. Seeing as the place was completely derelict, there was a huge amount of work to do; which we might have underestimated … slightly.
G: We were working without an architect or site manager, so we had to manage the site ourselves. Before we moved in, the space housed a printing office for over 120 years. Unfortunately the only thing that remains of the printing activity is an old cutting machine, which we restored and gave a nice spot to in the shop.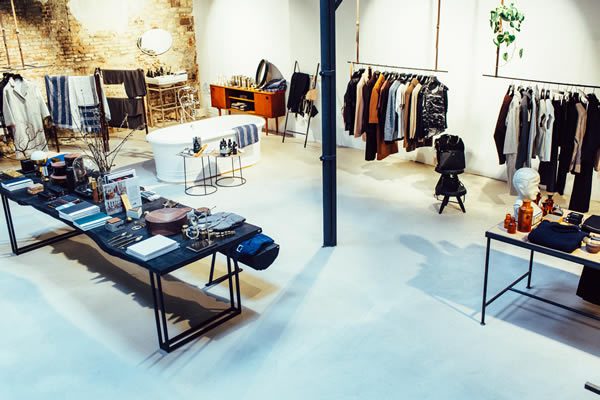 Tell me a little about your respective backgrounds …
H: I am an economist, and for five years I worked as a transfer-pricing consultant at one of the Big Four offices. However, I never really felt quite comfortable there because there wasn't a lot of room for creativity, and I wanted to work with like-minded people.
G: I used to be an international tax lawyer working for one of those companies in Barcelona. During my last two years I was transferred to the Amsterdam office, where I met Henri.  I love what I'm doing now, though sometimes I do miss the research aspect of my previous job. The cases were very complex, so I was challenged a lot every day. Of course I enjoy my lifestyle now much more, though.
What made you decide to open st. vincents?
G: We wanted to do something different with our lives that was more creative and provided us the opportunity to engage more socially. Henri quit his job first, without having a plan ahead of him. We started st. vincents after realising that there are only a few stores out there we liked; so we just opened one ourselves. There are, of course, a huge amount of nice stores out there — but many of them are focused on sales, sales, sales … too many products. We want to give people the opportunity to just wander around; have a coffee, check out some products, and perhaps buy something. We don't want people coming into the store with that feeling of being watched or sold to.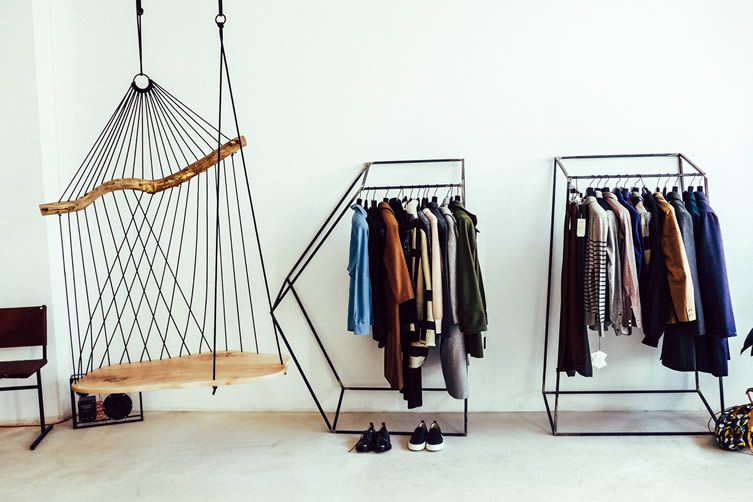 Are we allowed to make comparisons with GraanMarkt 13?
H: We're always proud when comparisons are made with GraanMarkt 13, as it's an incredible store and they stock beautiful items. However, we do have a different style and identity, and we aim to be more of a meeting place for people where they can just sit back and relax.
G: Also: we want to focus more on events. We really want to introduce dinner events where we can bring interesting people together with incredible food.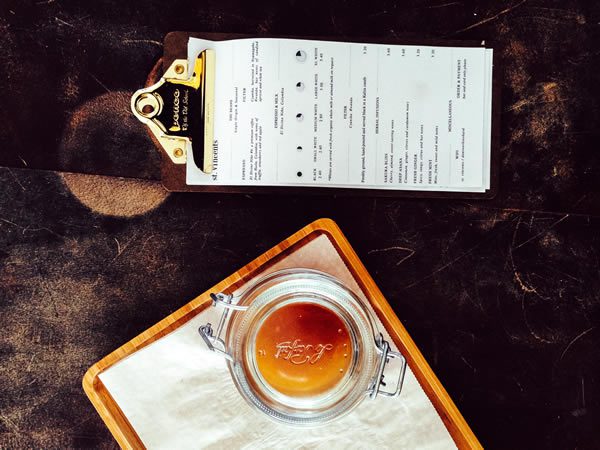 Who selects the fashion and homewares, and can you tell us about some of your favourite brands?
H: Over the years we've fallen in love with many designers and brands whilst travelling, reading, and shopping. I've always taken the time to write them down, so we have a nice pool of items we really wanted in our store. One of my favourite items are the knives from Max Poglia; a Brooklyn-based designer/artist. The amazing thing about them is that they are specifically handmade for st. vincents, and each one of them is unique. There aren't many shops in the world who have the honour of having the knives in store, so we're very proud to have these masterpieces at st. vincents. 
G: Finding new products is an every day job, because when people revisit the shop they always hope to find something new. It's a challenge, but something that makes the job interesting. My favourite item is our gorgeous sofa by Stephen Kenn, an L.A.-based designer; when we were still refurbishing st. vincents he visited Antwerp, and he and his wife Beks passed by our construction site. They're such lovely and down to earth people, which makes the collaboration even more fun. For us it's really important that there's a good connection between both parties; because, ultimately, you're representing a brand, a person, and our shop.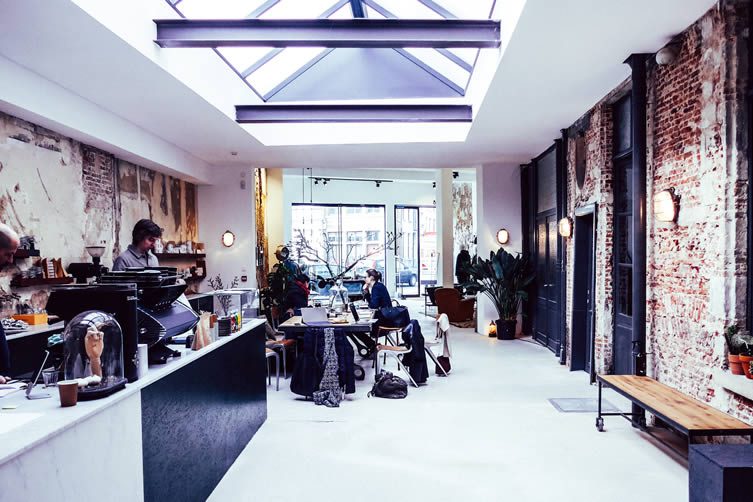 Three things you love about Antwerp …
G: I love the fact that a lot of things are still possible. Antwerp is pretty conservative (compared to Amsterdam; Berlin; Copenhagen) so it's great to get the opportunity to bring a new concept to the city. We hope the people of Antwerp are ready for it.
H: Also, during the summer the city of Antwerp organises a lot of free events, which fill up your weekend agenda easily (and can boost your social life a lot), which is nice if you're new here. Also, it's well connected to the rest of Europe — literally situated in the centre — so it's pretty easy to travel to other famous cities.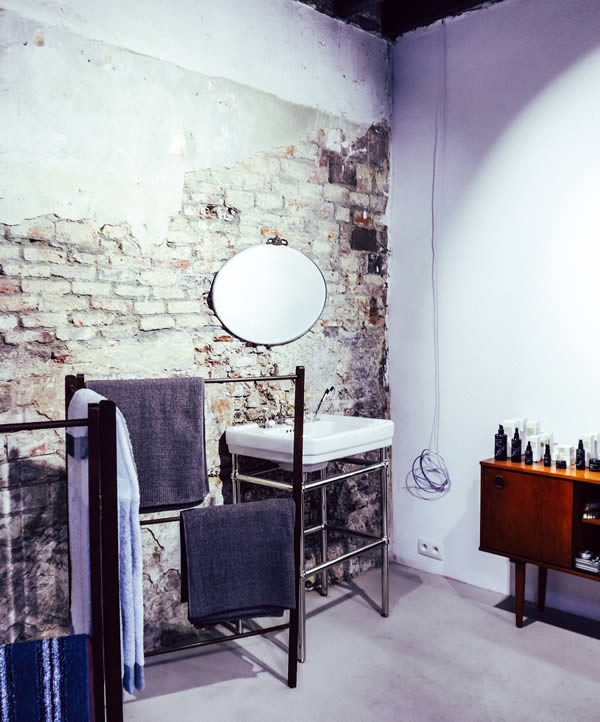 The people of Antwerp love quality in food, fashion, and their homes; why do you think that is?
H: Tough question, though one of the reasons I believe is the fact that Antwerp is such a multicultural city, something I think has had a lot of influence on design, food etc.
What is the creative future of the city? How easy is it for individuals to set up businesses and studios?
H: There is a difference between being able to set up a business as a creative and keeping your business running. I believe it's easy to set up a business in Antwerp though, as mentioned, Belgians are still conservative; and you have to make sure that when you put something new in place that hasn't been done before that people actually like your concept and don't lose interest. During the short period we've been living in Antwerp, we've met some very interesting and creative people; which shows the potential. Looking around, though, I think there are so many people with great ideas that just need that extra push to bring them to life. 
When not working, what do you both like to do on your days off?  
 
G: We're pretty boring on our days off. Though we love to go for dinner, grab a coffee in one of the other specialty coffee bars, catch a movie, read a magazine and, of course, look for new places to be inspired.