I took a boisterous trip down memory lane recently; a 'soft-play' playground with a couple of (much) younger family members. Pushing toddlers out of the way and flying down the astroslide, I was clearly enjoying myself. Although I did have the thought: children don't play like they used to. Me, I loved being outdoors: mud; rivers; parks, and — in my later (teen) years — back at said parks, this time with a drink in hand. This is probably why this weekend's Slides and Scoops screams out to me.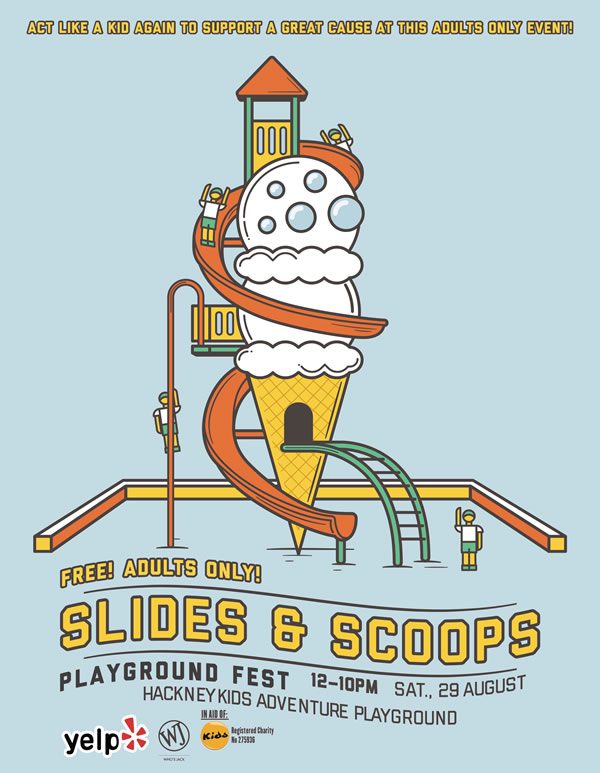 Hosted by Yelp, in aid of charity KIDS, there's a takeover happening at Hackney Kids Adventure Playground on Spring Lane. From midday Saturday (29 August) until 10pm, the adults are taking back what's rightfully ours.
Aside from the obvious tomfoolery to be had on slides and swings, an Ice Cream Festival will be running in conjunction with the event — featuring goodies from the likes of WhipSmiths Liquid Nitrogen Ice Cream; Gordon Ramsay's Union Street Cafe and LIC (Calippo-style frozen cocktails) — as well as sandwiches and toasties from Liberty Cheesesteak Company and Melt Room.
An adults party ain't an adults party without a good dollop of alcoholic beverage; Finlandia Vodka and Chambord Black Raspberry Liqueur (no Diamond White or Thunderbirds at this park) should hit the spot nicely, whilst entertainment will be provided in the form of games and music.
Note: This is a free event but you must RSVP online to attend.