Brining cultural activity in the French city of Nantes under one umbrella since 2011, Le Voyage à Nantes unites unique permanent public art like Estuaire, 29 riverside artworks from the likes of Erwin Wurm and Felice Varini, and François Delarozière and Pierre Orefice's magical Les Machines de l'île — and celebrates the city's flourishing cultural heritage with an annual summer festival; where new permanent works are unveiled and ephemeral pieces capture the imagination over the course of a few weeks.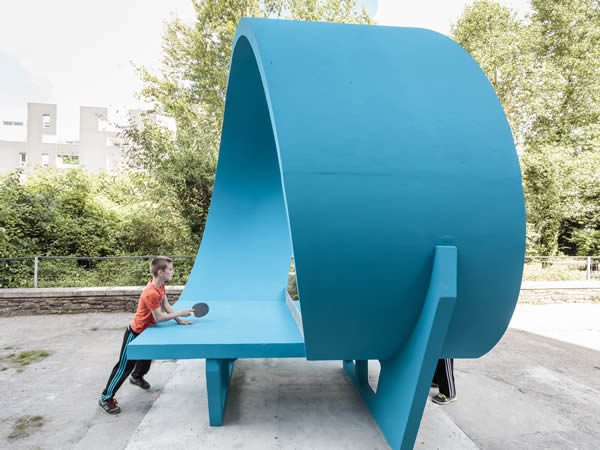 Running from the beginning of July until 28 August, Le Voyage à Nantes 2016 is another riotous festival that brings contemporary art into the city's streets and spaces; creatives like Aurélien Bory, Laurent Perbos, and Benedetto Bufalino sharing company with those who have already left their mark on the art-mad city in Western France.
Jean Jullien is back again, Recyclage a series of posters that have been pasted up around Nantes — accompanying Le Nid, his permanent cartoon-comes-to-life sky bar design that was commissioned by the festival in 2012. Julien Berthier has overcome the obstacle of development works in Place du Bouffay, using a crane to suspend an Alexander Calder-inspired mobile over the square that Baptiste Debombourg occupied with his café chair rollercoaster at last year's event. Stage director Aurélien Bory has brought theatre to the streets with the sweeping curved lines of his Traverses project, and Barré-lambot Architectes have warped the beautiful game with their dizzying Feydball installation.
Suffice to say, this just mentions four of countless exhibitions, interventions, and installations that have taken over the city this summer and will add to its ongoing cultural legacy; if every city had such a staunch commitment to the arts, the world would be a much happier place.
Le Voyage à Nantes 2016 continues until 28 August.