Adam Towner and Katy Gray Rosewarne are The Dead Dolls Club. An artist's studio in Hackney, a bar in Dalston and the design label/studio Tinker Tailor – The Dead Dolls Club, brand/collective/promoter, is somewhat hard to define.
I tracked down the designers/makers – Adam and Katy – in their brand new semi-permanent Dalston outpost of Dead Dolls Club, to get to the bottom of their never-ending create-a-thon. Amusingly, I caught them mid day tidying up from a private party the night before. Surely you have people to do that for you I said? Nope they said, not until the new bar is fully operational will they hand over to a management team.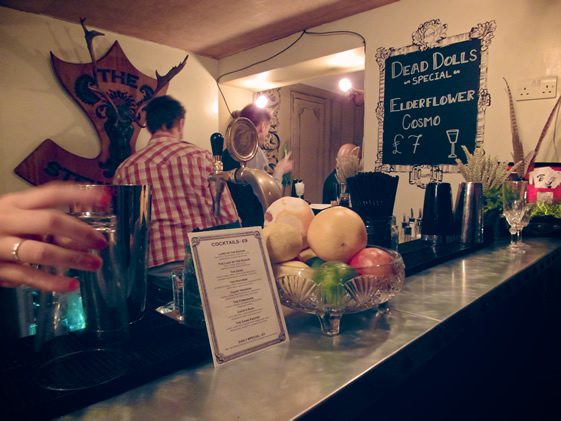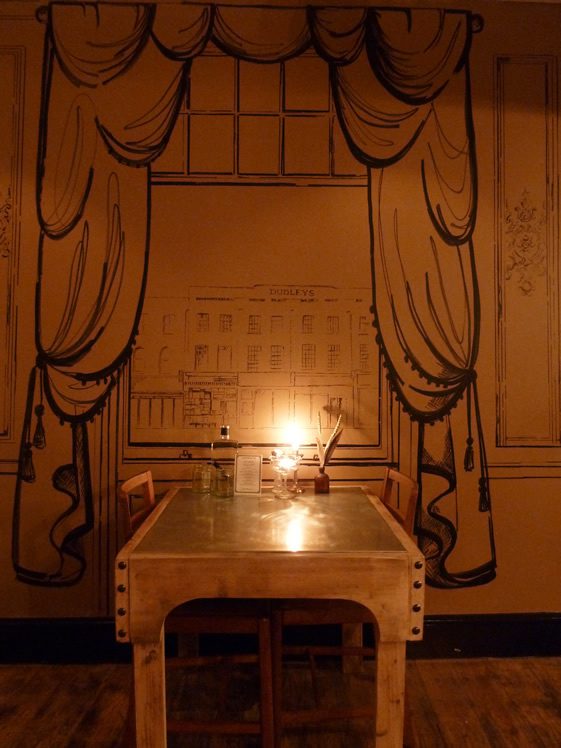 So why The Dead Dolls Club? Where did the name come from?
AT: I used to be an operations-fixer-person in pubs, but didn't like it anymore. I just wanted to be an artist so I made this dolls-head wax candle. When you lit it, the wax would drip either side of the dolls nose – making it look like it was crying – that's where the name came from. There would be more Dead Dolls heads dotted around here if I had my way!
So you guys have 'done' design, styling, interiors, art, installation, food… what haven't you done yet that you'd like to do?
KGR: Ummm… Gosh I don't know! Open a shop maybe? There's an amazing café near Old Street that we're completely in love with called Pitfields – it's a shop slash café. It's got all the furniture you wish you had in your own home. And I love collecting bits, be great to have our own shop/café – a great excuse to go out and buy more stuff!
Where would you have it? Dalston?
AT: I'm not sure, Dalston is a great place during the evenings, not sure if it would be the best place for daytime shopping. Possibly Shoreditch, there are a lot of people around there now. The only problem would be the rent. It's very expensive!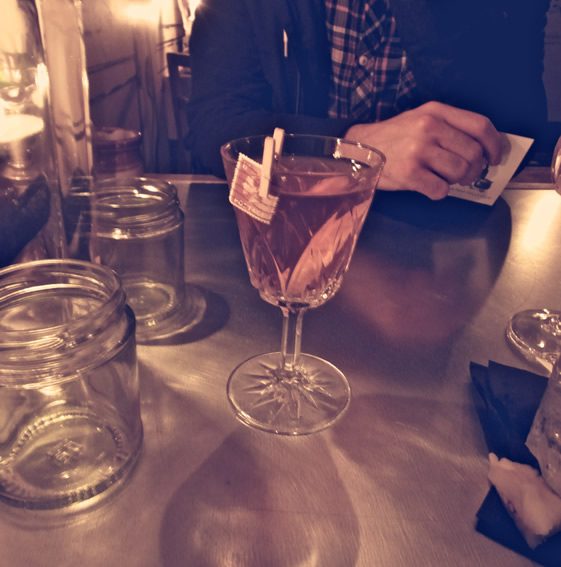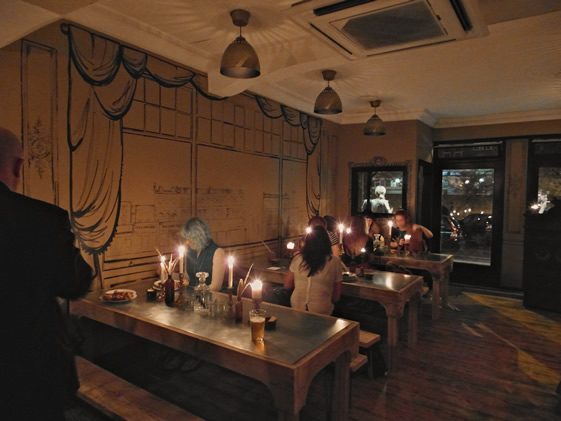 So, what is it with London and cocktails? Is it some kind of a winning profitable formula?
AT: Yes, you can actually make a living. There's a certain type of person that wants cocktails. We've noticed that our biggest sellers are indeed cocktails, even though we serve cheap beer. Most are after unusual cocktails, even the boys! We have a 'boy' cocktail that comes in a big jam jar – a proper man cocktail.
So you guys are here for six months, that's the longest The Dead Dolls have ever occupied a bar type venue, is that scary?
KGR: It is! I've had a few panics about it but Adam has a fail-safe plan, he's convinced it's going to work. We were offered the lease and as were getting a little tired of moving around so much – we could really go to town with the interiors here. Adam made the tables, I drew all the artwork on the walls – we could really showcase our skills.
What else are you working on?
AT: We actually do quite a few parties around this time – we're building a Christmas Nutcracker set in The London Fields Brewery for private media clients, with a massive 15 metre dolls house and oversized soldiers… it's going to take a month to build. There will be two levels, a bar and a DJ area. We're really, really looking forward to that, it's going to be so Christmassy!
Wow! So will this be open to the public?
AT: We're thinking of doing a couple of public nights, maybe a few pop-ups. It's dependent on getting everything just right here at The Dead Dolls bar. And I've been doing all the cooking here too so we're looking to invite guest chefs for special evenings. It's actually quite nice coming here during the day to get a little bit of peace and quiet.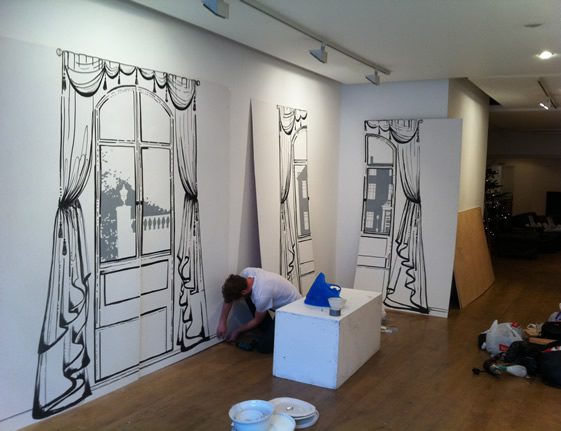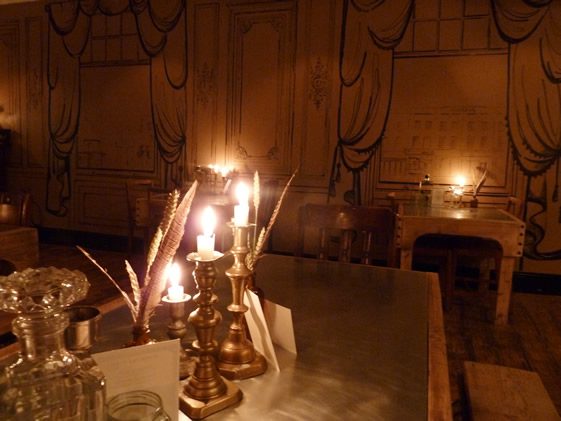 Talking of peace and quiet, where is your favourite place in London to relax?
KGR: Ummmmm… It's got to be my sofa.
AT: Victoria Park!
KGR: We work so hard, and actually just having an evening off is such a luxury.
And if you could (when you actually get some time off) collaborate with anyone, who would it be?
AT: I'd like to do something with Tim Walker, just because his style is so… 'Fuck it lets just do it!'
KGR: We'd love to build a music video set for someone, something on a really big scale. Maybe something for We Have Band, their videos are pretty cool and you never quite know what might happen.
Well, it's pretty safe to say The Dead Dolls Club are brave, imaginative and creative. Confident and talented, I'm thrilled to learn that their ideas and plans are in abundance. The Dead Dolls Club in Dalston is honest, cosy and has a 3am license, which encourages dancing after hours. Their cocktails are potent and the food ranges form hearty stews to killer pasties. I sure do hope their Nutcracker Christmas extravaganza does go public. Imagine a big kids' playground with a heady mix of cocktails, and you have yourself The Dead Dolls Club!