Birregurra, Victoria: Introducing the world's most luxurious cow sheds. OK, the corrugated iron exteriors are misleading, there's more inside than you might imagine. A whole lot more.
Brae is a restaurant, set on 30 acres of Australian countryside, with a big reputation; owner/chef Dan Hunter counts time as Head Chef at Spain's Mugaritz (quite rightly considered one of the world's top restaurants) among a list of prestigious accolades, restaurant manager Simon Freeman has experience at Claude Bosi's Hibiscus. The Birregurra dining room itself has received considerable praise since its opening in 2013, racking up a host of awards that include 87th place last year on The World's 50 Best Restaurants; probably the most highly esteemed rundown of restaurants there is.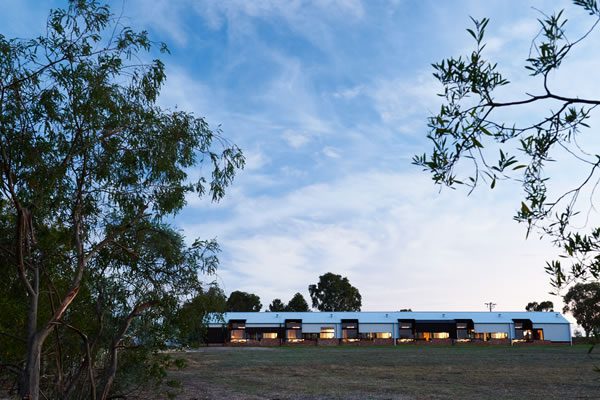 And so, back to those sheds — Hunter and co. have just added six luxury suites to their operation; collaborating with the restaurant's designers, Six Degrees Architects. The results really are astounding, and follow the restaurant's environmentally friendly dogma — a lot of what finds its way to your plate is sourced from the estate (the rest from local farms and ethical, sustainable producers), which is managed using organic principles, free from the use of herbicides and pesticides. The buildings that house the suites have zero net emissions, using recycled bricks; solar energy; rainwater; biological waste treatment; and Aussie blackbutt timber panelling.
Inside is where the magic happens: starting from $425 per room, the interiors (styled by Studio Round) are pure '70s Hollywood hills, with wood panelling, slate floors, vintage record players (LPs from the likes of Bowie, Nick Cave and Caribou are on hand), and art from Rhys Lee. They're jam-packed full of bespoke fittings too, designer Dave Murray has crafted custom furniture and fittings, ceramics come from Melbourne-based Cone 11, and there are textiles from New Zealand's Emma Hayes.
Staggering as the suites are, you'll surely be tempted out by one of the country's leading restaurants on your doorstep, but you'll be handed gumboots and umbrellas too; a morning stroll through the grounds awaits. Orchards, an olive grove, vegetable plots, chickens and chefs — going about their daily routine — your company.