Opened in 2012 after founders Christian and Julian Tan, Ajay Parag and Jason Jones had found themselves craving Mexican food, travelling from Singapore to Mexico to seek out its culinary delights, Lucha Loco has recently undergone a design refresh, the original designer Hui Lim of Hui Designs again involved in its undertaking.
Located in Duxton Hill, the brand — known as Super Loco Group — have since gone on to open three additional outlets (including Super Loco, Robertson's Quay) each inspired by the storied heritage of regional gastronomic influences across Mexico, and each serving up their own modern take on authentic Mexican flavours with a 'Loco' twist; bringing a slice of Mexico to Southeast Asia.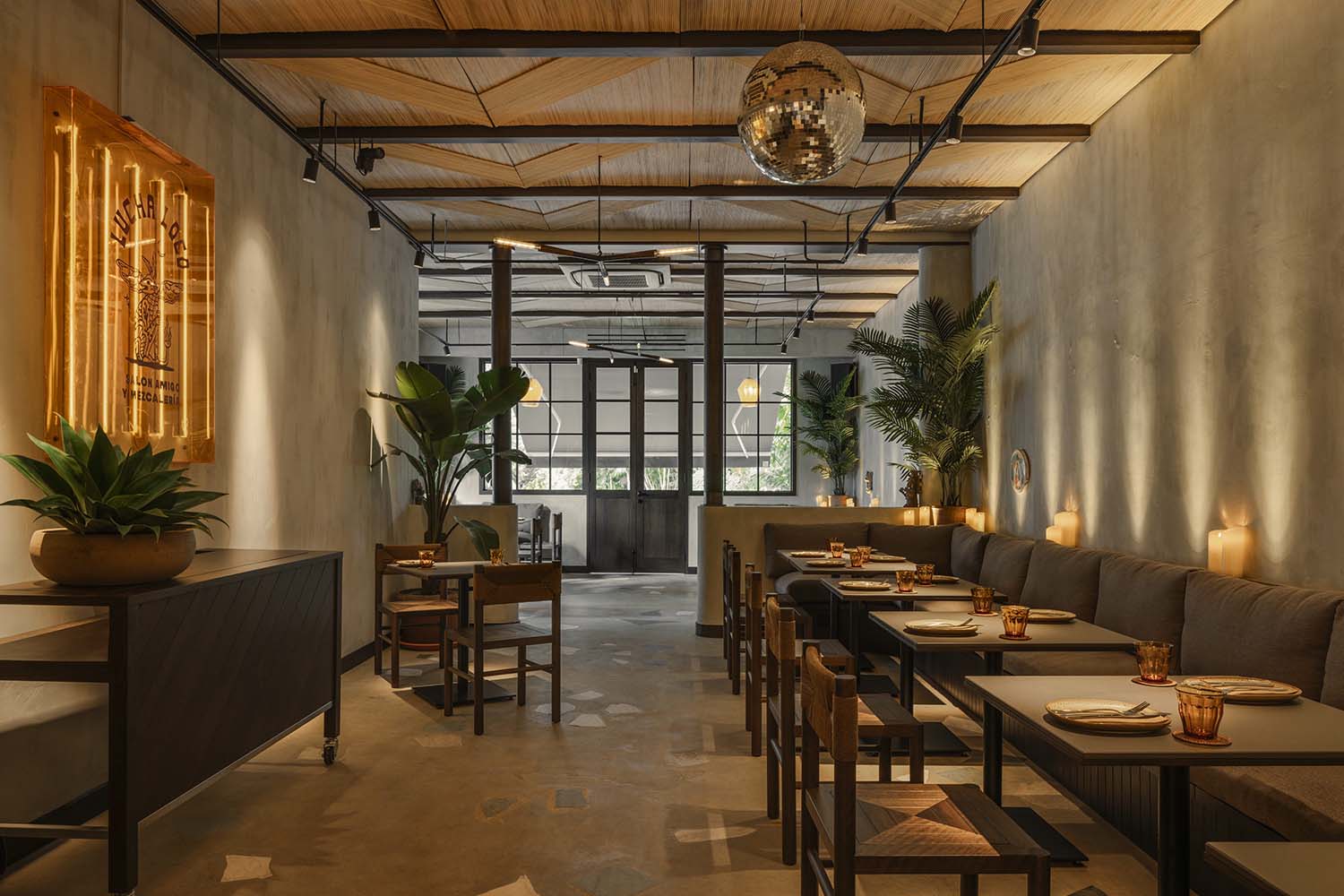 Influenced by the raw and colourful streets of Mexico City, at Lucha Loco guests dine among a 'tropical' design aesthetic complemented by an abundance of wood and rattan. Lime walls, rustic rattan rods interspaced between exposed wooden rafters, a concrete floor inlaid with a combination of broken marble and granite stones, and the brand's signature zig-zag pattern all make for an evocative dining space which converts after hours into more of a party vibe with loud music and neon lights.
The restaurant has been divided into three zones using parapet walls and round solid wooden columns that emphasise the height of the ceiling and provide a vantage point to the bar counter at the end. The addition of large yellow palm trees and banana palms to the space lend it that tropical feel. An outdoor dining area features a dedicated area for a cacti plant-scape to infuse the Mexican vibe, as well as mobile planters to separate the areas and and continue the theme of the tropical aesthetic. Cast concrete benches surround the parameter of the deck to counter the use of natural teak wood, and string lights illuminate the space; imparting a festive mood and touch of romance to the terrace.
For a real taste of Mexico in Singapore, not to mention fourty different mezcals to try, 'Lucha Loco 2.0' is an inspired dining concept ready to wow diners and drinkers for many more years to come.