Husband and wife team Sara and Martin Stayers (the duo behind Houston favourites Nobie's and Toasted Coconut) add a retro pizza joint to their list of eateries, the eclectic Montrose neighbourhood now home to Nonno's Family Pizza Tavern, where thin crust Midwestern square-slices are served among a setting that stars pinball machines, vintage furniture and a hefty helping of nostalgia.
With interiors by gin design group, diners are treated to a wood-panelled and dimly lit space with walls adorned with posters, bumper stickers and neon signs. Original vintage Pizza Hut pendants and Tiffany glass pendants hang above a Mid Century-inspired bar; also home to illuminated floating shelving and vintage speakers. The snug raised dining area features brown and cream checkered laminate floor, classic spindle partitions, and a yellow corduroy banquette; in the bathrooms, meanwhile, dominos can be found inlaid on the tiled walls. Booth seating gives original pizzeria vibes, and arcade games help you pass the time between ordering and eating.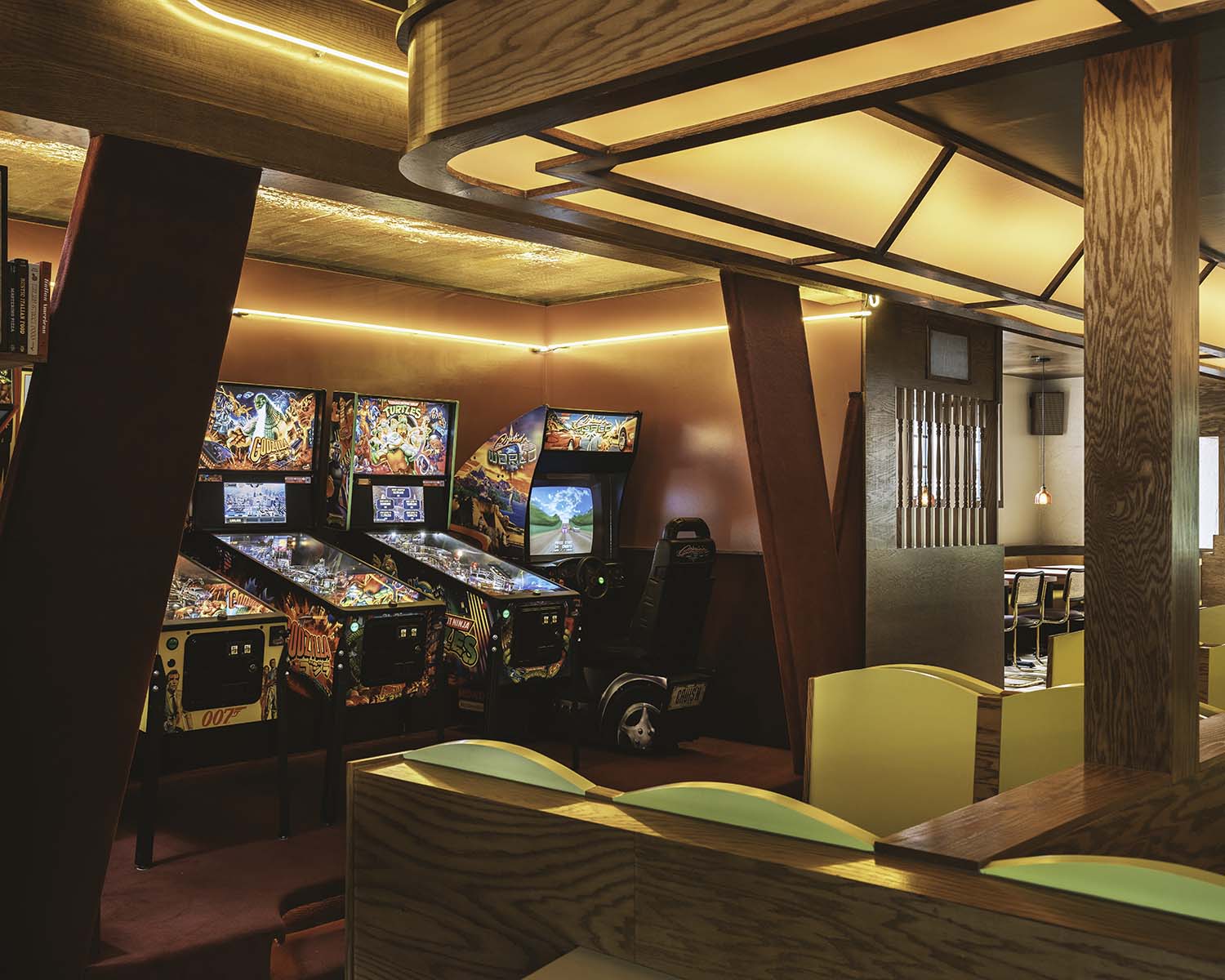 Speaking of ordering, Nonno's Family Pizza Tavern serve a selection salads and sides alongside those square pizzas, including the Maui Wowee with Spam, Pineapple and Smoked Jalapeño; Meat Head with Mozzarella, Capicola, Pepperoni and Sausage; and Green 'n' Mean featuring Pesto, Kale, Arugula, Cheese and Sunflower Seeds. Completing the food offerings is a solid wine list with natural wines and a rotation of draft beers. Hungry humans or mutant turtles will not go hungry in Houston.
Very much a place to hang — whether inside or out on the covered patio — Nonno's Family Pizza Tavern welcomes their customers to get away from the modern day, enjoy great pizza, play some games and connect with their surroundings and fellow diners.
A big slice of nostalgia with even bigger slices of decadent pizza delights, Houston's Nonno's is a destination restaurant for those hankering good food and a heavy helping of irresistible '80s vibes.