"We didn't give Hui Designs an easy brief. A space for any time of day, where it'd be nice for a solo cuppa or glass of wine, but also fit for getting house-party-buzzy. Our references borrowed from memories of our times working in an East London wine bar, a day party in a Gowanus warehouse, and all the dreams and geographies in between," commented owners Denise Lum and Charlene Fang on the conception of their new project. "We began with three walls (carved out of a hotel lobby, no less) and Hui's artistic vision brought the concept to life."
The project, Wildcard, is a cafe cum bar located at the Furama RiverFront in Singapore. Opened earlier this year, and boasting the tagline "we are what we drink," this is a place to enjoy a coffee during the day before switching things up a notch come evening. From rare sakes to natural wines and negronis and classic cocktails — all accompanied by an innovative food menu (oxtail donuts anybody?) — Wildcard oozes community and is a great spot to escape the mundane.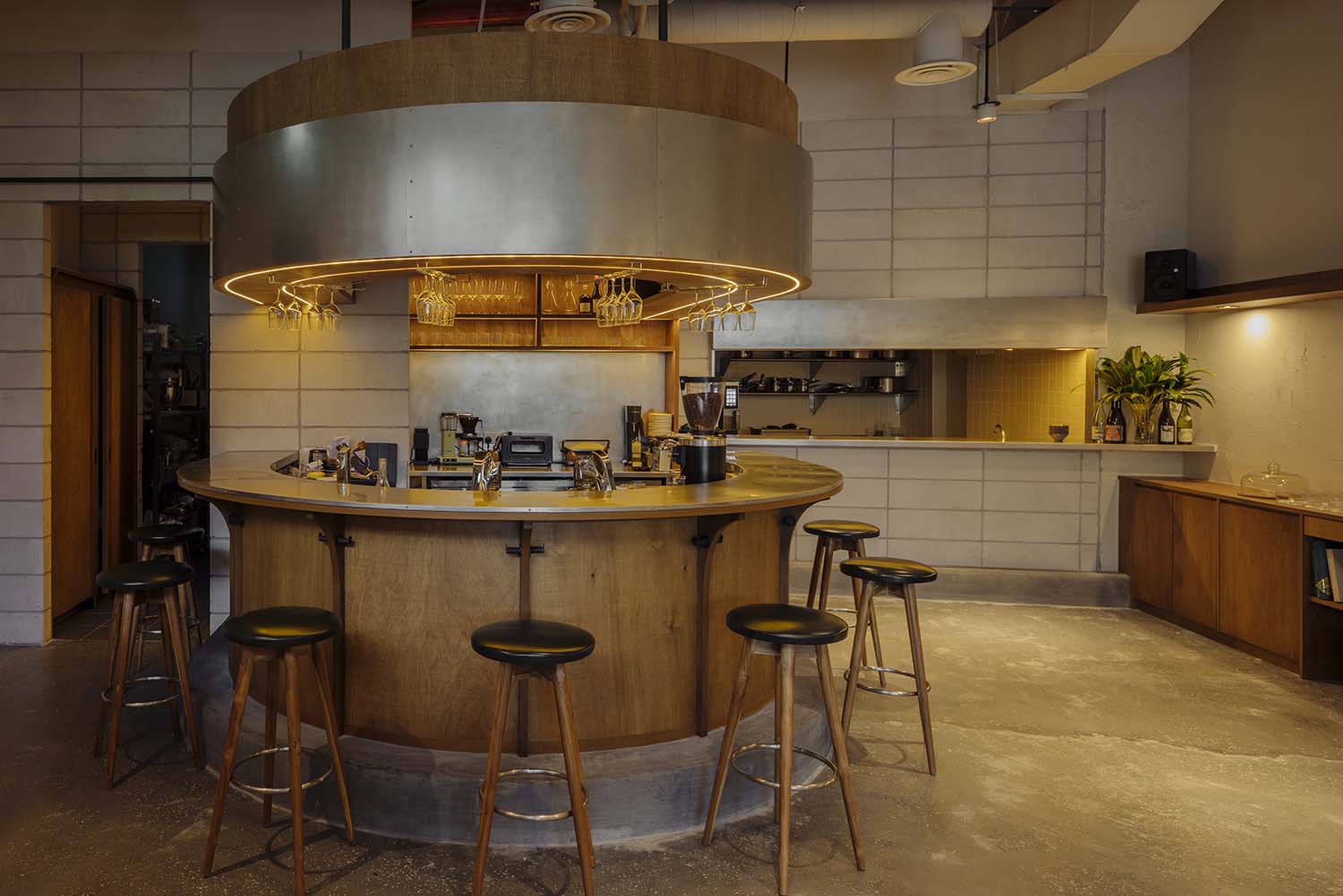 Taking Denise and Charlene's memories of London onward and recalling recollections of her time spent in the "grungier restaurants and bars," of Melbourne and London, Hui Lim of Hui Designs weaved her magic to create a venue with an edge whilst emitting a chilled, unpretentious vibe.
Customers will find different nooks that offer eclectic options of seating, a long bench seat that wraps around the inside of the façade wall providing snug corner seating, and custom-designed cantilevered counter height tables. The bottle shop fridge is stocked with low intervention wines, and is a retail station requested by the client.
The U-shaped bar and coffee counter doubles as a focal point, as does the chef's kitchen adjacent to the bar counter. With seats in this area, diners can chat to the chefs as their food is being prepared, or if they prefer, just take in the sights and smells of the kitchen.
For coffee aficionados and wine enthusiasts alike, Wildcard Singapore is an edgy locale inspired by the grittier neighbourhoods of some of the world's hippest cities.