"During my time there, I met people with a global mindset and a local go-make attitude," explains Luca Ponticelli, having just returned from D.A.T.E. (Discover Antwerp Through Experience)'s birthday edition, which saw the London-based designer invited back for another session of creative immersion in the Belgian city. And Luca's is an opinion we've heard before when talking about Antwerp.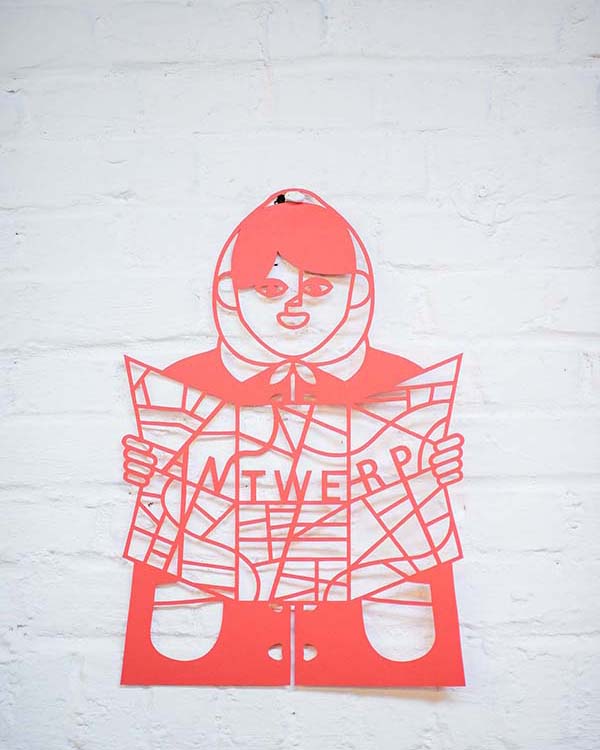 "Despite its small size, the city feels quite international," continues Pieter Boels, one of the likeminded locals who walk invited internationals through the cultural landscape of their city. "Its rich port history, it is still the second biggest in Europe, certainly has something to do with that; currently 178 different nationalities live in Antwerp. The mix of so many diverse influences, together with the city's abundance of art spaces can only result in a vibrant creative scene." Acting as a design-minded guide to submerge the likes of Luca Ponticelli into his scene, Boels is quick to highlight some of the Antwerp all-stars who have each had a part in building the city's visual language …
Paul Ibou—"a local legend who has an amazing portfolio, a lot of his logos still in use in the city today"—may have long moved out of the city, but still resides in the province of Antwerp, and the famous Tom Muller is another ex-Antwerpian on his tongue, but Pieter is eager to recount current local designers such as Tom Hautekiet; Paul Boudens; Tom Tosseyn; Stephanie Specht; and Ines Cox (the latter two he bills as "still young but accomplished".) And, as is the case with Antwerp, there is a singular essence that unites these varied talents.
"I do feel there's a certain 'Antwerp style'," Boels admits when I press him on that note, 
"a quirky mix between traditional and contemporary, confident, eclectic, and a bit rough around the edges. You can see it in fashion, but it also translates to other creative branches like graphic design and illustration. The cliché goes that Antwerpians think of their city as the best in the world—hence the 'confident'—and are pretty vocal about it too. Maybe that's why we dare to leave conventional paths and go against the grain."
Having been exposed to local creatives from the fields of design, architecture, community engagement, fashion and street art, Ponticelli thinks that the wider creativity that exists in every corner of the city informs this singular scene: "Graphic design is rooted in much more than the visual arts. It's shaped by the cityscapes we inhabit and the pop culture we breathe. Antwerp has a great potential to nurture a thriving design scene, because it has great modern and historical qualities combined in a small liveable city."
Whether it's meeting with craft brewers or chocolatiers, visiting urban farms or attending fashion shows, D.A.T.E.'s unique approach to promoting tourism in Antwerp through its cultural capital allows the city to attract creative travellers eager to get under the skin of its multitude of creative scenes. With the recent birthday edition welcoming back 12 creatives to delve deeper into the fabric of the city, each were surprised to continue discovering. "This was my third time in Antwerp," Luca continues, "and despite being a small city, I was surprised by the places I still hadn't seen. To put it in graphic design terms, for me Antwerp is like a serif type at the city centre with its baroque quarters, and a sans serif at the edges with its warehouses and industrial port."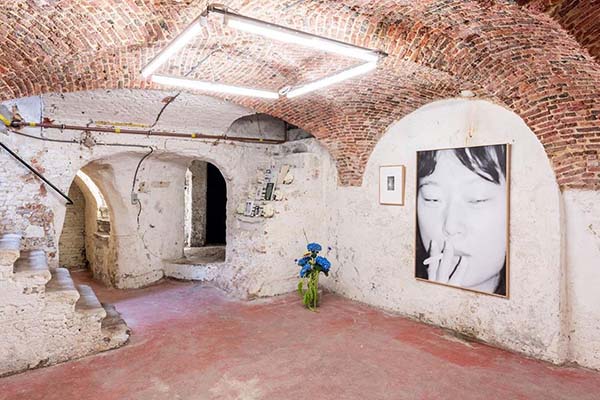 Of course, Antwerp creativity can never be parted from its cutting-edge fashion heritage, and Luca is quick to note how multi-disciplinary scenes can cross-fertilise; "I went to Central Saint Martins and been around the local fashion scene here in London, so I have a particular appreciation for the work produced by the Antwerp academy of arts. I like the work of [Antwerp Fashion Department graduate] Stefan Kartchev for its irreverent shapes. I also appreciate the work of sculptor Leo Lopez. He has recently opened a gallery in the basement of his atelier called Claptrap, where he has given a voice to a brilliant set of artists."
This is Antwerp's inspired D.A.T.E. project has invited a wealth of international creatives and entrepreneurs—including ourselves—since its inception, and each has been marked by the impression it never fails to leave. "Antwerp always inspires me," the London-based Italian concludes, "because it forces me to slow down and consider my discipline from a much more contemplative angle. Coming from London, I appreciate the boutique lifestyle that Antwerp provides and the space it gives me to consider how the artistic practice can combine with my daily design work."
And buoyant scenes continue to evolve apace. I ask Pieter—an accomplished designer with a keen eye for typography himself—for some fresher faces: "Vrints-Kolsteren, Victor Robyn and Eltipo are young Antwerp designers I think you should look at, but the city also has a lot of amazing illustrators, such as Sam Vanallemeersch, Charlotte Dumortier, Brecht Vandenbroucke and Sarah Vanbelle."
Constantly evolving and forever cross-pollinating, Antwerp's creative scenes are a fervent breeding grand for new talent. As Luca Ponticelli points out, and as Pieter Boels happily imparts, Antwerp continually inspires. Those looking for an injection of inspiration should look no further.