A carefully-crafted collision of music and the arts, bunk-beds and sleepless nights, food and curiosity, new Austin hostel The Native is for explorers who are overflowing with wanderlust and an undying intent to make lifelong memories.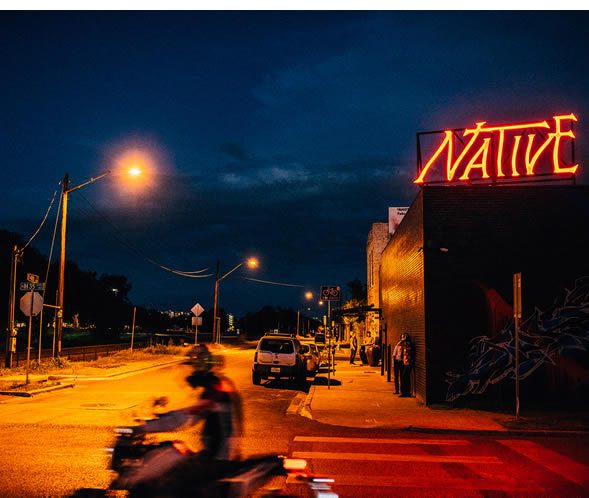 The latest in a long line of spots who offer up affordable yet stylish lodgings, Native's four-bed and six-bed dorms feature over-sized single beds tucked into hand-crafted bunks; each with privacy curtain, lamp and plug. With community and social engagement at the forefront of founders Michael Ryan Dickson and Antonio T. Madrid's minds, the hostel comes packed with social spaces — places for guests to gather, mingle and be themselves; among moody low lighting, plush seating and casual vibes.
Over at the Native Kitchen & Bar (conceived by Virginia Pharr), guests can tuck into home comforts, hot coffee, and crafted spirits — alongside American diner classics like mouth-watering brisket sourced from Pan, Pharr's food truck in East Austin, and grilled pimento cheese and waffle fry nachos. Open daily until 2am, the space embodies the hostel's spirit of 'capturing the hearts and imaginations of global travellers and local escapists alike'.
Dickson certainly knows a thing or two about hospitality — currently serving as principal at Icon Design+Build (along with Madrid), he owns local establishments like Eberly, Kung Fu Saloon and Brew Exchange; Madrid has overseen build-outs and art installations at prestigious spots like the Metropolitan Museum of Art, Governor's Island, and Soho House. Working in collaboration with Joel Mozersky, team Native have put together an urban retreat that screams 'good times' at the top of its lungs — equally eager, culturally-minded travellers are queuing up to join in …