Celebrating the distinctive flavours of China's Sichuan province, Mala Sichuan Bistro is a small chain of authentic restaurants found dotted throughout Houston, Texas. Unlike in the West, where 'spicy' refers to a wide range of tastes with the emphasis firmly on 'hot', China has many subcategories for tongue-tingling, the Sichuan Province renowned for merging two types——Ma and La——in a great number of dishes; an obvious inspiration for owners Cori Xiong and Heng Chen when conceiving the name.
Collaborating with Gin Design Group on their latest outpost, Mala Sichuan M-K-T is located at former industrial campus repurposed as a creative retail, dining and office destination. M-K-T, is "closest to Xiong's vision of what she's always wanted Mala to be," and interiors recall the natural beauty of the Sichuan countryside, giving diners the chance to experience snapshots of life in rural villages through the use of various art installations and finish applications.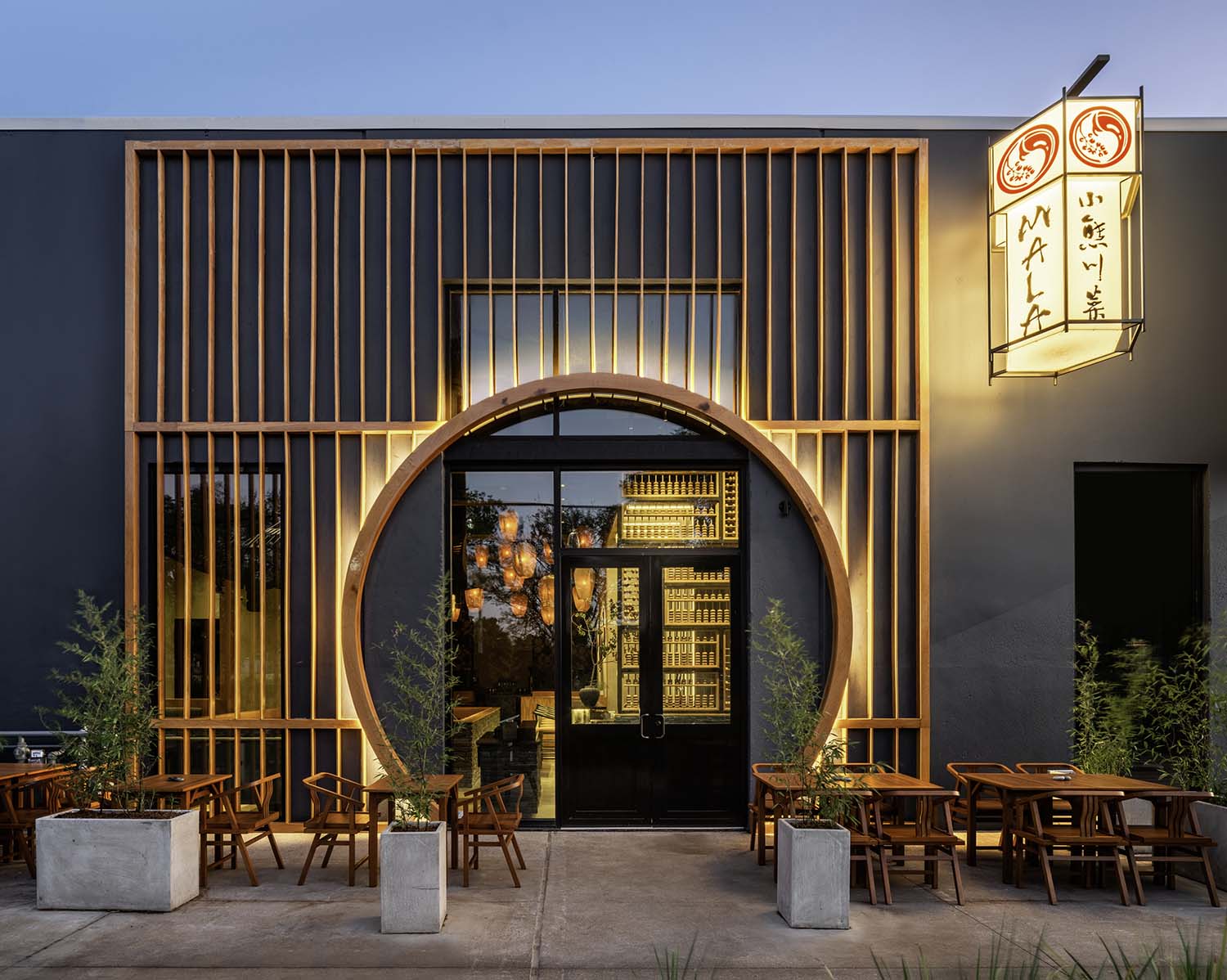 The circular storefront façade was inspired by China's moon gate architectural passageways, and serves as an inviting portal between the stylish outdoor terrace and indoors. Upon entering the restaurant diners will find the wooden frame of a traditional Chinese pagoda roof, handmade by Sichuan artisans and appearing to 'float' atop the central seating area; accompanied by dozens of glowing Chinese lanterns that levitate above as if just released into the sky.
Impressions of ginkgo leaves glow on earthen plaster walls, etched wood art installations depict scenes of the Chinese countryside, and a palette of inky blacks and natural woods (including a beautiful wooden wooden abacus-styled partition) ensure that the dining room feels as authentic and rustic as the cuisine on offer here.
Serving staples such as dan dan noodles alongside a comprehensive cocktail offering, in Mala Sichuan Bistro M-K-T, Gin Design Group have created a space that pays homage to the Sichuan province, whilst embracing contemporary aesthetics to arrive at a truly modern version of Chinese heritage and nostalgia.
@malasichuanbistro
@gindesigngroup