Taking its name from a Spanish word that translates to 'an evening party or soirée between friends,' Terttulia is Goa's latest hip restaurant. Located in the heart of the state capital of Panaji (also known as Panjim), it proves that this part of India has as much to offer as its famous beach resorts, and boasts design that one may expect from an upmarket Bali resort.
Designed by multidisciplinary studio, Otherworlds, the 6,500 square foott venue is a relaxing bar and bistro by day, before upping the energy and volume come nightfall. A beautifully designed space with room for upto 120 revellers, Terttulia Panaji is a vibrant spot with hospitality at its core.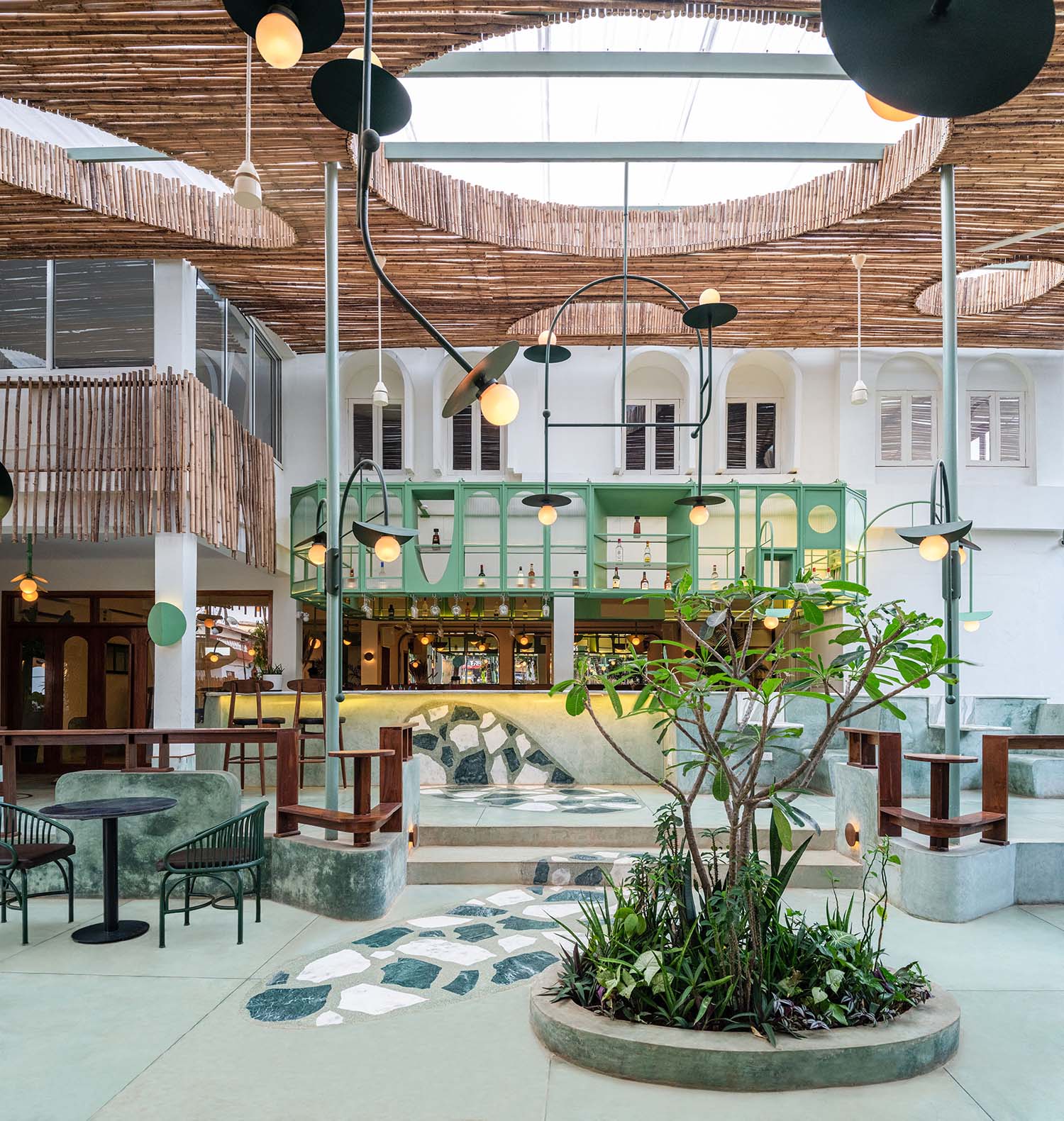 The Goan-based designers were inspired by the Indian state's 'susegad' approach to life, which is derived from the Portuguese word sossegado, and refers to a truly laidback essence. As such, Otherworlds have created a space that celebrates the soirees of the quintessential Goan evenings, reimagining it as one extended balcao (porch) under an overgrown bamboo canopy. Built into a traditional villa in the city centre, the whole place was designed to grow out and around the central bar, an adaptive reuse project where the old villa has been converted into a functioning bar and restaurant.
An outdoor porch found in most Goan homes, the Balcao — characterised by thick curved walls with seats built onto its sides and finished in bright coloured hand casted concrete — is a sociable spot that encourages interactions with passers-by, a concept that carries through to Terttulia.
From elliptical patterns in white and green marble on the floor, to slender bamboos and expansive skylights on the roof filled with hand casted white chip green terrazzo, everything in the restaurant was custom-designed and crafted by locals who worked hard to add extra soul to the venue.
Whether you're stopping by for a 'coffee on the porch', or later in the week for some night time action, Panaji's Terttulia is an expression of joie de vivre; a fine spot from which to enjoy the slower walk of life.