As Bali's first 'creative village', Desa Potato Head merges music, art, design, food, wellness and sustainability; founder Ronald Akili commenting "we're not trying to change the industry, we want to create an entirely new model for it. If we bring people together for good times, but offer them the unexpected, it will open their minds in new ways."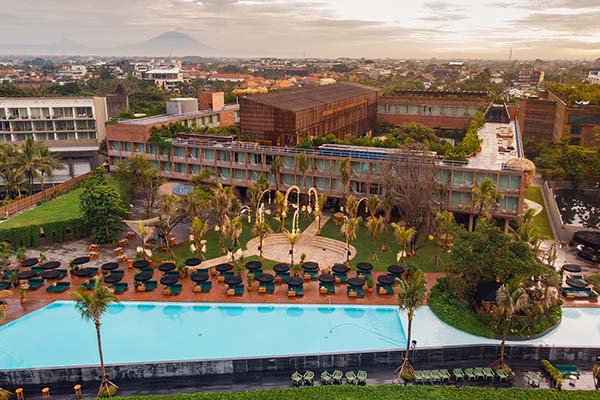 Meaning village in Indonesian, Desa—already home to the voguish Potato Head Beach Club – offers 168 guest rooms in a new OMA-designed building, a farm-to-table restaurant, a diverse variety of bars, multifunctional gallery, rooftop activation areas, beachfront pool with daybeds, music recording studio, coworking facilities, a permanent home for dance music's Wild Life Archive, and next door, a high-fidelity, subterranean discotheque designed in partnership with DJ Harvey.
With a mantra of 'Good Times, Do Good' and home to one of the island's best sunset views, Potato Head Beach Club has been designed with contemporary imagination whilst keeping in mind centuries-old Indonesian traditions, the result, a blend of custom-made midcentury-modern furniture, hand- dyed fabrics, locally sourced amenities, an outdoor lounge and contemporary artworks by Indonesian creatives.
Working with global and local collaborators, each studio is filled with furniture and amenities made from recycled plastic, British designers Max Lamb and Faye Toogood opting for indigenous materials and techniques when creating their interiors.
A place for the conscious and curious, both guests and locals are welcome at Desa Potato Head, something OMA's David Gianotten confirms: "The essence of Bali lies in the interaction between different cultures. Dedicated to both guests and the community, our design for the new building encourages exchange between different kinds of users and challenges the typical Balinese resort typology that highlights exclusivity."
Hip and conscious, inspired and truly unforgettable, when travel finally resets, Desa Potato Head will be a destination on every creative thinker's mind.