Following a sold-out run along Miami's prominent Lincoln Road, Seven Deadly Sins has hotfooted it to New York City's Meatpacking District. A series of short plays where no subject is taboo, it takes audiences through seven uniquely designed storefronts with performances taking place inside.
Exploring the themes of desire, jealousy, rage, and more, the production combines live theatre with performance art and dazzling design. The latter created by David Rockwell and his team at New York-based, Rockwell Group.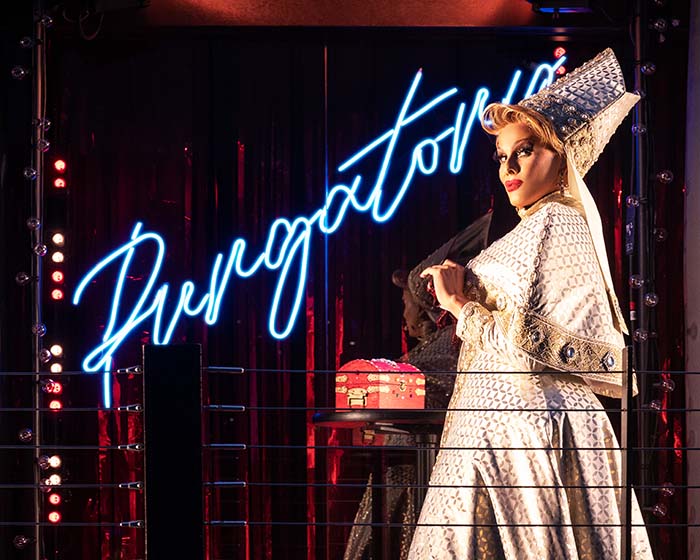 Growing up around the theatre himself, his mother a vaudeville dancer and choreographer, Rockwell often calls upon aspects of performance to frame and enhance his design work. For Seven Deadly Sins, the group have created all sets apart from Greed, each one announcing the name of the sin it represents by way of a seven foot tall sign sitting in the transom or outside each storefront.
The ten-minute long plays are by Ngozi Anyanwu, Thomas Bradshaw, MJ Kaufman, Jeffrey LaHoste, Ming Peiffer, and Bess Wohl, and are a Tectonic Theater Project directed by Moisés Kaufman. Addressing the infamous Seven Deadly Sins——pride, sloth, greed, lust, wrath, envy, and gluttony——the audience moves around W. 13th Street and Gansevoort Street (with the exception of Envy, which takes place in a shipping container). The journey begins in Purgatory. Taking place in a loading dock across from the Whitney Museum, it is adorned with neon strips and a red Mylar curtain that doubles as the ticket window, introduction to the performance, and pop-up bar.
On show until 25 July, the production features world premiere short works from each of the playwrights. If the success in Miami was anything to go by, New York's saints and sinners are in for a truly one-of-a-kind experience. Inspired design work for an inspired project, Rockwell Group's Seven Deadly Sins make for some of the most unforgettable set designs in recent times. Design notes from the team accompany some of the eye candy below.