Entering a Poznań tenement house highlighted by a subtle neon sign, one steps into a fantastical world of Japanese kitsch, daring design and exceptional cuisine.
Meaning 'neighbourhood' in Japanese, Tonari has been designed to be just that, a neighbourhood joint for locals and travellers to hang out and enjoy each others company in a home from home, a place where space may be cramped, but where folk convene and mingle in irresistibly nostalgic surrounds.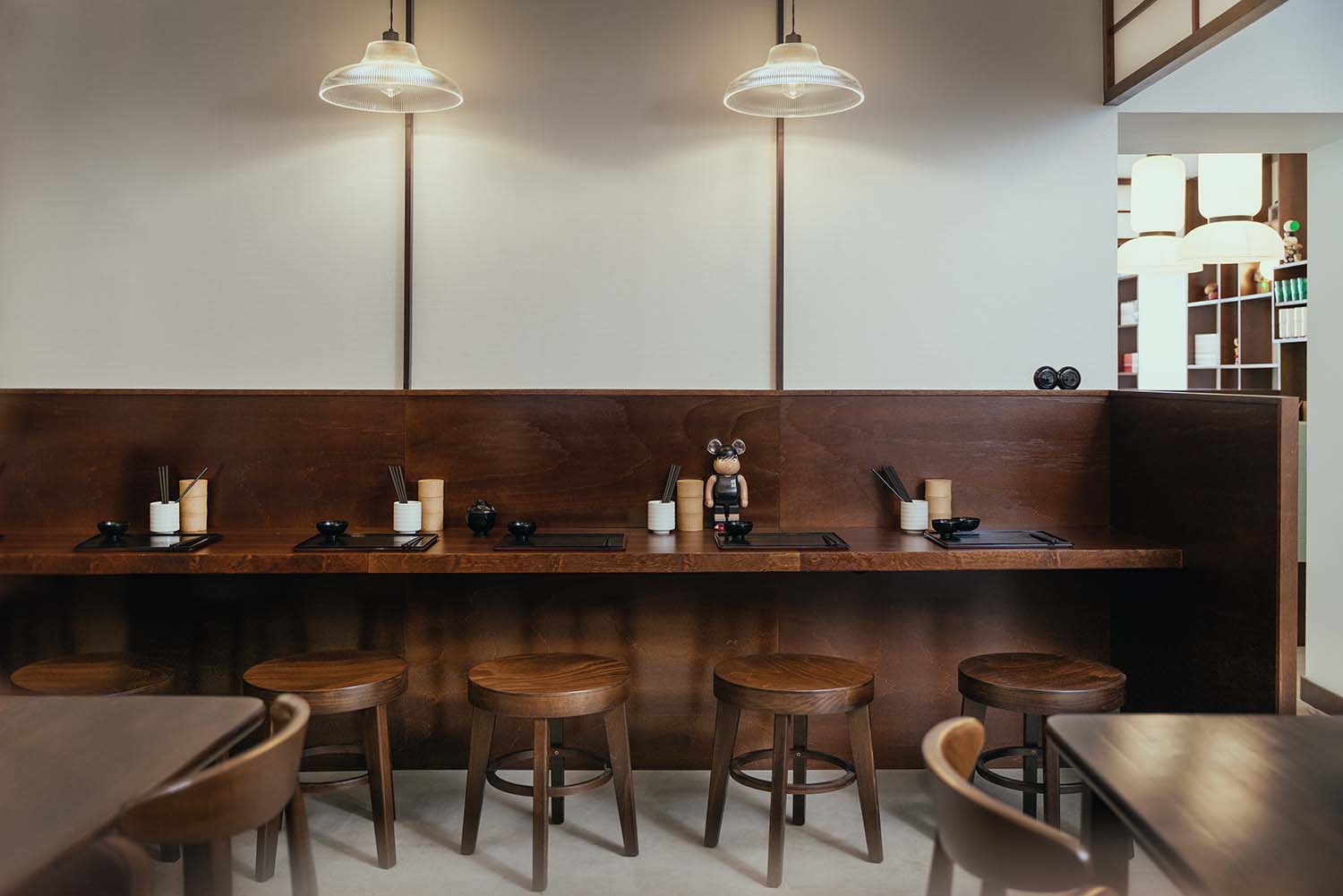 Designed by Studio Uzarowicz, the interiors at Tonari Poznań were inspired by Japanese home interiors of the Showa period, which means plenty of dark wood, tatami mats, typical wallpapers, decorations and dim lighting. The Showa era, taking place throughout the 1980s, shows Japan in an authentic and ordinary way, snubbing aesthetic trends for a more neonostalgic appearance.
The space features several zones, from areas with classic tables to a bar where one can dine alone, a book and press corner with owner-selected Japanese comic books to the pièce de résistance: an intimate, "shoeless" space on tatami mats, where diners sit on the floor and enjoy the tranquility of the restaurant to its fullest.
Alluding to the homey Japanese kitchen, the restaurant's central point is without a doubt its bar, where a block of large mosaic tiles in a distinctive mint colour is complemented by kitchen storage and shelves on which Japanese dishes are piled. Retro-style furnishings and accessories, as well as trinkets and posters from the era (all imported from Japan), are the perfect additions for this nostalgic area; transporting diners to the '80s in style.
For authentic Japanese fare in authentic Japanese surrounds, Poznań restaurant Tonari is an exquisitely executed slice of kitsch that you can't fail to adore.
@tonaripoznan
@studio_uzarowicz
@addbox.pl