From the second you drive into the expansive grounds of The Royal Suites (TRS) Yucatan Hotel, an acute luxury and attention to detail will become your new norm. Car whisked away by a friendly valet, we're ushered into a huge marble lobby, lush greenery adding a different warmth to the humid tropical air. Over a glass of very welcome ice-cold champagne, our check-in is completed and we're shown to a throughly splendid suite. Big. Very big.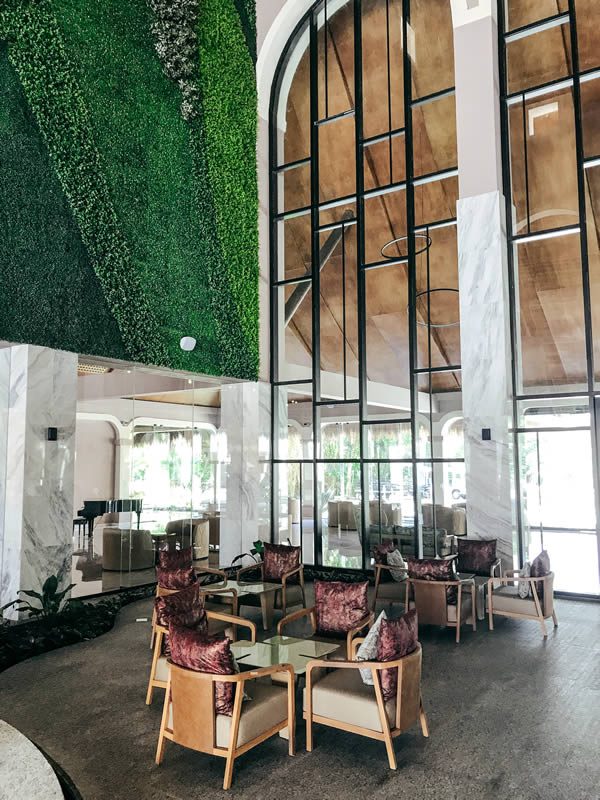 Located on the Yucatán's Riviera Maya—sharing the same grounds as other Grand Palladium Resorts properties, yet tucked away in its own exclusive corner—this adult-only playground has been designed with indulgence and sensuality in mind; from an all-inclusive plan that provides guests with five à la carte restaurants and waiter service, to its white sand VIP beach on the Caribbean coast and spacious suites and villas with contemporary decor and low lighting. Every step of the way, the TRS feels revolutionary to the preconceived notion you have of an 'all-inclusive' resort.
Recently refurbished, the five-star resort is inspired by its surrounding nature, vegetation, and marine life; coalescing colonial nuances with local architecture and contemporary style. Suites, some with private pool, come complete with 24-hour butler service.
Those opting for the idyllic Royal Mayan Suites located on the resort's own river (kayak included) have access to outdoor rain-showers and a hammock-filled terrace. Occupying a footprint that would embarrass most city-centre apartments, our Royal Suite—measuring 74 m2—has two terraces, one overlooking the Caribbean, the other the surrounding jungle. A fridge located in the separate living room is stocked with soft drinks and alcoholic beverages, whilst our very own bar has more gratuitous bottles of premium spirits than is healthy to imagine consuming in three days.
In continuation of the adults-only theme at play here, the suite is decked out with soft lighting, a plethoric use of mirrors, and enveloping jacuzzi bathtub. Those who want to stay in bed all day needn't miss out on anything, simply order a decadent lobster and platter of sushi via an app through your TV; your butler will have it with you in no time at all. Tucking into our minibar out on the terrace, the sound of waves in the near distance and dusk setting in, we consider remaining cocooned in plush bathrobes, however a dinner reservation at Argentinian restaurant El Gaucho, convinces us otherwise.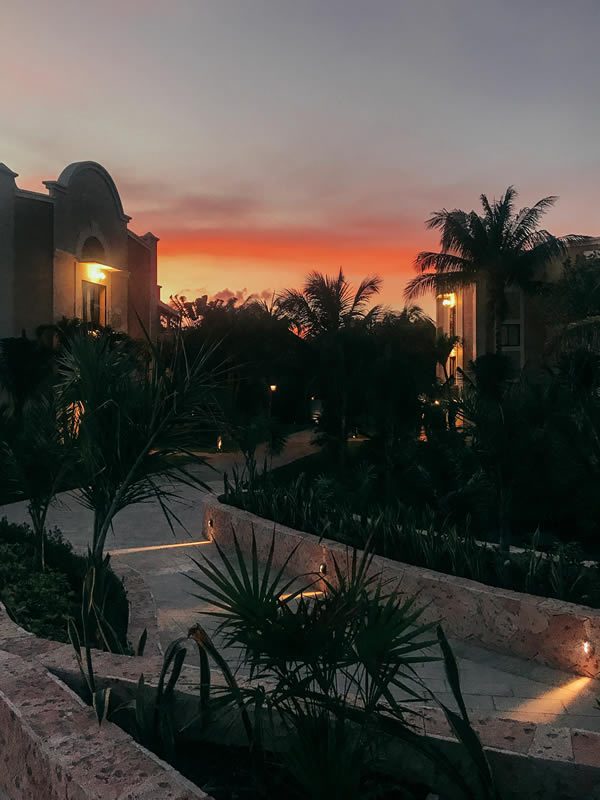 Designed to take guests on an international culinary tour, the food options at TRS Yucatan range from long breakfasts at Capricho; to beachside Mediterranean-inspired fare at Helios; French dining at La Bohème; Italian plates at Tentazione; and fine meat cuts at El Gaucho. Ordering a bottle of Malbec to accompany our main dishes of lamb cutlets and perfectly medium rare steak under the umbrella of a whopping Palapa roof at swanky El Gaucho; one of the TRS's exclusive dining rooms, attracting a style-conscious crowd.
Far from intimate, whilst never erring on impersonal, the TRS and the beaches and facilities it shares with other resorts make for a place of some size; guests tending to zip between the beach clubs, pools, restaurants, and Zentropia Palladium Spa & Wellness centre by buggy rather than by foot. By day, Helios beachfront pool and bar is the place to channel your Ibizan spirit, where lavish Balinese beds, an infinity pool overlooking the sea, and Las Rocas—a natural salt-water pool—are exclusive to guests of TRS Yucatan Hotel. Cocktails, the turquoise blue shore of the Caribbean, captivating sunsets, and music into the night; staff falling over themselves to help. All-inclusive redefined, it's quite the experience.