Tomorrow would have been the 75th birthday of John Winston Ono Lennon, co-founder of the Beatles and one half of arguably the greatest song-writing duos of all time. A creative legacy of that magnitude — one which changed the face of popular music forever — is hard to look past, and indeed many never do.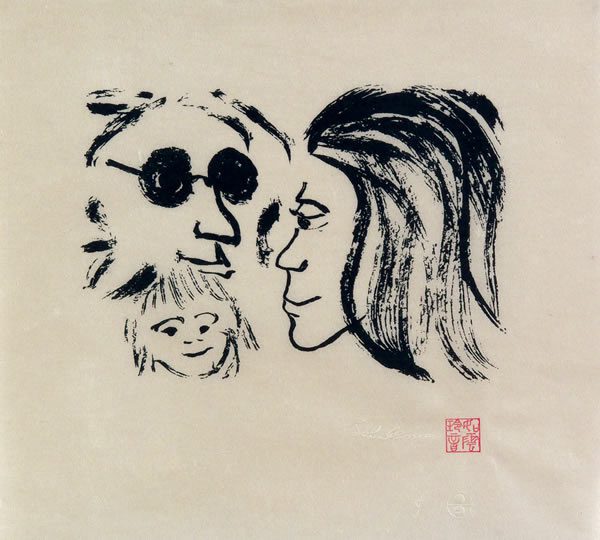 That would, however, be doing a great disservice to Lennon's other great talent, which emerged from his young imagination even before the new American rock'n'roll explosion set him on that celebrated musical path. John Lennon formed his band The Quarrymen in 1956 after being gifted a guitar by his semi-estranged mother as a means of maintaining their relationship.
It was perhaps no surprise that the teenage Lennon was so enthused by his new hobby; playing guitar and writing songs was another manifestation of the exuberant creativity he had exhibited since a young child, when he would draw tales learned in his school history lessons or from books such as Ivanhoe, later penning anarchic cartoons for his school magazine.
Although music became his overriding passion, none of the interested adult parties in Lennon's life gave the prospect of a musical career much credence. When Lennon flunked his O-levels, it took interventions from his headteacher and his guardian aunt to obtain a place at Liverpool College of Art.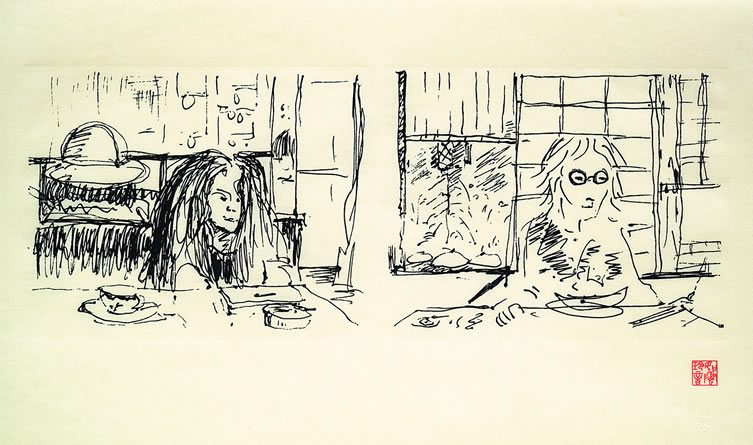 Attending art college did indeed prove to be an important step, but not in the way that was expected. Here, at the dawn of the 1960s, he felt the influence of a post-war counter-culture that encouraged rebellious creative expression.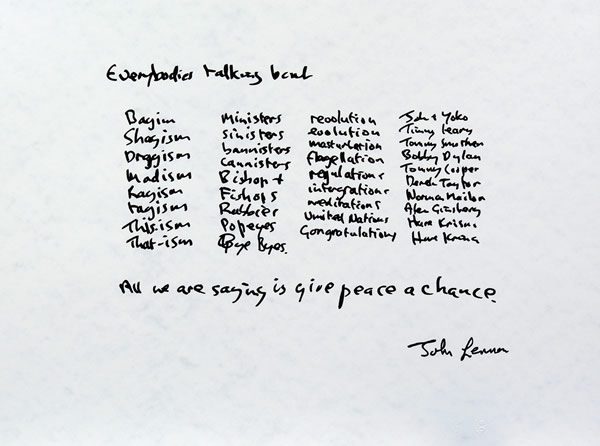 Lennon's influential college friend Stuart Sutcliffe became the bassist in Lennon's unknown new band "The Beatles", but his formal art education came to an abrupt end when the group, now including McCartney and Harrison, took a leap into the unknown by accepting a summer-long series of gigs in Hamburg.
The rest, as they say, is history — at least where Lennon's music is concerned. However, the Beatles' whirlwind success was far from the end of the story as far as Lennon and visual art were concerned. Lennon's famous self-portrait — a brilliantly simple distillation of his looks and personality rendered with just a few quick strokes — has in a way come to define the common view of Lennon's artwork. The portrait is a sketchy, seemingly throwaway likeness, but as with much of Lennon's visual oeuvre, there was more substance there than the casual observer might realise.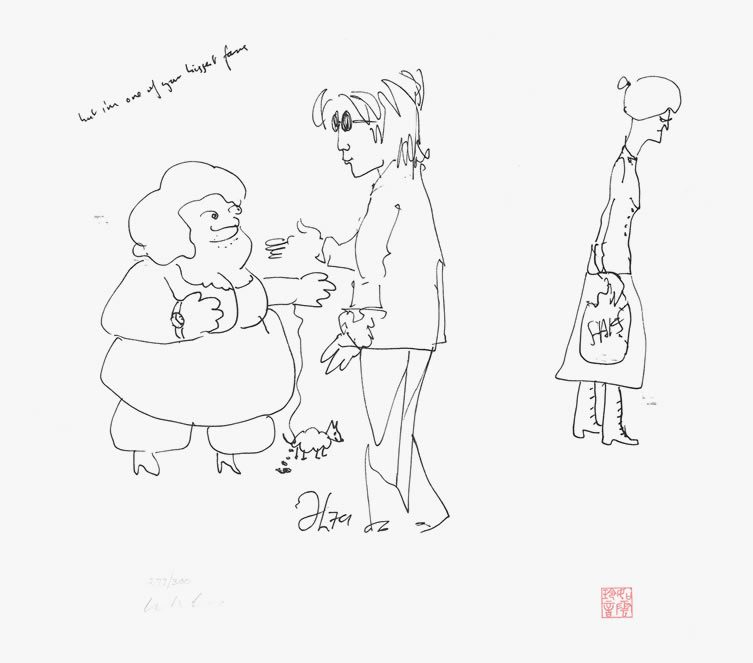 The seemingly spontaneous portrait, used to illustrate the biographical documentary Imagine: John Lennon, is part of a single page series of repeating sketches completed in 1968. Far from a fleeting diversion, Lennon's drawing formed an important part of his creative process, often produced in the course his musical compositions. Yoko Ono sees little distinction between the two, saying: "Along with his guitar, pen and paper seemed to have served as ideal tools to express John's complex emotions."
Ono herself received a series of sketches from Lennon as a wedding gift, which went on to be released in 1970 as the Bag One Portfolio. He also illustrated three of his own books during his lifetime, and several years after his murder in 1980, Ono began revealing more of Lennon's often intensely personal art to the public. Whether illustrating his own lyrics or focusing on intimate family portraits, Lennon produced a significant body of work that is only lately being considered in its entirety.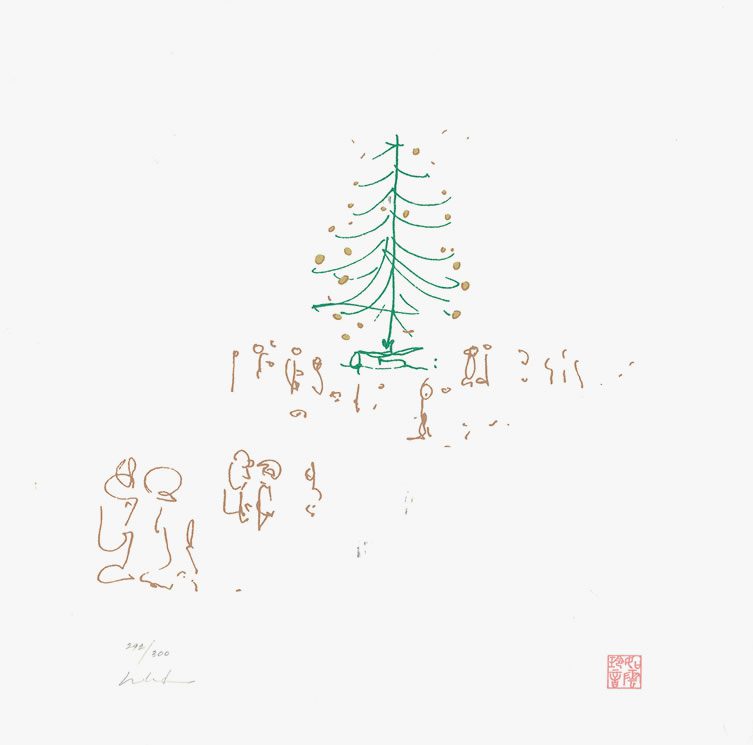 Ono has recently discovered a number of previously unpublished works which are being presented as part of a comprehensive exhibition to mark Lennon's 75th birthday on 9 October.
Imagine Peace: The Artwork of John Lennon features over 60 estate-authorised prints of the icon's drawings and illustrations, as well as a one-off Steinway & Sons white piano modelled after the one on which he wrote Imagine (all the exhibits are available for sale). The event is happening at San Francisco Art Exchange, beginning tomorrow (9 October) and finishing on 31 October.