When conceiving the design concept for OT.Warta, local architectural design firm mode:lina created an interior that pays tribute to the building in which the restaurant is situated, catapulting Poznań's iconic River Baths building back into the limelight in all of its captivating glory.
Speaking to lead designer Anna Kazecka-Włodarczyk, we were told "the overall colour palette and textures chosen for this particular space correspond with the flow of the Warta river running just outside the windows. The choice of accessories and design details, on the other hand, is a modern and stylish bow towards the building's pre-war genius loci."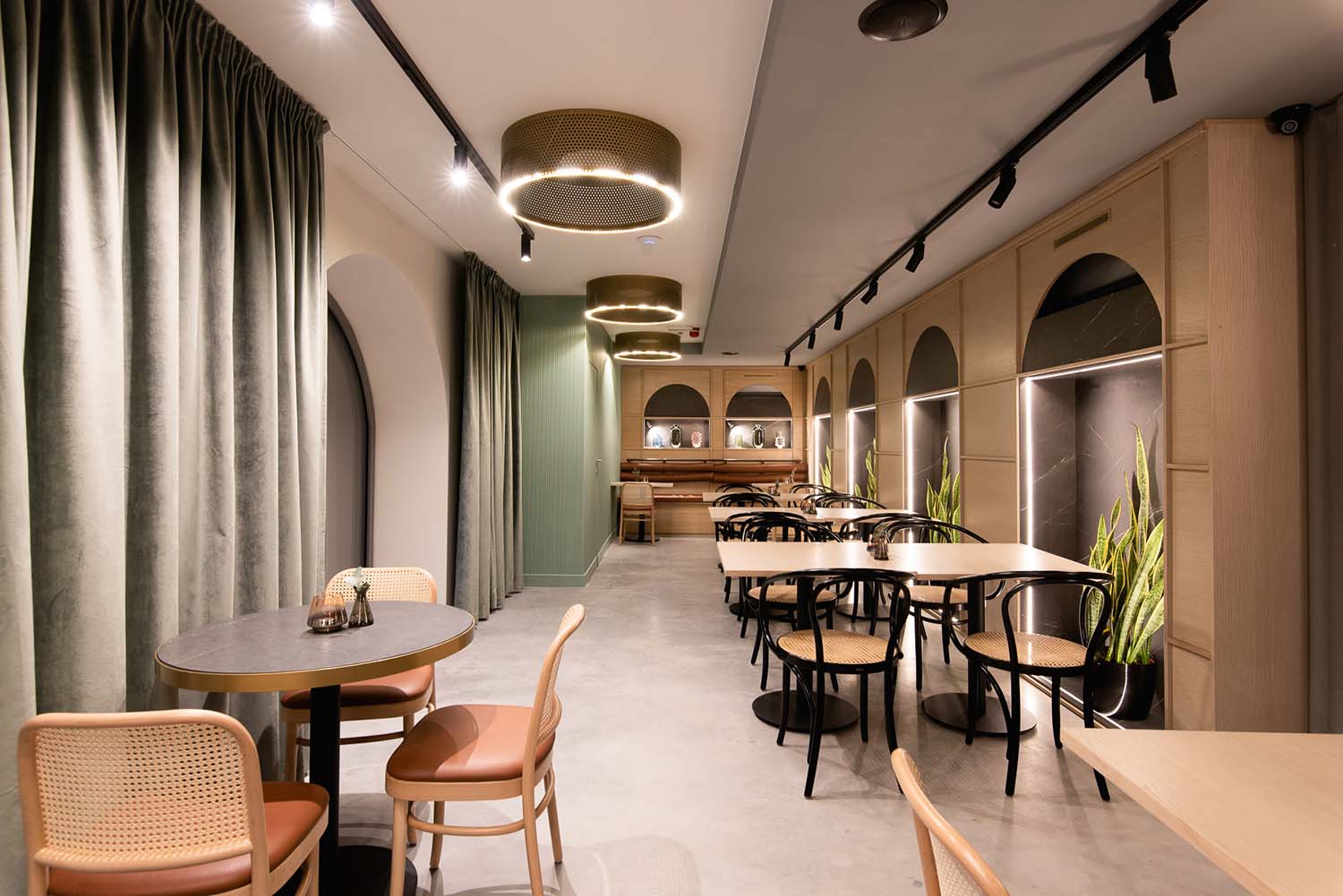 To soften the mostly raw interior design (think industrial stained concrete flooring and fibre-cement roofing sheets), mode:lina included natural wood for the built-in furniture, a subdued green colour palette for the long and heavy curtains, and plants which can be found dotted throughout the space. The cylindrical bar is a focal point with its golden finishes and a canopy made of perforated metal sheet. A place where cocktails are shaken and wines poured, guests can prop themselves up here on one of the tall barstools, perusing the menu and bottles behind the bar at their leisure.
Circular lights installed on the corrugated fibre-cement walls cast shadows that create a mesmerising wave effect and incite a warming ambience. To evoke the pre-war restaurant character, classic furniture from bent wood and rattan complement cognac leather upholstery, stone countertops, and subtle green tones.
Managing to be stylish whilst informal, in OT.Warta, mode:lina have set the mood for this local eatery; a debonair neighbourhood spot with bags of style and presence.