Disembarking the ferry in North Amsterdam, revellers need only stagger a few steps before reaching Polly Goudvisch, a brasserie and brown café where ice-cold beer is served at any time of the day and guests are invited to hangout across the two floors or terrace; soaking up the welcoming vibes of this charming Dutch local.
The new flagship of the Goudvisch family — a group of bars spread throughout the city that include Moos, Bonnie, and Arie Op de Hoek — Polly represents a new chapter for the family, boasting her own character whilst remaining as instantly likeable as her Goudvisch sisters.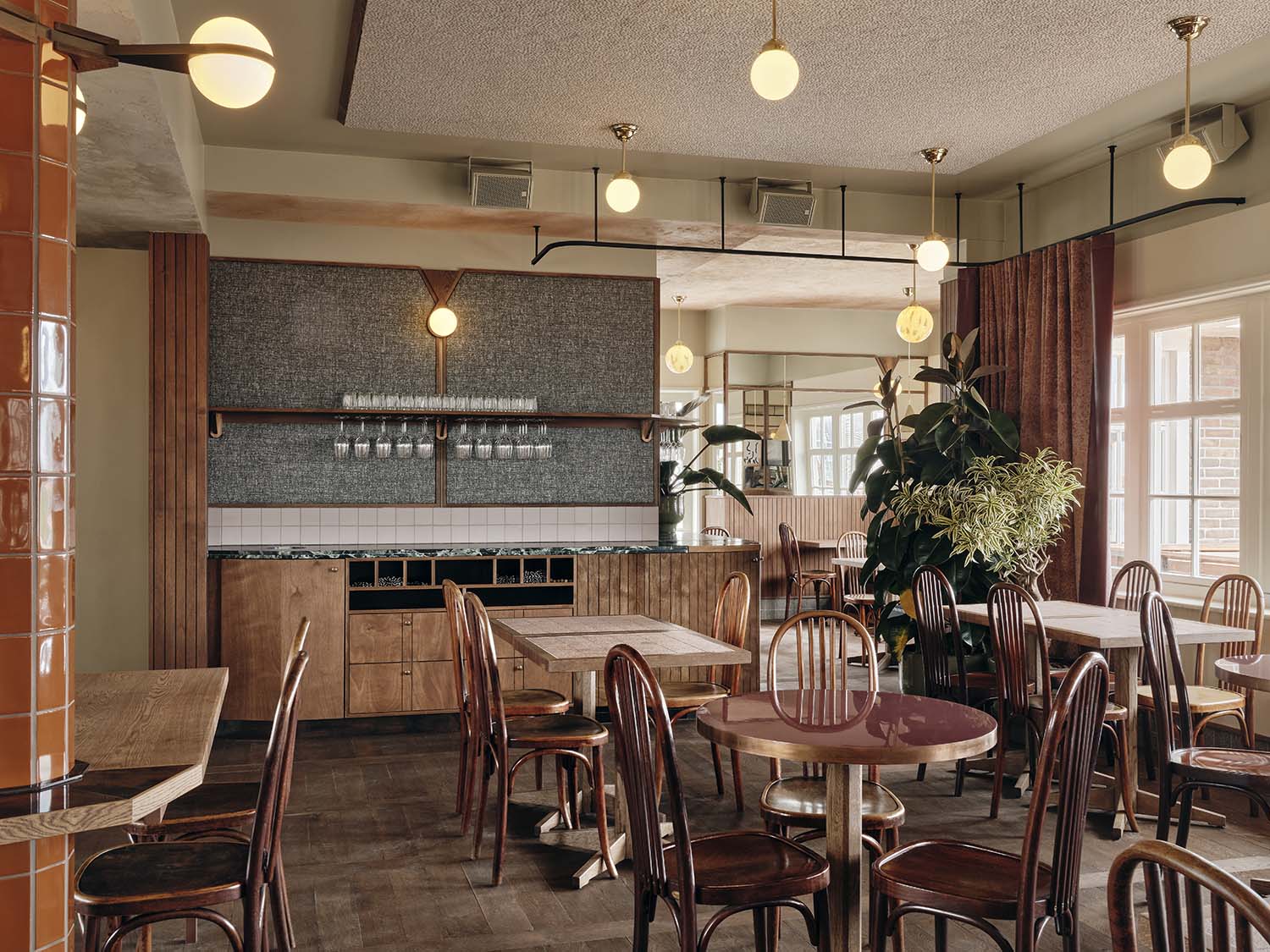 Designed by the excellent Studio Modijefsky, interiors nod to the traditional Amsterdam brown café, with wooden panelling on the walls, brass and copper details, and elaborate woodwork like twisted table legs, combining them with materials old and new to create a venue that feels as though it has been there forever, but with a distinctly modern aura.
The enormous bar is Polly's heart. Much more than a place to order a drink, it's a place to sit, stand, socialise and make new friends. Making the most of its length, the front is covered with an array of materials: coloured marbles, wood and copper in an array of finishes, whilst a warm glow is spread from the light spheres that drop down from the ceiling above it. A neon light frames the bar and is reflected in the mirror wall behind, highlighting the range of liquors available for consumption.
The restaurant is a long but cosy space consisting of one open area and a series of small interconnected spaces, each with its own vibe. Each of the smaller spaces has its own layout with custom-made sofas and furniture, different wall finishes and bespoke light fixtures. Most of the tables are finished in wood, with some high gloss purple accents.
The left corner of the restaurant is a favourite, a secluded space with custom-made sofa seats on the window sides. The sofa has twisted walnut oak legs, a quirky allusion to the Amsterdam brown café, and the entire area is bathed in the light from the signature (and spectacular) Goudvisch orb lights.
On warmer days, patrons can enjoy the terrace adorned with parasols, custom-made benches and heart-shaped table tops. Planters add a touch of colour and seclusion without disturbing the views of the river IJ on its doorstep.
Another winning combo of Studio Modijefsky and Goudvisch, North Amsterdam's Polly Goudvisch is a really cracker.
@polly.goudvisch
@studiomodijefsky