By now, you'll have seen it. The young ball boy who ends up inside football's most famous body after a clash of heads, the £80 million superstar who wakes up on a working class estate in the north of England. The Switch is Nike's most epic advert to date, its longest, arguably its most star-studded; its Freaky Friday style role reversal a cutesy conduit for a tale of hard work, determination, and self-belief.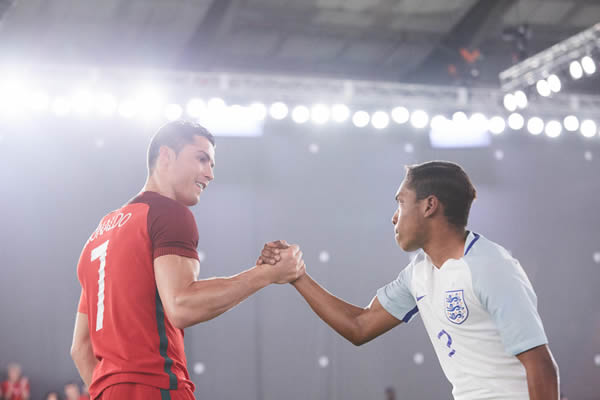 From 1988's debut Just Do It ad, the Beaverton-based sportswear giant has long been associated with bombastic marketing — Dennis Hopper to Spike Lee, Michael Jordan to Tiger Woods, Nike adverts have been instrumental in changing the landscape of promotional activities for any big brand. And since the mid-1990s, no major football tournament has been complete without the obligatory big-budget Nike campaign: Cantona's infamous one-liner in 1996's Good vs Evil, the samba magic of the Brazilian national side in the John Woo-directed classic, Airport … Edgar Davids, Pep Guardiola, Ronaldinho, Luis Figo, the real Ronaldo … they quickly cornered the market, and never gave it back.
Back to our young Brit, though, enjoying all the trappings of being Cristiano Ronaldo, whilst the Portuguese tears through the English football leagues, reliving his meteoric rise to fame. Of course, ball boy Charlie Lee is initially way out of his depth, unable to control his £1 million hypercar, the Pagani Huayra (not actually CR7's, by the way), unable to control the ball out on the training field — but this 5:57 second-long brand film is a fairytale, and it quickly transpires that Lee was destined for greatness himself.
'It's like watching Ronaldo, against Ronaldo,' remarks esteemed commentator Jim Proudfoot, as Lee's England take on the Real Madrid man's Portugal, before the two clash and the switchback occurs. By now, though, the latter has long-regained his blistering form, and the former is an England first-teamer. After walking a mile (and probably running hundreds) in Ronaldo's shoes, the young pretender has filled a big pair of boots. The boots? The Mercurial Superfly V, the latest chapter in a story that began in almost 20 years ago. Again with a Ronaldo as its protagonist.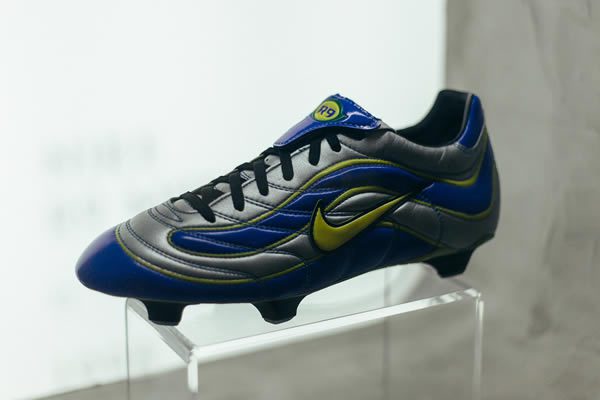 10 June, 1998, the Stade de France in Saint-Denis, Paris. Ronaldo Luís Nazário de Lima spearheads the Brazil side that overcome Scotland two goals to one in their opening fixture. On his feet? The debut Nike Mercurial. The real Ronaldo was a force of nature. Remembered by non-football fans for bad hair, goofy teeth, and a chunky chassis, the Brazilian is still one of the greatest to have played the game, despite suffering a cruel string of injuries. In 1998 he was the game's most marketable player, and in dedicating their flagship football boot to R9, Nike gave birth to a legacy of innovation that remains bookended by two Ronaldos.
Carbon, microfibres, Flywire, traction control, glass-fibre soles, the technological progress of the Mercurial over the last two decades is obsessive in nature, baffling in practice — there's an air of Formula One to it all, so it's no surprise that Nike chose to align themselves with motor racing as they unveiled this year's edition. Launched in Milan during the build up for this year's Champion's League final, the Mercurial Superfly V debuted on the feet of the new Ronaldo, as his side eventually overcame their resilient local rivals on penalties.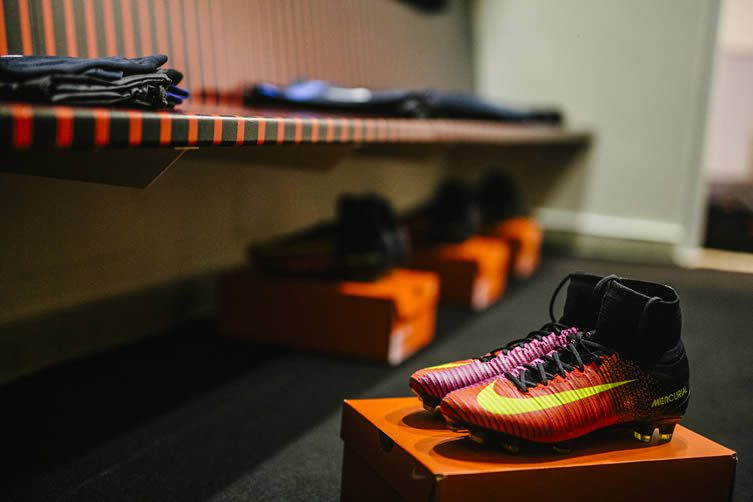 The key innovation to come out of the Nike Sport Research Lab (NSRL) this year is a new carbon fibre soleplate that cradles the foot, and is 40% lighter thanks to a new vacuum forming process that hollows it out — the upper uses their Flyknit technology, considerably upgrading it by way of plentiful computer wizardry.
Like I said, it's F1-league stuff that frankly makes my brain hurt, the important thing here is what it does for the player. Speed. In both acceleration and deceleration. A better braking system ensures that today's peak athletes can stop as quickly as they start, leaving gasping defenders in their wake. The Mercurial is the chosen boot of football's trickiest players, and this is Nike's trickiest Mercurial yet.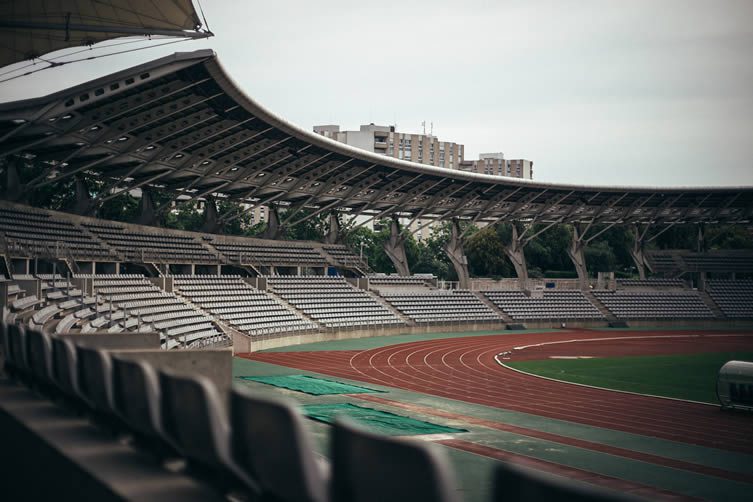 Which brings us to Paris, and another pretender looking to fill Cristiano's boots. Me. Before we continue, let us clear a few things up: I am no Charlie Lee, time walking in the former Man Utd star's shoes will not end up in me turning out for England, no matter how woeful their performances get. I play football with the lumbering grace of a stoned grizzly bear, I run like a giraffe on ice. The most complimentary thing anyone has ever said about my football is that I 'can do a job'. Which doesn't mean for one second that I don't have a throughly lovely time hacking my way through 90 minutes, the list of casualties on the opposing team mounting up as rapidly as Mr Ronaldo's goalscoring accolades.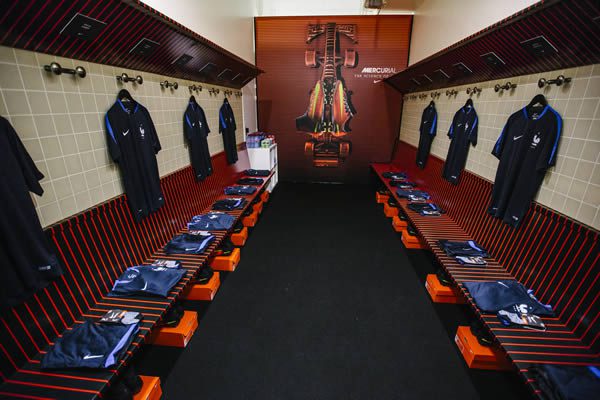 Yet here I am, in the dressing room at the home of Paris Saint-Germain's women's team; Stade Sebastien Charléty in Paris's 13th arrondissement. A place holder, with my name on it. My name. A pair of Mercurial Superfly V. And a bunch of kids who all look like they're really good at football. We kit up, and walk out into the 20,000 seater stadium. Thankfully it's empty, as we're embarrassingly put through some dribbling drills by coaches from a local side.
The boot? It is light, incredibly so. I'm surprised by some of my trial times, not so by my ball skills. We take shots at a very handy goalkeeper, which is considerably more fun, before getting down to business: a proper kick-around. Geared to hug the true shape of the foot, the carbon fibre soleplate is a joy. At this point I'd like to say I danced around the opposition defence, but I merely knock the ball past one player and run hell for leather onto it. Miraculously I make it, and clip a long ball to the far post, where a header is saved, the follow up scored. I feel a teeny bit like Charlie Lee, transported from unkempt pitches in the north of England to a bona fide stadium, running in Ronaldo's shoes.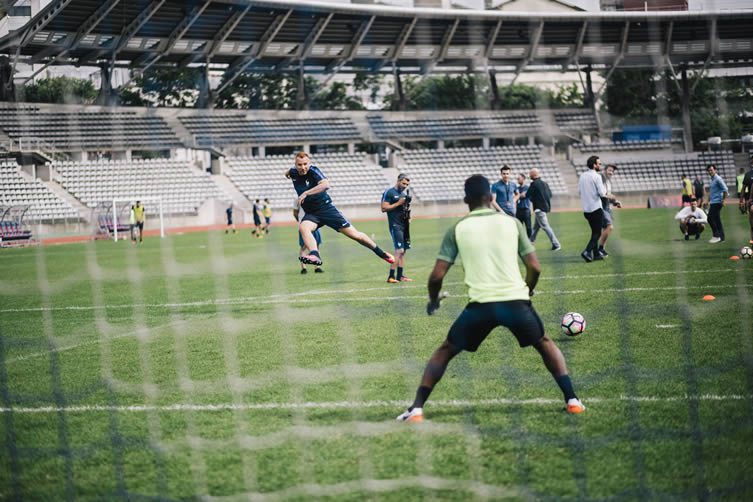 It all comes crashing down when I miscontrol an aggressively hit pass shortly after, but the Mercurial magic has done its trick. There's questions that will be raised by anyone readying themselves to drop a few hundred quid on a pair of football boots: do they make a difference? Yes. A lot? No. Some? Yes. Do they make a bad player good? No. Do they make a good player better? Yes. Do they feel utterly splendid? Utterly. Are they worth the money? Positively.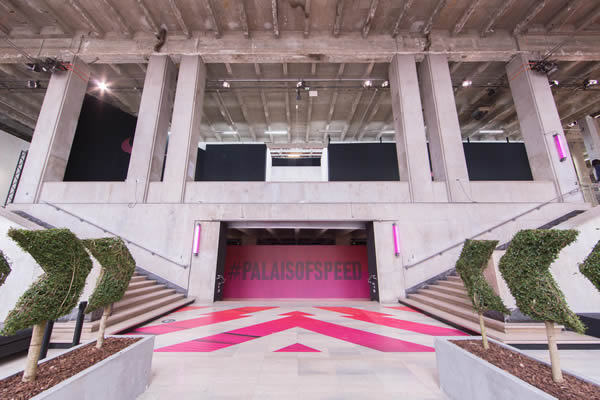 The real truth about desirability lies away from the pitch, though. I'm in Paris, and the city is gripped by football-mania. Europe's biggest international competition kicks off later today, and anticipation (along with, thanks to our messed up post-9/11 world, the palpable sense of police and military presence) is in the air. Nike have commandeered the iconic Palais de Tokyo contemporary art gallery during my stay, transforming it into Palais of Speed — a gargantuan exercise in brand dominance that pays homage to the new Mercurial.
There's a curated genealogy of the boot, from R9's 1998 debut to the very boot that graced the foot of yours truly this morning; a speed test where the public can pit themselves against some of football's fastest (Mssrs Ronaldo, Anthony Martial, and Eden Hazard); and an ongoing tournament starring Europe's top Football X (what Nike have christened hard-pitched street football) teams. An installation with a Formula One car at its core harks back to the Mercurial Superfly V's launch in Milan, and reinforces that parallel drawn between the high-tech speed innovators.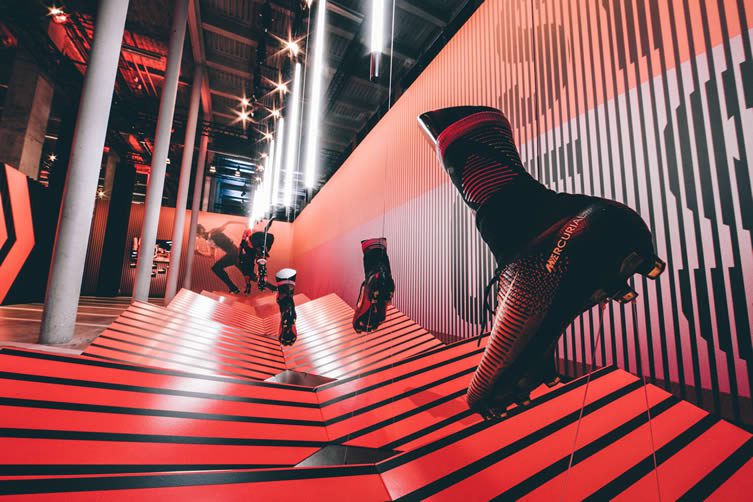 I speak briefly with Global VP of Nike Football Footwear, Max Blau, at the brand's handsome HQ cum showroom near the Champs-Élysées — he's an imposing figure for a short guy, giving off the air of a hip-hop media mogul, and he's clearly proud of their latest launch.
He talks about the boot's collar acting as a device to integrate the athlete's leg and foot, admits that — like me — he has a preference for the classic black boot aesthetic over the gaudy colourways favoured by modern players, but keeps coming back to the symmetry between racing technologies and the breakthroughs his team have made on the pitch: individual components designed and tested to their limits coming together, a harmony between form and function, a streamlined, minimal, mean, and fast aesthetic. It's hard not to be won over by this fanciful analogy.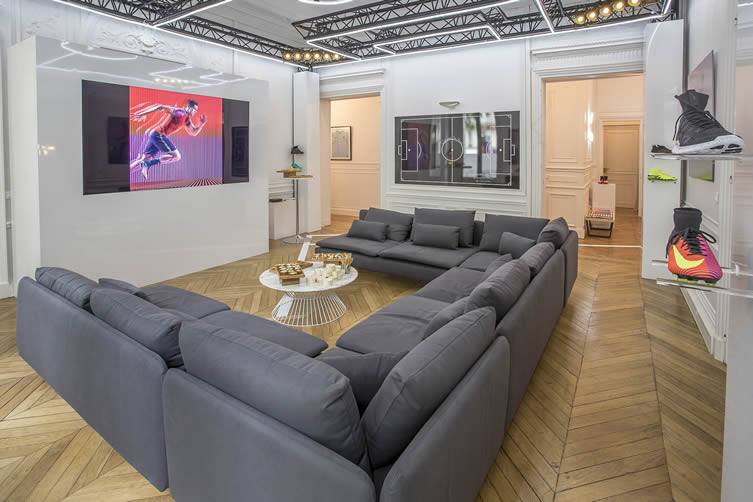 We leave the palatial tranquility of Nike's central Paris home and dive headfirst into the rabid chaos that is overtaking the city's roads. Football fever is here, and it takes hours to navigate mere miles. The final piece of the puzzle is about to drop into place, as we arrive in Saint-Denis and to the Stade de France; where the Mercurial made history 18 years earlier.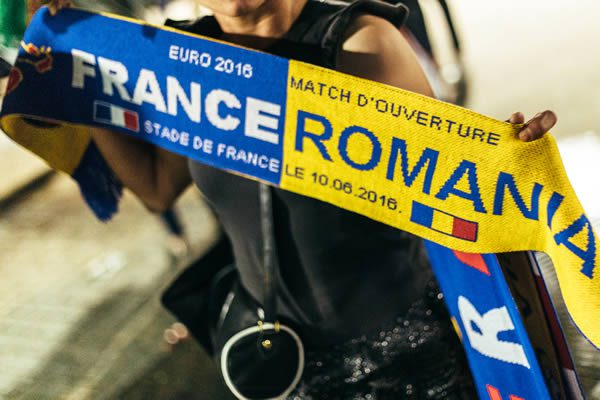 The physical manifestation of the marketeers' dreams. The Charlie Lee moment. This is the reality of why we, the consumer, buy into sportswear — the big stage, the big names, the emotion, the fervour. It's France vs Romania, the very first game of UEFA Euro 2016, and not even David Guetta can dampen my spirits.
The atmosphere and sheer spectacle is something to behold, it's a reminder of the raw passion that sits behind the everyday annoyances of greedy players and greedier agents. The opening ceremony is predictably bizarre, but as the Patrouille de France fly overhead with their distinctive blue, white, and red trails, the inner cynic is beaten into submission. It is impossible not to be swept up with this mixture of national pride and adulation for the beautiful game, even if the first 45 minutes largely disappoint.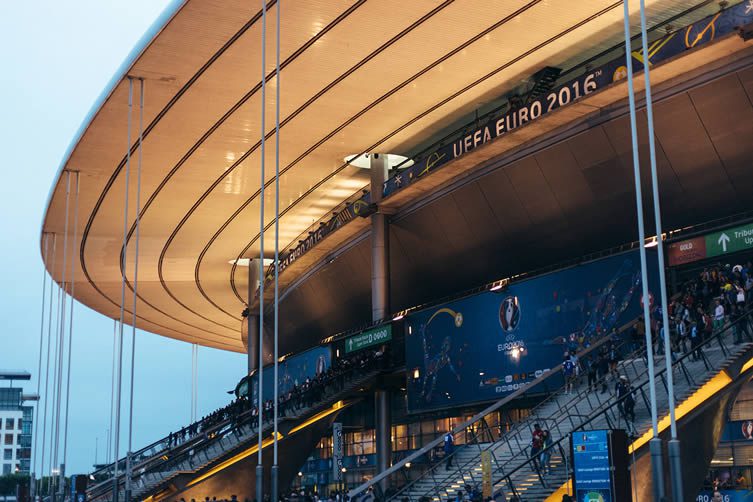 It doesn't matter, the atmosphere carries the match until Olivier Giroud's 57 minute header sends the crowd into hysterics. The visitors deliver a moment of drama eight minutes later, Bogdan Stancu levelling from the spot, but everything changes on the 89th.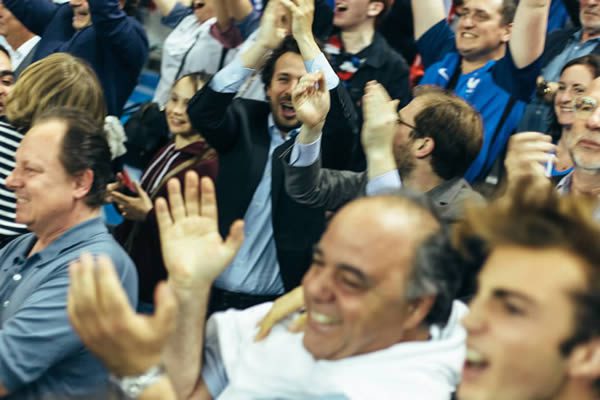 Dimitri Payet's rise to the top has been at a conservative pace, making his way through a succession of French sides before being bought by West Ham for a measly £10.7 million just a year ago, his impact on the Premier League has been the stuff of fairytale. And like Ronaldo and Lee's eventual switchback, Payet's script was written. An elegant touch on the edge of the area, crowded by opposition shirts, the player born on the French-owned Indian Ocean island Réunion makes his mark on the tournament, placing the ball where no 'keeper could have stopped it. We're directly in line with the goal, and the ball seems to hang for an age. It's like a beautifully-made sportswear commercial, a dramatic slowing of time, crowd silent save for gasps of air. Pause. Pan to a close up on the player's boots (Mercurials, if you're asking). Pause. Cut to a flailing goalkeeper. Pause. The crowd erupts.
This is it. It's the essence of the game so cleverly captured in The Switch, it's the spirit evoked at Palais de Speed, the endorsements, the theatrical portraits of players in the Nike showroom, the boots, their story. In moments like these, football sells itself.