With three distinct areas, split over three floors of a corner building near Amsterdam's Vondelpark, Bonnie (formerly Café Bos) is a traditional bistro in the city's densely populated Zuid borough; and a fine looking one at that.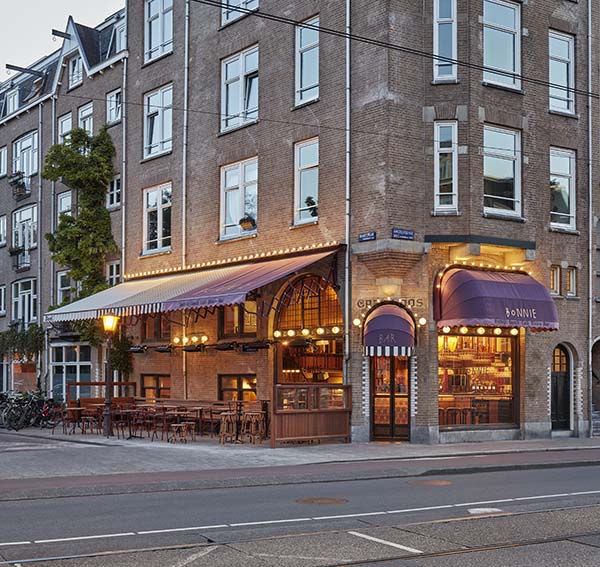 Designed by the consistently excellent Studio Modijefsky, the venue was in dire need of an update, Café Bos—a city icon with a storied past—showing signs of its 119 years service and crying out to be modernised. Celebrating its past and looking to the future, Bonnie retains quintessential elements such as mirrors, classic tiles, old fashioned wood and neon lights, combining them with high ceilings, two large arched windows and yellow stained glass; creating an overall more contemporary yet warm social hub.
The main bar is placed at the entrance, patrons immediately immersed in the welcoming atmosphere of the establishment. Look directly ahead to the back bar, with the word Bonnie scribbed in neon, and you'll see a number of taps on display alongside glasses and stronger liquor. Repeating the curves of the window frames it's an eye-catching feature and the focal point of the handsome bar's downstairs area.
Wooden stairs with a refined geometrical, bronze-coloured steel railing lead up to the mezzanine and down to the basement, both designed to be a continuity of the bar area; the former a great spot for private events and parties with its own bar, and the latter boasting the ambiance of Amsterdam's classic bars and cafés thanks to the use of wooden panelling, mirror panels, orange tiles, hexagonal wall lights and furniture which, at first, looks traditional, yet is none of the sort, some tables even featuring integrated chess boards.
Named by Studio Modijefsky themselves for its welcoming and amiable character, Bonnie is homely, happening and ready for another century of good times.
@studiomodijefsky
@bonnie.amsterdam