Located in Amsterdam's Spaarndammmerbuurt district, the Goudvisch Family have opened their latest food and beverage offering; a neighbourhood café serving early morning coffee and juices alongside a lunch and dinner menu which ranges from salads to burgers and more traditional dishes.
Designed by Studio Modijefsky (who was also created the name, brand identity, and interior for sister venues Bonnie and Arie) Moos is situated on the ground floor of a corner building that benefits from a high ceiling and large windows that flood the space with natural light.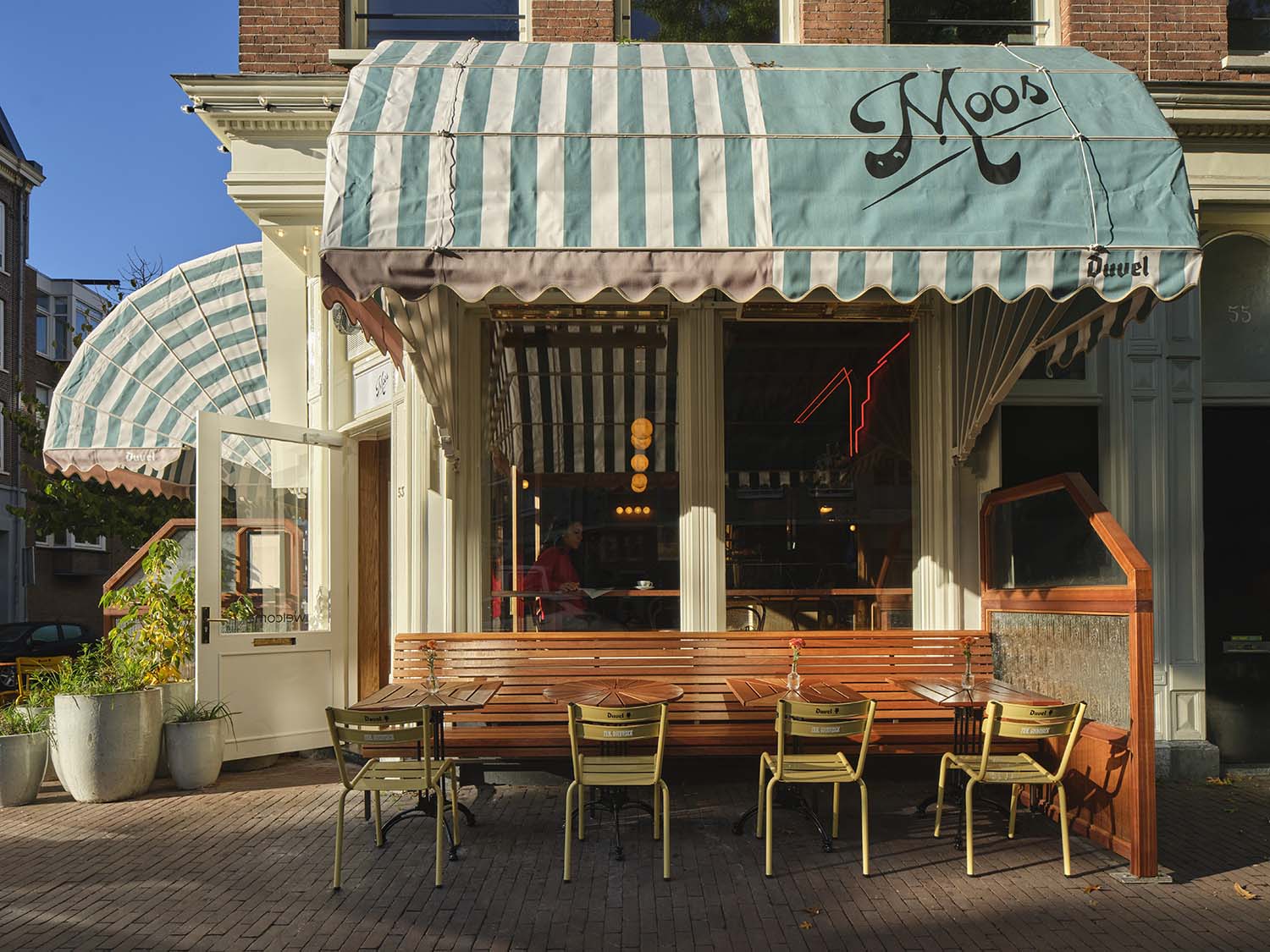 With the neighbourhood renowned for Het Schip, a housing complex designed in the Amsterdam School style, the Studio Modijefsky team designed the interior of Moos to reflect the surrounding rich architectural environment; incorporating red brickwork tones, tiled surfaces arranged in elaborate patterns, floor finishes and many a refined detail.
At Moos Amsterdam the bar is the focal point; made of marble combined with brass, wood and pale pink, beige and bright yellow tiles. The large mirror behind, split by two zigzagging lines of orange and red neon, creates a stunning backdrop and is split into two layers, one reaching forward, the other stretching back, adding dimension to the mirror's sheer size. A tiled floor pattern serves to further highlight this centrepiece, with accents of terrazzo flooring outlining the bar's shape.
Towards the back of the building, a staircase leads to a mezzanine floor. Guests can climb the wooden steps to enjoy an intimate space, where two corner booth seats finished with leather and fabric await them. This area features a combination of tiles, wood and a custom light element blending the warmth of nostalgia with a contemporary edge.
An outdoor terrace completes the space, adorned with colourful parasols, round awnings and long lines of light bulbs; ideal for warmer summer days and long evenings.
With a knack to make guests feel at home, in Moos, the Goudvisch Family and Studio Modijefsky have done it again with aplomb, Spaarndammmerbuurt now home to a fine new neighbourhood spot to call their own.
@studiomodijefsky
@moos.amsterdam