Last night marked the opening of an exhibition that honours beer, brewing, and the culture that surrounds it. Gracing the walls of Barcelona's Garage Beer Co. — one of Europe's most forward-thinking breweries — Beer Culture is a three-month celebration of the intersections between beer and culture; presented by a forthcoming independent print magazine that is exceedingly close to our hearts.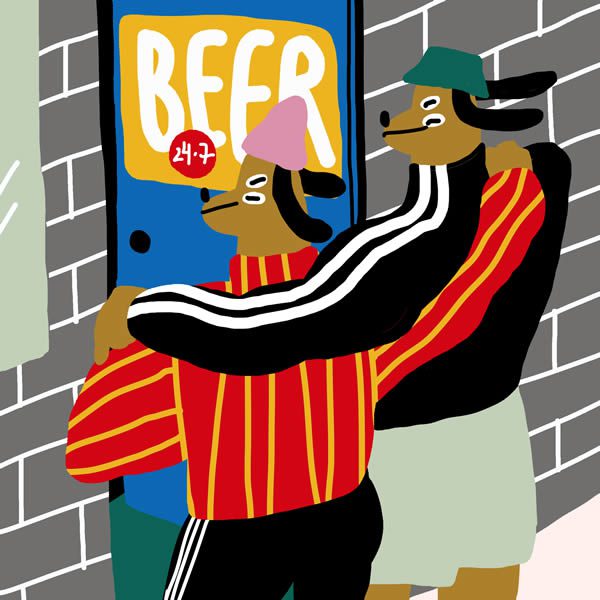 Caña Magazine is a side project born from the boozy minds of myself and John Wilson, the developer who has made We Heart tick from day zero. Used to describe a small glass of beer throughout mainland Spain, a caña comes in many different sizes — and it is that uncertainty that represents the thinking behind the publication; an expect-the-unexpected train of thought that encompasses cultural musings, art and design, and stories from every corner of the beer world.
Heralding the forthcoming magazine's first foray into the real world it will occupy, Beer Culture debuted last night with a host of art talent that embraces the Caña aesthetic. From debauched street photography to illustration with an insatiable appetite for mischief, each piece of work was received with open arms by a full house kept cool on a balmy night by a range of inventive craft brews. As for the work itself, co-founder of the world-renowned nomadic beer-brewing project Omnipollo, Karl Grandin presents a pair of monochrome pieces alongside a psychedelic photograph produced in collaboration with Gustav Karlsson Frost; vivid colour, or not, each work is imbibed with the artist's folklore-inspired, uneasy aesthetic.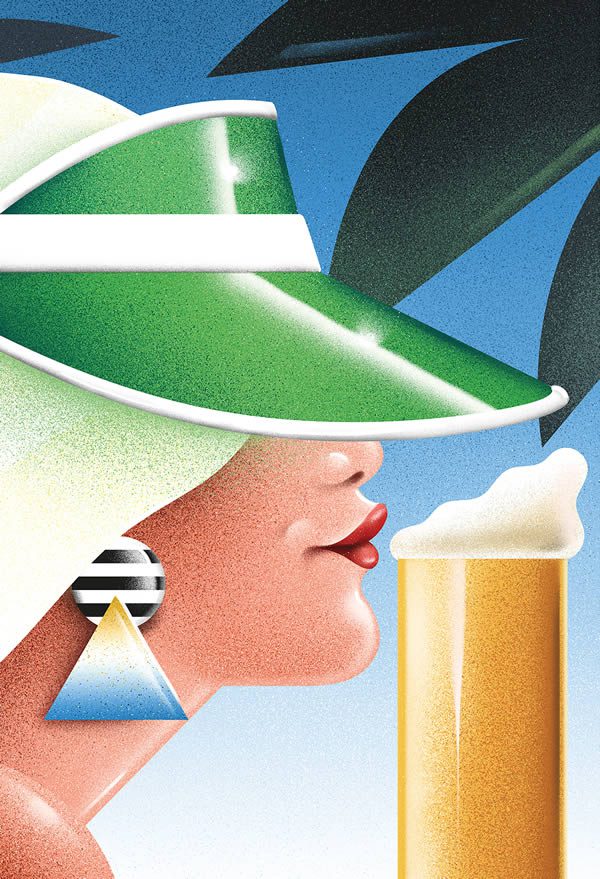 On the other hand, beer enthusiast and creative director Emil Sellström comes at his contributions with a decadent airbrush take that has been informed by the good life; Miami's sinful 1980s; and an unaffected zeal for ice cold beer. In his images of the dark side of decadence (presented in an installation set to the smell of urine), London-based photographer Sipke Visser finds the woozy haze that embraces us all after five too many. Photographs of Mariel Osborn's fanciful work for Manchester's revered Cloudwater Brew Co. bring whimsy to the steely stark of a traditionally austere brewery setting; the multidisciplinary creative challenging the ugly but inescapable notion of machismo in the world of beer and brewing.
With a wry take on hipster culture, Swedish illustrator Petra Eriksson forms a trio of Barcelona-based creatives alongside Jose Mendez and Egle Zvirblyte, who bring contemporary counterculture to the bar with their riotous illustrations; and Alec Doherty, the longtime collaborator behind Partizan Brewing's intricate mid-century inspired artwork, presents versions of three new label designs for the London-based brewer.
Caña Magazine's Beer Culture continues at Garage Beer Co., Barcelona, until 21 September; further information on the launch of the magazine is imminent.