Amsterdam's 'De Pijp' neighbourhood is home to Arie Op de Hoek, a modern 'brown café' housed in a historic building that dates back to 1876; the newest member of the imaginary 'Goudvisch family' serving traditional grub alongside lighter plates and a selection of beers and wines.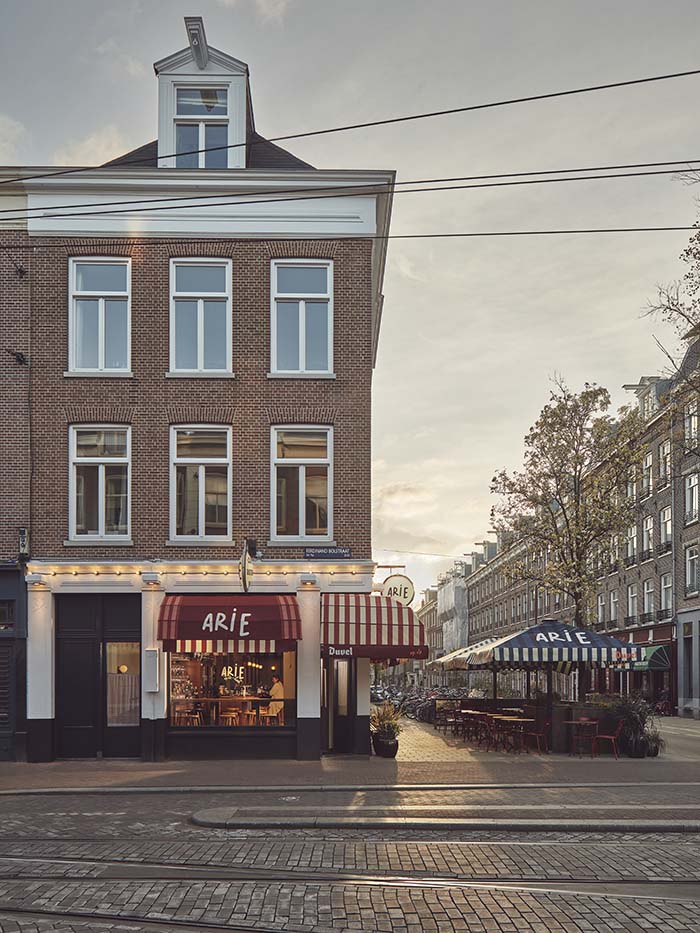 Occupying a corner spot on the intersection of the Ferdinand Bolstraat and Quillijnstraat, designers Studio Modijefsky have created the name, character and interior for Arie, as well as its 'cousin bar', Bonnie, in Amsterdam Zuid; another neighbourhood icon given a new look for modern times.
Using a mix of materials that include copper, terrazzo, tiles, fabrics, and wood, Modijefsky have sought to replicate the atmosphere of the city's iconic brown cafés, the traditional bars originally created by folk living on the ground floor of buildings who opened up their homes to serve food and drinks in order to supplement their low incomes, and whose name derived from the cigarette smoke-stained walls.
With two entrances, Arie is split into two sections, the bar (visible from both entrances) its centrepiece, with contrasting aged copper and red marbles, blue tiling and a yellow and red ceiling. Marking the transition between two areas, on one side of the bar is a high seating area whilst on the other, a more comfortable low seating space; different spaces allowing for snug afternoon sessions or quick afterwork sinkers.
Taking on the authentic atmosphere of a classic Amsterdam boozer, respectfully updating yet never losing character, Arie Op de Hoek is another winner for the prolific local design studio.
@studiomodijefsky
@arie.amsterdam